Alumni Spotlight: Kristie Dick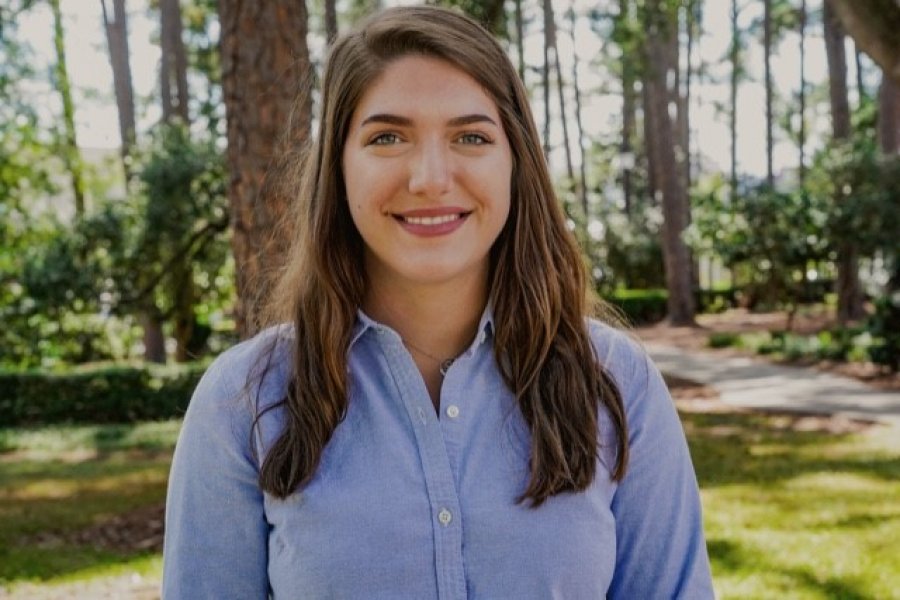 Kristie Dick received her bachelor's degree from the Department of Biological Science with a minor from the Department of Chemistry and Biochemistry, both part of the College of Arts and Sciences, and graduated in July. Because of her many achievements as an undergrad, Dick has been awarded with an honors medallion for dual honors, and has been selected to participate in the Fulbright U.S. Student Program.
Tell me about yourself. What brought you to FSU, and what are your favorite experiences?
I'm from Jacksonville, Fla., and I'm a senior expecting to graduate this summer. I came to FSU because of the numerous opportunities that could help me achieve my career goals as a research scientist. Among my favorite experiences is the time I started Strategies for Ecology Education, Diversity, and Sustainability, or S.E.E.D.S., with a few fellow biology majors. S.E.E.D.S. is a smaller branch of the Ecological Society of America and focuses on encouraging and supporting underrepresented groups who wish to pursue a career in ecology and evolution. I have also enjoyed working as an associate editor for The Owl, FSU's undergraduate research journal, where I had the chance to read work from art history to theoretical physics.
What inspired you to major in biology?
I originally started as a biology major on the pre-med track. During my sophomore year, however, I volunteered in associate professor Janie Wulff's lab through the Undergraduate Research Opportunity Program, or UROP, and helped classify sea sponge species from the Gulf of Mexico. I enjoyed the research process so much that I decided to pursue biological research instead, with a minor in chemistry.
What aspect of your area of study do you find most fascinating?
My favorite part of biology is exploring how different environmental factors can influence life and how life evolves. I enjoy integrating information from different fields of study, like chemistry and geology, to explain the full picture of why an organism behaves as it does.
Tell me about your involvement in the National Science Foundation funded research projects at the National High Magnetic Field Laboratory.
I am working under Peter Morton, visiting assistant researcher, at the MagLab. His project focuses on the effect of trace metals on two species of phytoplankton in the Southern Ocean (also known as the Antarctic Ocean) — diatoms and coccolithophores — and whether we can determine an optimal environment for each species. During the Spring 2020 semester we traveled to South Africa and spent 40 days at sea with 20 other scientists working on different parts of the NSF grant. We collected seawater as deep as 700 meters and ran incubation experiments to determine if additional nutrients would stimulate growth in the phytoplankton. When we are able to return to the MagLab, our next step will be to analyze extracted dissolved metals with the mass spectrometer. This will determine the concentration of each metal in the seawater collected.
I chose to participate in this research because of its interdisciplinary nature. Working with trace metals helped me develop laboratory skills that will be beneficial to the astrobiology work I want to do in the future.
Are there any faculty or staff who have helped or inspired you?
I took General Chemistry I with teaching professor Mark Kearley and one of his lessons on polymers caused me to realize how much I enjoyed science beyond the medical field. Assistant professor Sophie McCoy's Experimental Biology class helped me become excited about turning research into a potential career. Now, they are both serving on the board for my honors thesis, "Biogeochemical Dynamics of Trace Nutrients in the Southern Ocean."
I started working for Morton in the spring of 2019, and he's been instrumental in shaping my career as a scientist. His constant support and desire to see me succeed helped me access so many amazing opportunities.
What will you be doing through the 2020-21 Fulbright U.S. Student Program?
I'll be teaching English in Changhua County, Taiwan. Working as an assistant teacher will help me improve my communication skills and benefit my career as a scientist. Due to the international nature of the science field, there is a good chance that I will be collaborating with scientists from countries that primarily speak Chinese. Working in Taiwan will be the perfect opportunity to learn Mandarin Chinese. I am also passionate about female representation in Science, Technology, Engineering and Math, or STEM, fields. With Taiwan being one of the world's tech centers, it makes it an ideal location to pursue that interest. Because of the COVID-19 pandemic, my program will start Jan. 1.
How are you maintaining your research and commitment to academic success during the COVID-19 pandemic?
Instead of going into the lab and running samples, we are focusing on data processing with old samples and photosynthetic pigment data to see if we can track new trends in diatom and coccolithophore distribution near Antarctica. This has been a great time for me to focus on learning Microsoft Excel and an oceanographic data processing and mapping program called Ocean Data View.
What do you like to do when you are not doing schoolwork or research?
I prefer being outside any time I can, so some of my favorite activities are rollerblading, kayaking, and tracking our solar system with my telescope.
After graduating, what are your plans?
After returning from Taiwan, I plan to apply to work as a marine technician on an ocean vessel to help conduct research. Then, I plan on getting my doctorate in astrobiology. Using this doctorate, I hope to research the potential for life on other planets and how it might relate to the origins of Earth.
What advice do you have for fellow students?
Explore all your interests in college. Some of my favorite experiences came about because I didn't limit myself to a set plan and I took opportunities as they arose.