Alumni Spotlight: Ethan Cissell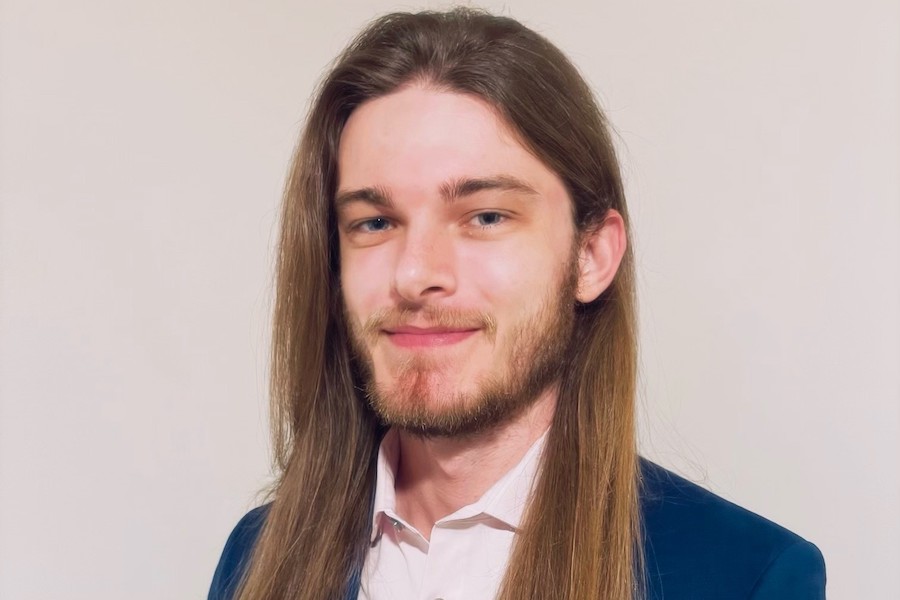 Ethan Cissell graduated from Florida State University in 2022 with a doctoral degree in biological science from the Department of Biological Science, part of the College of Arts and Sciences. Cissell's dissertation research focused on marine microbial ecology, or the interactions between microorganisms like bacteria and other life in the ocean. Cissell recently completed his postdoctoral research associate position at the University of North Carolina at Chapel Hill and accepted a scientific consulting and grant-writing specialist position at Eva Garland Consulting in Raleigh, North Carolina.
Where are you from and what brought you to FSU?
I am originally from a small town in northern Alabama, and I earned my bachelor's degree in microbiology from the University of Alabama — Tuscaloosa in 2017. At UA, I conducted undergraduate research on environmental microbiology and became particularly intrigued by the role of species interactions, including predation and competition, among microorganisms, which can drive microbial population dynamics that affect large spatial and ecological scales. It also led me to develop my own questions on this topic and pursue a doctoral degree to answer those questions. I chose FSU not only for its robust history as a pioneer in the field of ecology but also so I could work under Sophie McCoy, a former FSU assistant professor of biological science and expert in the study of species interactions in a community ecology framework.
What inspired you to choose your major and specific area of research?
Since I first saw a micrograph of a bacterial cell captured using a scanning electron microscope, I have sought to learn more about this alien world. It was only natural to combine this interest with my longstanding appreciation for marine environments to study microbial ecology in a marine context for my dissertation. I studied benthic cyanobacterial mats, visibly large accumulations of bacteria, on Caribbean coral reefs. I was able to further my research goals while also contributing to the management and conservation of these critical coastal ecosystems.
Tell me a bit about your current roles.
From 2022 to Spring 2023, I was a postdoctoral research associate at the University of North Carolina at Chapel Hill. In this role, I worked on research projects that investigated how interactions among species influence the dynamics of environmental microbial communities, such as cyanobacterial blooms, responding to environmental change. Specifically, I worked toward creating links between patterns in demography caused by direct and indirect interactions between species and ecosystem-wide responses within freshwater algal mats. The mats I studied are built by a specific diatom, or a single-celled alga, in Appalachian Mountain river ecosystems.
In my new position as a scientific consultant and grant-writing specialist, I interact with various entrepreneurs and tech companies, providing guidance on scientific project design and grant proposal preparation services for multi-million-dollar grant submissions. The goal of my work is to accelerate the development of each client's technology.
What aspect of your area of study do you find most fascinating?
I am most fascinated by the pursuit of a deeper understanding of how interactions with large animals like fish can affect community-wide dynamics on a "smaller," microbial level. Metacommunity theory provides a framework for distilling complex multi-scale interaction networks into a more comprehensive understanding of physical demographics in an ecosystem. Only recently have trophic interactions, like those in a traditional food chain, been incorporated into metacommunity theory, and higher-order effects have not been fully incorporated into the broader metacommunity theory yet.
How has your time at FSU prepared you for academic and professional success?
The most critical skills I developed at FSU were how to learn in a way that is unique to me and how to approach complex problems with critical and independent thought. Faculty members in the Department of Biological Science pushed each student to become independent and distinctive scientists, and this has underpinned my professional trajectory.
Who are the faculty or staff members who helped or inspired you during your time at FSU?
The members of my doctoral committee — associate professor biological science Kathryn Jones, assistant professor of biological science Daniel Okamoto, professor of biological science Darin Rokyta, professor of oceanography Markus Huettel, and Sophie McCoy — had a particularly profound impact on my professional and personal development. The Department of Biological Science is an incredibly unique and collaborative community of scientists, so overall, it is difficult for me to identify a faculty member that did not have a positive impact on my career. The dive safety officer at the FSU Coastal and Marine Lab, Chris Peters, also uniquely impacted my career through both his formal instruction and his friendship.
What are your favorite experiences from your time at FSU?
During several summers, I had the unique opportunity to pursue underwater field research on the coral reefs along the Caribbean island of Bonaire. I treasure the experiences and memories of these field expeditions.
Are there any exciting goals or projects you're currently working towards?
A project I am currently working on that I am most excited about involves the analysis of data from a mesocosm experiment in which I examined species interactions under controlled conditions at FSU. This experiment looked at how emergent higher-order interactions between fish and bacteria can restructure mutualistic metabolic networks within cyanobacterial mats, in turn affecting mat community dynamics and demography.
Although you might miss FSU, what do you enjoy most about your post-graduate life?
When you are passionate about your study subject, pursuing a doctoral degree can be an all-consuming endeavor. I have appreciated the greater separation between work and life that my postgraduate life has afforded. This time has allowed me to reconnect with my previous hobbies and find new outlets for creative expression.
What advice do you have for current students?
Be open to new experiences during your academic pursuits, no matter how far they may seem to stray from your envisioned path.