Winter 2022
| Wed, 02/16/22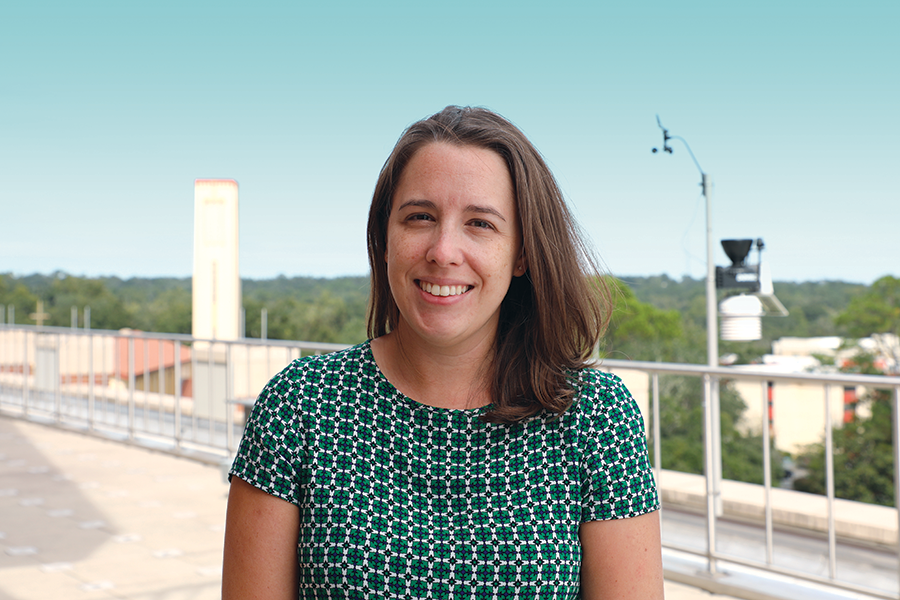 Atmospheric Aptitude
Climate scientist and assistant professor Allison Wing is a force in the field of atmospheric science
By McKenzie Harris
Like superheroes, most meteorologists have an origin story. A lifelong passion for weather often starts with a single moment when Mother Nature's fury leaps off the television screen and into real life.
For Allison Wing, a climate scientist and assistant professor of meteorology in Florida State University's Department of Earth, Ocean and Atmospheric Science, Hurricane Bob's 1991 landfall in Rhode Island started it all. Wing, aged 5, and her family were vacationing on Cape Cod, Mass., when the Category 2 storm roared ashore with sustained 100 mile-per-hour winds. The family had to evacuate their rental and take shelter in a nearby high school gymnasium.
"I remember finding the whole experience very exciting — the strong winds, having to evacuate. This is one of my earliest memories, and it sparked my interest in hurricanes," Wing said. "I remained interested in weather throughout my childhood; I watched The Weather Channel every day in middle school."
After earning a bachelor's in atmospheric science from Cornell University in 2008, the White Plains, N.Y. native completed a doctorate in atmospheric science at the Massachusetts Institute of Technology in 2014. Wing conducted postdoctoral studies at Columbia University's Lamont-Doherty Earth Observatory before joining the faculty at Florida State in 2017.
"Allison was a joy to work with," said renowned atmospheric scientist and professor of atmospheric science Kerry Emanuel, Wing's doctoral adviser at MIT. "She quickly caught on to exotic ideas and pursued these ideas enthusiastically. Before long, she created her own ideas and developed into an independent researcher."
Today, Wing's research has a global impact on scientists' understanding of climate change. Cloud response to warming is the biggest uncertainty in future climate projections, and her research on the role of cloud clusters in climate, including leadership of an international intercomparison of idealized models, hopes to narrow down that uncertainty.
Wing's work focuses on the most significant questions in atmospheric and climate science, such as what controls the number of tropical cyclones around the world in a given climate.
"While about 90 tropical cyclones form per year, scientists don't know why it isn't instead nine, or 900, and tropical cyclone intensification remains difficult to forecast," Wing said. "Such exploration is crucial in creating more accurate forecasts of individual storms and considering long-term climate projections."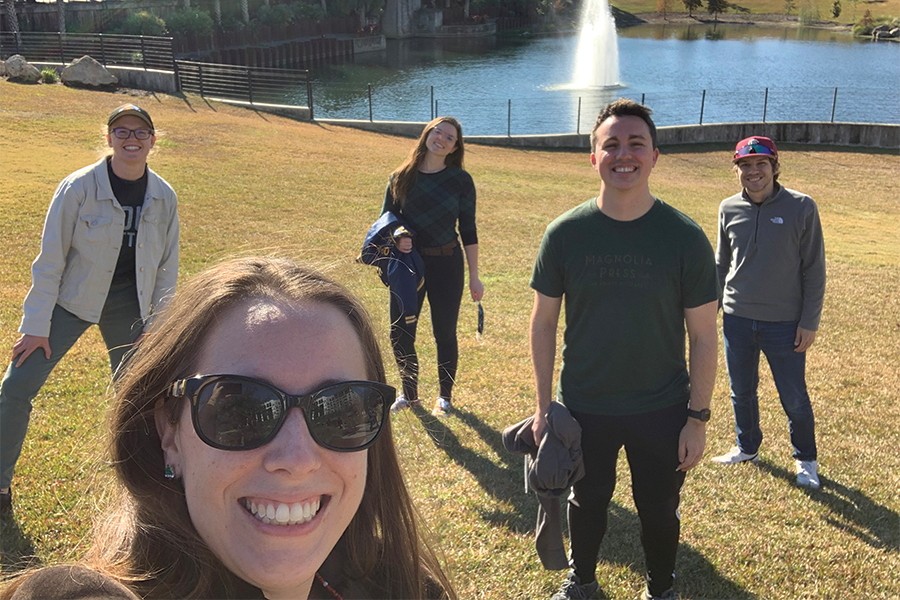 She also teaches undergraduate courses in meteorology and mentors graduate students in tropical meteorology and climate science.
"Working with Dr. Wing was the best decision I've made in my academic career," said Jake Carstens, a meteorology doctoral candidate and two-time alumnus of FSU's Department of Earth, Ocean and Atmospheric Science. "While her knowledge and research touch on some of the most pressing issues in our field, what she puts into teaching and mentorship on top of her research resonates with me the most."
Since arriving at FSU, Wing has received funding from the National Science Foundation, NASA and the National Oceanic and Atmospheric Administration. In 2021, she was awarded a New (Early Career) Investigator Award from NASA and an Outstanding Early Career Award from the American Meteorological Society's Committee on Tropical Meteorology and Tropical Cyclones.
"Dr. Wing is an energetic talent who has quickly established a lofty reputation, and her work deserves the accolades it is receiving," said Sam Huckaba, dean of FSU's College of Arts and Sciences. "We're pleased to have her as a faculty member in EOAS, where her cutting-edge climate research and teaching prowess fit perfectly."
In September, Popular Science magazine named Wing to its Brilliant 10 list of groundbreaking early career researchers in recognition of her work on the organization of tropical convection, or clustering of clouds and thunderstorms. Wing was selected from among hundreds of scientists across varied disciplines researching creative solutions to the world's most pressing problems.
"I'm honored to be listed alongside incredible young scientists and engineers, and I'm grateful the importance of my research is recognized," Wing said. "I'm passionate about my work because understanding how our natural world works is fascinating and intellectually stimulating but also due to its vital importance to society."
Wing's research has been published in scholarly journals including the Journal of Advances in Modeling Earth Systems, Proceedings of the National Academy of Sciences, Geophysical Research Letters, Journal of Climate, and Journal of the Atmospheric Sciences, among others. She's also appeared in local and national media outlets, discussing scientific details in an accessible way. In October, she joined FSU alumnus and international climate and meteorology expert J. Marshall Shepherd on his Weather Geeks podcast.
"I couldn't make these contributions without outstanding and supportive collaborators from around the world and my dedicated students at FSU. I'm proud to be part of an incredible community of scientists who collectively achieve and enable great innovations and leaps in science," Wing said.