Winter 2019
| Tue, 01/15/19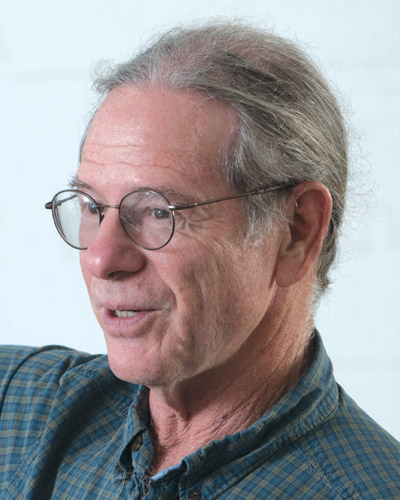 Earth advocate
Lawton Professor Jeff Chanton 'speaks truth to power'
By Doug Blackburn
Jeff Chanton, an esteemed oceanographer at Florida State University, has a gift for making science understandable for the average person. When former Florida Gov. Rick Scott expressed his unfamiliarity with climate change, Chanton was among the small group of experts who held a high-profile session with Scott that garnered national attention.
That moment symbolized decades' worth of instances in which Chanton, the 2017 recipient of Florida State's most revered recognition for faculty — the Robert O. Lawton Distinguished Professor award — has utilized his patient voice to translate science for the rest of us. In a Johnny Appleseed-like fashion, he has over the years addressed Rotary and Civitan clubs, churches, synagogues and, on multiple occasions, elected and appointed officials.
"I like explaining what science has learned about the Earth to earthlings," Chanton quipped, "because there's so much we know that people just don't realize."
His efforts have not gone unnoticed. The Tallahassee Scientific Society honored Chanton as its 2018 gold medal recipient.
What's most impressive is that Chanton is blessed with the ability to point out the dangers of rising seas and an ever-warming planet without alienating the powerful people he is talking to.
"Jeff is willing to speak truth to power, and that's very important for a scientist," said Professor Jim Tull, chair of Florida State's Department of Earth, Ocean and Atmospheric Science. "And he does it in a very diplomatic way. That's an important aspect of what we should be doing."
Researcher and mentor
Chanton's efforts to make science accessible are particularly visible on campus. He developed a course, "Sustainable Food and Water," for undergraduate liberal arts students and is director of the Environmental Science major. He started an FSU chapter of the Florida Association of Environmental Professionals to help students network with experts in their areas of interest.
Chanton is also a decorated researcher. The American Geophysical Union named him a fellow in 2016. In 2005, he received an Aldo Leopold Fellowship Award from the Leopold Leadership Program for his leadership and communication skills.
"Science has a pretty good understanding right now of the way the earth system functions. It's fascinating, and it should be conveyed to the public."

— Jeff Chanton
When the Deepwater Horizon oil spill occurred in 2010, Chanton was among the first scientists to form a task force to study the effects of the disaster. It's work he continues to this day. Using radiocarbon and other isotopic tracers, he was at one of the deepest pockets of the Gulf of Mexico in May 2018 in an effort to determine the lasting effects of the oil spill on the seafloor.
He prides himself on being a mentor to graduate students. Chanton said working with engaged young people "is the main thing that keeps me in this job."
It appears to be a two-way street. Kelsey Rogers, who earned a doctorate in Chemical Oceanography earlier this year, said Chanton is why she chose to do her graduate work at Florida State after earning a bachelor's degree at the University of North Carolina at Chapel Hill. She was a member of Chanton's oil-spill study team and is now doing postgraduate work in Denmark.
"Jeff is amazing. He strikes a balance between being hands-on and letting you figure it out yourself," Rogers said. "I can't begin to tell you how much I learned working with him for six years."
Brittany Verbake, who earned a master's degree in Chemical Oceanography earlier this year, knew she wanted to work alongside Chanton after taking one of his classes as an undergrad.
"He always made time for everyone; I don't understand how he does it," Verbake said. "He wants undergraduates to learn to do goodscientific research and really cares aboutscientific integrity."
At home at FSU
Chanton celebrated his 30th anniversary as a member of the FSU faculty in 2018 and says he feels at home at the university.
His deep ties to the Gulf of Mexico make it easy to understand why. The New Orleans-born Chanton graduated high school in Biloxi, Mississippi before attending New College in Sarasota, where he earned a bachelor's degree in natural sciences in 1975. He completed his master's and doctoral degrees at the University of North Carolina at Chapel Hill, working with a Florida State alumnus, professor Chris Martens, before joining the faculty at FSU in 1988.
Chanton's wife, Susan Cerulean, started the Watchable Wildlife program at the Florida Fish and Wildlife Conservation Commission before becoming a full-time environmental writer. He has joined her on numerous expeditions around the coast for her latest book, Coming to Pass: Florida's Coastal Islands in a Gulf of Change.
He admits he is alarmed by what is happening on the national level with regard to environmental issues and the backtracking on plans and protections to address climate change.
"I just try to tell the story of the Earth. I think it's a pretty fascinating story," he said.