Summer 2020
| Mon, 07/20/20
Building Knowledge
Florida State unveils new home for Earth, Ocean and Atmospheric Science
By Tom Morgan
A new edifice has overtaken Doak Campbell Stadium in providing the loftiest views on campus.
The recently completed Earth, Ocean and Atmospheric Science building towers over Florida State University's Woodward Avenue entrance, its brick exterior complemented by an enormous glass-and-metal window installation by the Master Craftsman Studio featuring the FSU torches.
But it's the staggering technology housed inside that makes the building a must-visit part of campus.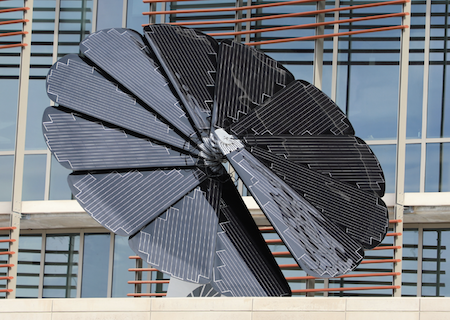 State of the art
FSU students and faculty in environmental science, geology, meteorology and oceanography now study, learn and conduct research in the 130,500-square-foot space, which includes 23 research labs, eight teaching labs, a meteorology broadcast studio, a 280-seat auditorium and a 100-seat active learning classroom.
Florida State marked the building's official opening in February, paying tribute to leaders integral to the project's completion.
Former President Eric J. Barron, who served from 2010 to 2014 as FSU's 14th president, is also a 1973 Geology alumnus and, under his leadership, Florida State merged three departments, creating what is known today as the Department of Earth, Ocean and Atmospheric Science. Barron also set in motion plans to build a new facility that would house all of the department's disciplines.
"[Dr. Barron] got the ball rolling and secured the first round of funding for this building six years ago," FSU President John Thrasher remarked during the opening ceremony.
Home sweet home
Students and faculty were previously scattered across eight buildings, according to Sam Huckaba, dean of the College of Arts and Sciences. Ensuring efficient delivery of a world-class education required bringing members of the new department together under one roof.
Florida State broke ground on the building in October 2016, and the first occupants began moving in at the end of Fall 2019.
"Over the years, a large number of people have worked hard and put in a lot of time to make this happen. It's impossible to thank everybody," Huckaba said.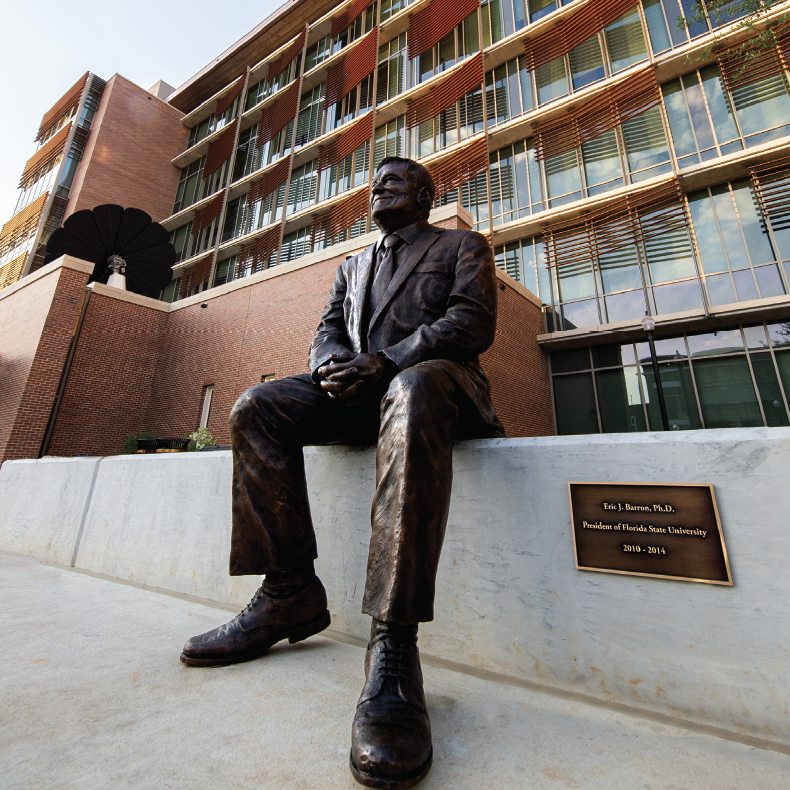 Better together
"The Earth's climate is determined by complex interactions between land, water and atmosphere, so it makes sense to have scientists in those fields work together," said James Tull, a geology professor and the department's chair from 2013 to 2019. "For example, abundant, clean water is among the most critical issues in today's world. Water cycles from the oceans to the atmosphere, to the ground and back to the ocean. The study of the global water cycle alone involves geologists, meteorologists and oceanographers."
Vincent Salters, a geochemistry professor and current EOAS chair, emphasized the new space will encourage communication and collaboration across disciplines, and the building's resources may serve as a catalyst for new interdisciplinary projects.
Those resources include "wet labs" used for analyzing chemicals and biological matter and "dry labs" where computer models are generated. The labs are also the latest example of a university-wide effort to improve the academic experience for FSU students through technology.
"Students can get hands-on experience doing experiments and analysis in ways they couldn't have before," Salters said.
"Students can get hands-on experience doing experiments and analysis in ways they couldn't have before... The new building, with its multipart goals of expediting cutting-edge research and serving as a place of learning, is already attracting some of the best students and faculty in the country."

— Vincent Salters, FSU geochemistry professor and current EOAS chair
From the windows of one of those labs, students can see the Smartflower, a system of collapsible solar panels positioned along the building's rooftop terrace that "bloom" and move with the sun. The Smartflower is part of nearly $1 million in gifts committed to FSU by longtime solar energy proponent and EOAS professor emeritus Jack Winchester. It delivers 4,000 kilowatt hours of electricity annually, which is enough to power the average home for a year, and automatically retracts its petals when it senses high winds in the area.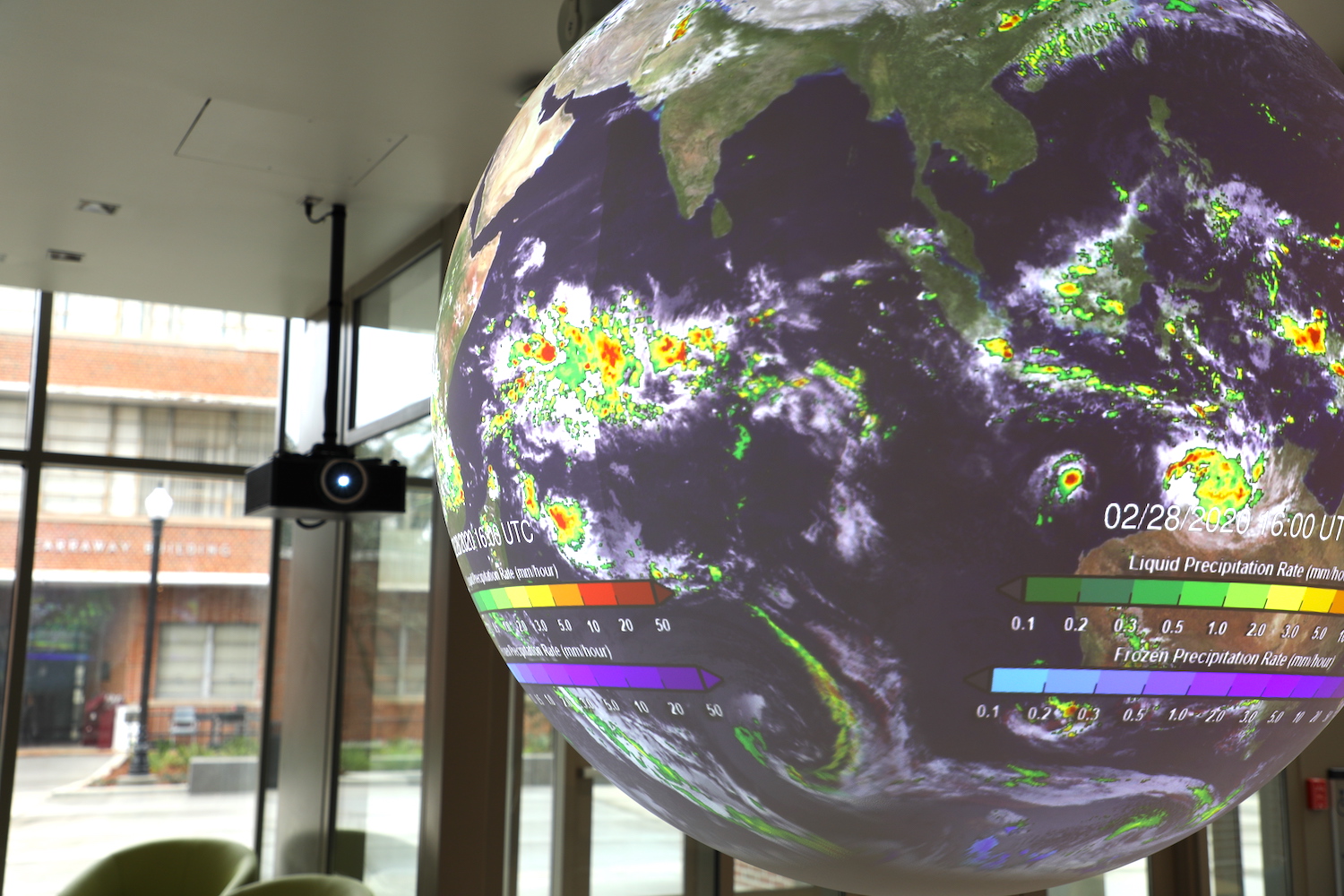 The public good
Some of the building's specialized features directly benefit the public. Among the most highly anticipated technology is Science on a Sphere, installed by the National Oceanic and Atmospheric Administration.
The six-foot sphere, on view in the building's main atrium, displays such planetary data as atmospheric storms and the effects of climate change, and its visual representation of complex models and environmental processes help make science accessible and captivating for FSU students, K-12 students and community visitors. FSU joins 160-plus elite universities, museums and institutes worldwide in hosting the technology.
Two wells drilled into the limestone bedrock beside the building also house equipment used for scientific study.
The seismometer, installed in a 100-foot bore hole and donated by U.S. Geological Survey retiree Robert Hutt, has become part of the Global Seismographic Network, a partnership between the U.S. Geological Survey and research institutions that combines more than 150 modern seismic stations to monitor earthquake waves across the globe.
The network had a dead zone in South Georgia and Florida, so the seismometer's location in Tallahassee fills an important gap in the worldwide array, Tull said.
Another instrument now measures water quality in the massive Floridan Aquifer that runs below campus and much of the southeastern United States.
"The wells and sphere are considered public outreach, which is important for the university," Tull said. "Part of our mission is to make our knowledge available to the public."
The new building, with its multipart goals of expediting cutting-edge research and serving as a place of learning, is already attracting some of the best students and faculty in the country, Salters said.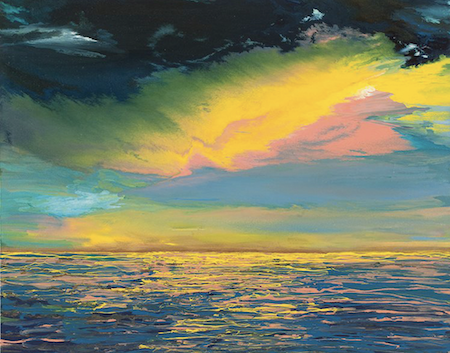 FINISHING TOUCHES
Each element of the Earth, Ocean and Atmospheric Science building is designed to maximize the student and research experience, including interiors and furniture inspired by Silicon Valley's tech giants to large-scale paintings incorporating mineral pigments to capture nature's forces.
Eight artworks installed throughout the space are by the late Gabrielle Wu Lee, a medical doctor who also earned a Master of Fine Arts at Florida State and imbued her paintings with the essence of science, from physics to chemistry, from physiology to psychology, and from surgery to statistics.
The large-scale works reflect a type of painting called "Dynamic Expressionism" and are a gift from Lee's husband, Paul, himself an FSU alumnus with a doctorate in geology, with whom she shared a deep appreciation and respect for science and the arts.