The art of science
The images shared by Florida State University's Hanson Research Group on Twitter look more like installments in a neon art exhibit than snapshots from a chemistry laboratory.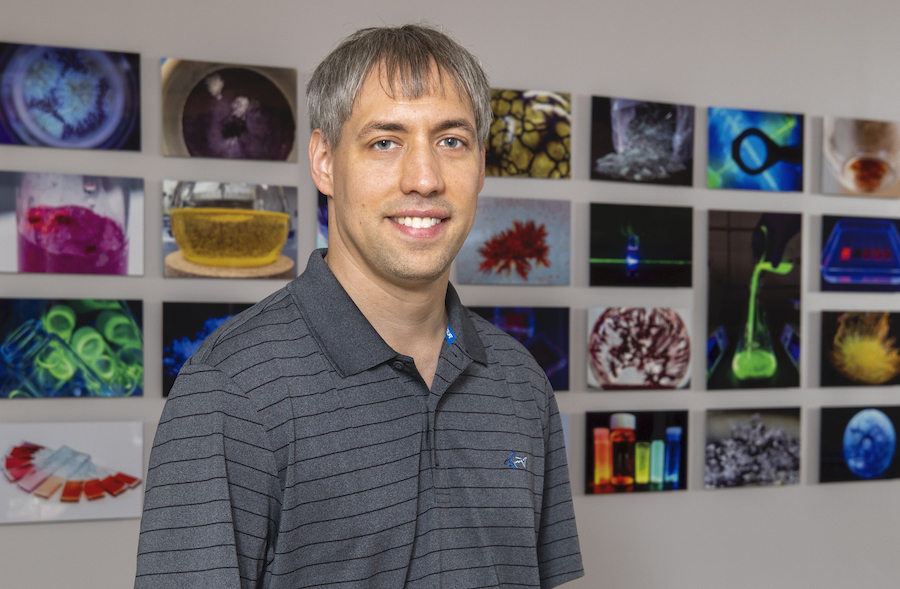 The group's weekly "#FluorescenceFriday" photos of glowing chemicals and lasers are dazzling enough make social media followers stop mid-scroll, to stare in wonder at the captivating technicolor curiosities.
So, what exactly are these colorful creations captured on camera? And what is the science behind them?
Researchers with the Hanson Research Group at FSU's Department of Chemistry and Biochemistry are studying photochemistry and photophysics, examining molecules and materials that absorb and emit light.
Associate professor Kenneth Hanson, principal investigator for the group, said the goal is to understand and optimize the performance of these molecules for various applications, including solar energy conversion, sensing and catalysis. Researchers study how the atomic and molecular composition of matter influences the speed and efficiency of light-initiated events, such as electron and energy transfer.
"For more than 60 years, FSU chemistry has been at the forefront of investigating light-matter interaction," Hanson said. "From the early work of Michael Kasha and Jack Saltiel, through to today, photochemistry has been a crucial part of the department and it is known as one of our strengths nationally and internationally."
Approximately half of the FSU chemistry faculty studies light-driven processes. The department also hosts a summer program through the National Science Foundation's Research Experiences for Undergraduates umbrella, the NSF-REU: Sunshine Institute, which provides undergraduate students from around the country the opportunity to study light-matter interactions with FSU chemistry faculty. Additionally, in the last five years, the department has acquired over $1 million in new equipment to measure and monitor these events.
"Through shared research efforts, we continue to lead in the study of light-matter interactions," Hanson said.
Whether you are a chemistry buff or someone who shudders at the mere mention of the periodic table, it's difficult not to be awed by the department's photography.
"Some of the most striking pictures we take are of relatively mundane science," Hanson said. "For example, if you photograph crystalline sodium chloride, also known as table salt, from the right angle with the right lighting, it looks amazing."
Hanson said the students are very involved in the photography process, contributing the vast majority of the photos on the group's social media pages. After launching a Twitter account in 2013, the Hanson Research Group also began submitting photographs to the Chemical and Engineering News Chemistry in Pictures competition, and has, since then, won several Photo of the Month awards and even the 2014 Chemistry Photo of the Year award. The latter came with a new Canon DSLR camera and a feature in an issue of C&EN. Some of the photos have also been printed by the National Science Foundation, Chemistry World Magazine, and numerous news outlets.
"In the science world, it's sometimes difficult to get the general public interested in various areas of research. Art has proven to be an amazing medium for that."

— Zeljka Popovic
Hanson himself was so intrigued by the pictures, he decided to make a special place for them in his home, covering a wall with 8-by-11 inch metal prints curated and arranged by his wife, Debbie, a project administrator for the University of Southern California's Center for Urban Education. The idea of an art wall started about three years ago, as Hanson's first group of students was approaching graduation.
"I really wanted a way to commemorate them and their work," Hanson said. "Since the images are so integral to who we are, we decided it would be really cool to start printing them off."
Hanson also has his students sign the prints and note their anticipated graduation date. Word of the photo wall spread like wildfire and Hanson admits there may now be a little friendly competition over whose photos are chosen for printing.
"They're excited when they get one of their photos added to the wall," Hanson said with a laugh.
"We do a group gathering at my house a few times per year so they get to see when the wall is updated and they sign the back of their print while they're there. They don't necessarily know if their photo is on the wall until they show up. It's a bit of a surprise for them."
Sharing the images on social media is a way of taking the Hanson group's passion project a step further, engaging with the global science community and the public at large.
"The response to our early images was overwhelmingly positive, and we are happy to continue to share beautiful science photos with people who would like to see them," Hanson said.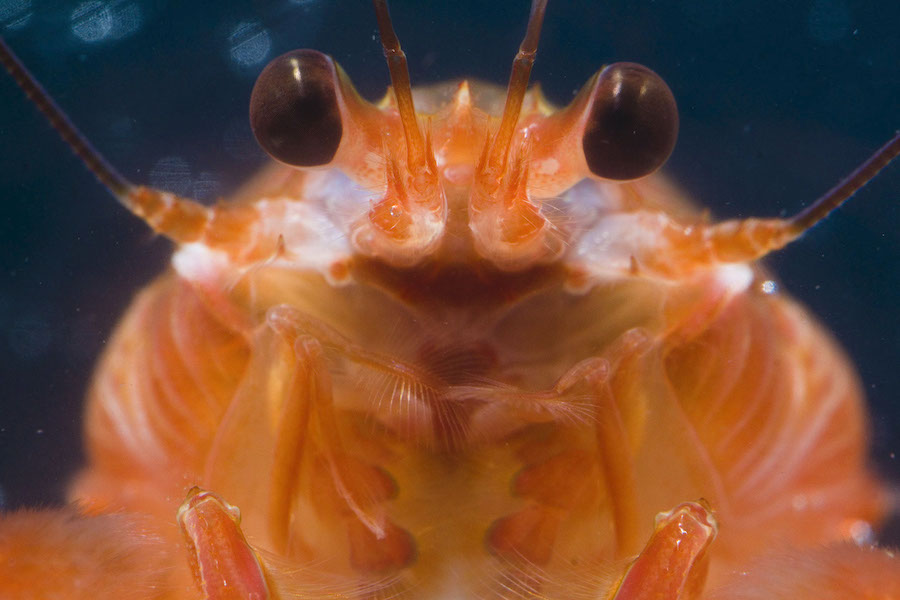 Under the sea
Other departments at FSU are also embracing the artistic side of science. Mike Stukel is an associate professor at the Department of Earth, Ocean and Atmospheric Science and the mastermind behind the FSU Zooplankton Ecology and Biochemistry Lab. The lab shares stunning, high-resolution photos of zoo- plankton that are as breathtaking as they are bizarre.
"My wife, Meagan Helman, teaches photography in FSU's School of Dance," Stukel said. "With her help, I've spent several years developing an approach for getting good photos of live zooplankton."
To capture the photos, Stukel's team conducts careful net collections during research expeditions to collect healthy organisms. Researchers then sort through the samples, select organisms they are interested in highlighting, and gently transfer them into specially designed, acrylic photography chambers. There, Stukel delicately illuminates the organisms as they swim, capturing unbelievable photos that mimic how zooplankton appear in their natural environment.
Stukel said the motive for the photography — and the lab's unofficial motto — is simple: spreading the joy of plankton.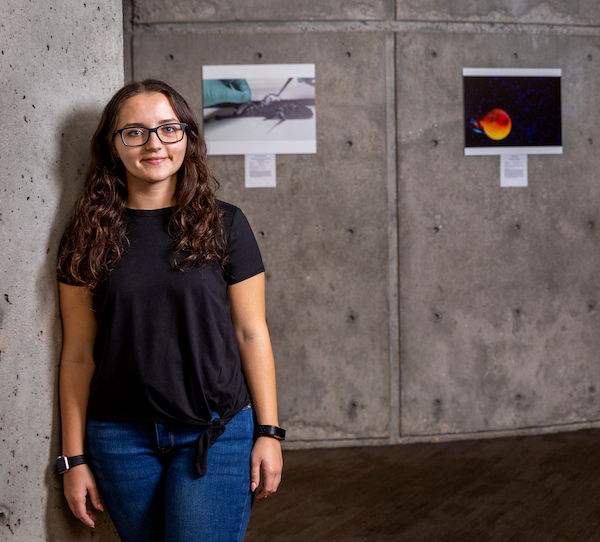 Bridging the gap
Zeljka Popovic is a graduate research assistant and president of Graduate Women in Science at FSU, a student organization that aims to provide a supportive community for women in STEM graduate programs. Every spring semester, with assistance from the FSU Graduate School, the organization hosts the Art in STEM event at Dirac Science Library on campus.
"The event helps us directly connect what people are doing in the lab to a fun event," Popovic said. "They can display their work in a way that they normally wouldn't get the chance to. This also exposes the general public to a 'softer' side of science, one that everyone can appreciate, even if they have no idea what the research is about."
Organizers hope the event helps bridge the gap between scientific discovery and popular interest.
"In the science world, it's sometimes difficult to get the general public interested in various areas of research," Popovic said. "Art has proven to be an amazing medium for that."