Cyber scholar
Charisa Powell excels at academics, extracurricular activities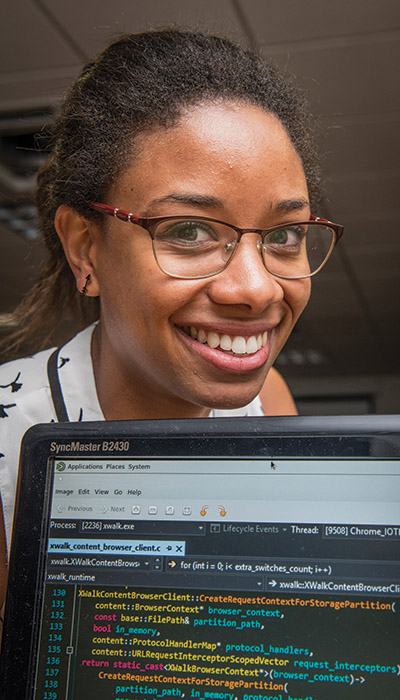 Since arriving at Florida State University as a freshman in fall 2013, Charisa Powell has taken every opportunity to immerse herself in the activities she most enjoys — computer science, music and horseback riding. Along the way, she has maintained a stellar academic record and built an impressive résumé, which already has landed her a job with a national laboratory.
Powell, who earned a bachelor's degree in Computer Science in 2017 and graduated this winter with a Master of Science in Cybersecurity, has her eye on a career in cybersecurity and digital forensics and, eventually,a position as a chief information security officer.
"The undergraduate program opened my eyes to the increasing global threat of cyberwarfare and sparked my passion for learning more and for protecting our country's interests," Powell said. "Issues like the Russian hacking into our elections are not going away, so this field is super-relevant. It's especially interesting to me because I like forensics and using critical thinking and detective skills."
Powell has taken advantage of a Cyber Corps: Scholarship for Service program, offered through Florida State's Cybersecurity program, which received funding from the National Science Foundation and the U.S. Department of Homeland Security. FSU has been redesignated several times, most recently by the NationalSecurity Agency and DHS, as a Center of Academic Excellence in Cyber Defense Education and a Center of Academic Excellence in Research. The federal government views its scholarship program as a way to build a pool of highly qualified cybersecurity professionals.
Cyberscholars at the graduate level like Powell receive an annual stipend of $34,000 and participate as a cohort during their studies and activities, including summer internships in a federal agency. They are part of the Federal CyberCorps, whose responsibility is to ensure the protection of the federal government's information infrastructure.
The program has enabled Powell to build on the skills she has acquired in the classroom through summer internships at Los Alamos National Laboratory in New Mexico and theNaval Surface Warfare Center in Virginia. Shortly after graduation, she started a full-time position as a network and security research engineer at the National Renewable Energy Laboratory in Golden, Colorado.
"It was clear to me that Charisa would get the job she wanted," said Mike Burmester, a professor in the Department of Computer Science and Powell's faculty adviser. "Research teams want people who are smart, work well within the group and who are willing to jump in and do whatever is needed. This is a great job, and Charisa will be an excellent fit."
Consistently on the Dean's List and a member of FSU's Garnet and Gold Scholar Society, Powell has recognized the importance of being an engaged and well-rounded student with interests beyond the classroom.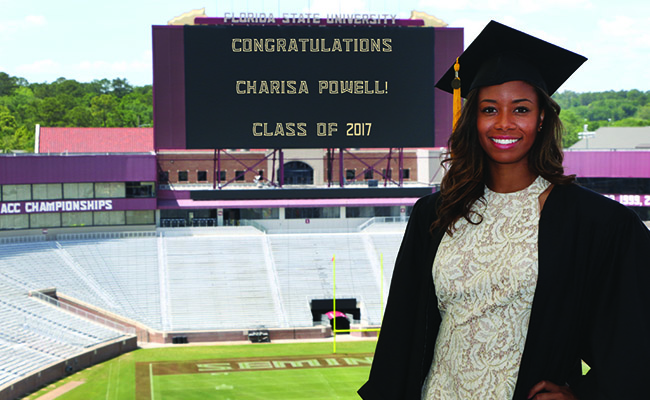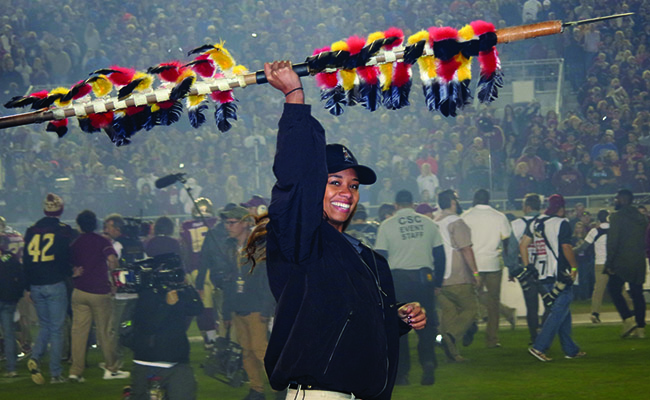 Almost immediately after arriving at FSU, she joined Seminole Boosters and became an equine student handler for Osceola and Renegade, part of a beloved and world-renowned tradition for FSU Seminoles. Osceola, who represents the historical Seminole leader Osceola, and his Appaloosa horse, Renegade, introduce home football games by riding to midfield with a burning spear and planting it in the turf.
As part of FSU's Osceola and Renegade team, Powell learned to ride bareback and rode, exercised and fed Renegade. It was a perfect fit for Powell, who started riding English at the age of 10 and competed in jumping competitions throughout middle and high school in her hometown of Sarasota, Florida, where she attended a school for the gifted and was also a track-and-field star.
Even with a heavy academic and computer-related schedule of activities, Powell, a violinist since childhood, finds time to participate in FSU's Campus Orchestra, which offers non-major string players from across campus the opportunity to play in a string ensemble and perform one concert each year. She also occasionally plays shows with a Tallahassee band.
"From participating with the Osceola and Renegade team, where I was responsible for the wellbeing of Renegade and a part of one of the university's most honored traditions, to gaining a solid foundation in cybersecurity with a guarantee of a great position when I graduate, I could not have asked for a better experience at FSU," Powell said. "I'm forever grateful for the opportunities I've been given."