On the Rise
Vice President Stacey Patterson is propelling Florida State research to the next level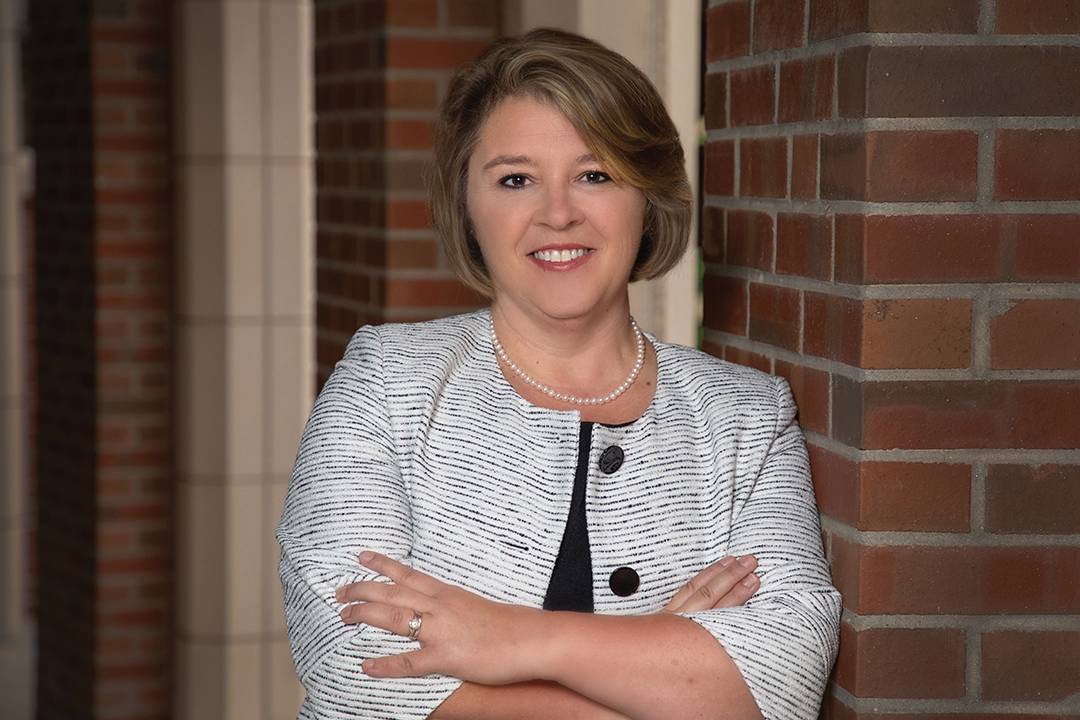 Stacey Patterson's job has an impact on every corner of Florida State University. As FSU's vice president for research, she oversees a diverse research portfolio with more than $355 million in annual expenditures and over 50 prominent research centers and institutes.
Patterson also leads a 125-person unit that includes FSU's federal relations and commercialization offices and the Council of Research and Creativity among others, and she has direct responsibility for five research centers: the Center for Advanced Power Systems, the Coastal and Marine Laboratory, the Florida Center for Reading Research, the High-Performance Materials Institute, and the FSU-headquartered National High Magnetic Field Laboratory.
Prior to arriving in Tallahassee in 2022, Patterson sharpened her research and leadership prowess in various roles across the University of Tennessee system, including in 2017 when she became the first woman appointed Vice President for Research, Outreach, and Economic Development in the history of the UT system.
Patterson, a first-generation college graduate, holds a bachelor's in biological sciences from the University of Tennessee, Knoxville, master's in environmental health science from East Tennessee State University, and doctorate in microbiology from UT Knoxville.
Spectrum Magazine talked with Patterson to learn more about her vision for FSU's Office of Research and its intertwinement with the College of Arts and Sciences.
Spectrum Magazine: In July 2022, you were appointed to your present role at FSU. What was it about the university's research portfolio that attracted you to this position?
SP: I wasn't on the job market when I was approached, but the more I learned about FSU, I realized this was such an exciting place with a rich tradition in top-tier scientific research. The National High Magnetic Field Laboratory is truly a national treasure. We have a great portfolio of research directly oriented toward helping communities as well as the burgeoning FSU Health initiative.
Many programs here are scalable to achieve even greater outcomes for the community, state and nation. I love building programs and initiatives. With so much going on at FSU, this was an opportunity I couldn't pass up.
SM: You have previously secured funding from the U.S. Army, the National Oceanic and Atmospheric Administration, the National Science Foundation, Department of Energy, National Institutes of Health, and various private sector partners. You have also contributed to several U.S. patents. How have these experiences prepared you for your current role?
SP: The Office of Research supports faculty members who work hard every day to secure funding to further their individual research. It would be difficult for anyone to run this kind of operation and not understand that process. I love writing grants — you're telling a story, setting big goals, and dreaming about what you can achieve. I hope my expertise aids FSU in setting up research to better support individual investigators and also in helping pursue funding that supports broader initiatives. Both strategies are critical as we work to double our research expenditures, which President Richard McCullough has set as a top goal.
SM: Translational work and bringing research to the marketplace are hallmarks of your career. Why is this so important?
SP: In my first job at Tennessee, I worked with the system's tech transfer office and loved it. Bringing technology developed by scientists and engineers to the public is a major responsibility of public universities. If we produce a new technology or develop a new drug compound, we want that work for more than a good peer-reviewed paper; we want to use it to help people.
President McCullough feels it's important to grow our translational research — increase the number of patents, licenses and startups coming out of FSU. My background in turning my research into patented technology, being involved in a startup company, and working in a tech transfer office ideally positions me to enhance this part of FSU's research and creative activity portfolio.
"Innovation exists across campus in every discipline, and it is the office's job to support that. No major university exists without a strong commitment to the arts and humanities – they are the building blocks of great societies."

— Stacey Patterson, Vice President for Research
SM: STEM and humanities disciplines are both part of our college, and research is integral to our mission. How is the Office of Research ensuring researchers across disciplines feel equally supported?
SP: The Office of Research supports all creators, innovators, researchers, scientists, engineers, musicians, artists and writers. People associate university research offices with STEM-related scholarship, but that is just part of our role. Expanding research at FSU means supporting faculty in all disciplines, not just those that traditionally bring in a higher amount of grant dollars.
We've created the university's first Research Fellow in the Arts and Humanities, a position that will rotate every two years and work with the office to identify ways to support scholarship, creativity, and research related to the arts and humanities.
Innovation exists across campus in every discipline, and it is the office's job to support that. No major university exists without a strong commitment to the arts and humanities — they are the building blocks of great societies.
For the latest on FSU's Office of Research, visit research.fsu.edu.