The Weather Man
FSU Basketball captain and meteorology grad student Harrison Prieto finds harmony in the clouds and on the court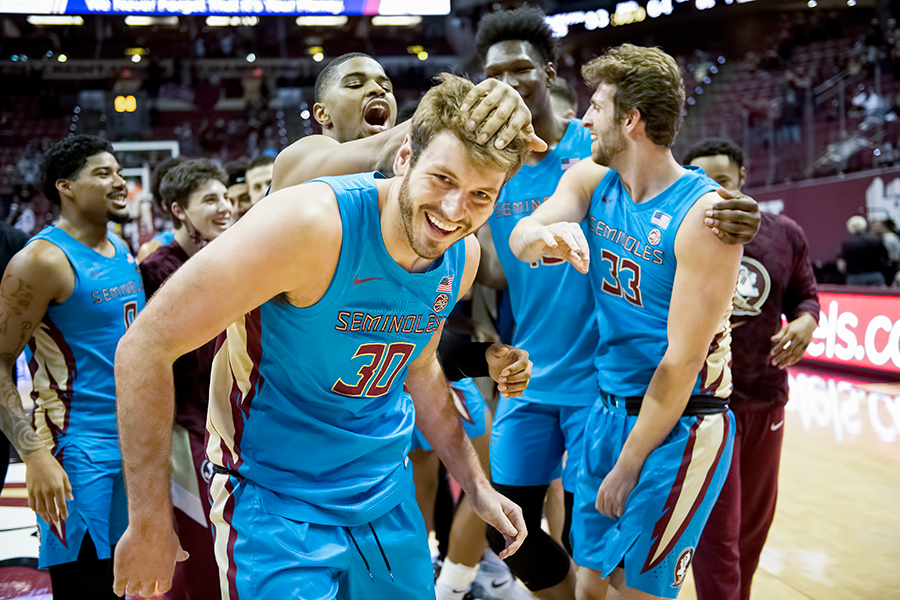 The wild unpredictability of weather can be terrifying to some. For meteorology alumnus and graduate student Harrison Prieto, affectionally known to scholars and teammates alike as "The Weatherman," the unknown is the most exciting part.
"Throughout my childhood, I remember watching storms from my neighbor's porch and being captivated by what I saw, but I wanted so badly to understand why these storms happened," Prieto said. "I've always known I wanted to become a meteorologist, and now, I'm finally able to investigate these curiosities."
Natural Gifts
Growing up in Mandeville, Louisiana, a seven-year-old Prieto's dream of becoming a meteorologist was solidified watching the wrath of Mother Nature as Hurricane Katrina ripped through his hometown. However, while weather forecasting was always his main career goal, Prieto was also a gifted basketball player who elevated and inspired his teammates, and he received several recruitment offers from local schools. With no plans to pursue basketball after high school, he chose to attend Florida State University based on the outstanding research conducted through its meteorology program. However, after enrolling in Fall 2016, the 6-foot-8 Prieto decided to give basketball another shot and made the FSU Men's Basketball team as a walk-on during his freshman year.
"Harrison has bundles of natural talent, which allows him to compete at the highest level of college basketball while also excelling in the classroom," said Prieto's adviser, Rhys Parfitt, an assistant professor in the Department of Earth, Ocean and Atmospheric Science and affiliate faculty member at the Center for Ocean-Atmospheric Prediction Studies. "In the lab, his ability to pick up scientific methods and ideas very quickly has already resulted in some interesting research results I expect he will publish in the near future. Additionally, he is well-liked among members of the research group and is not afraid to put in the time to help others whenever he can."
Climate-inclined
Prieto researches atmospheric-oceanic interactions and how warm and cold fronts interact with the troposphere, the atmospheric layer that includes Earth's surface. This work has crucial impacts on understanding the global movement of pollution as well as the socio-economic effects and financial implications of pollution and extreme weather. Prieto is set to complete his master's degree in July, and fellow members of Parfitt's research group have expressed how much his team approach to science and his ability to see the interconnectedness of weather and society will be missed.
"When you think about it, weather really impacts everything. It impacts whether food will grow, where we may need more natural gas for power plants, and insurance companies need to know where natural disasters are more likely to happen. There are so many aspects of society affected by weather that are often not considered," Prieto said.
As a meteorology undergrad, Prieto excelled in an internship at the National Weather Service Forecast Office in Tallahassee, and was featured on The Weather Channel as well as that network's "Weather Geeks" podcast. Thanks to the FSU Weather program, a broadcasting training ground for meteorology undergrads, Prieto even fulfilled his childhood dream of forecasting on television.
"I can't imagine a more perfect fit anywhere. From my research in the meteorology program to my role on the basketball team, FSU has granted me the most rewarding opportunities," Prieto said. "Basketball and meteorology have also been wonderful complements to each other. Having these two differing responsibilities facilitates better time management and really helps me find a necessary balance."
Seminole Spirit
During Prieto's six years with FSU Basketball, the forward became well known for helping the Seminoles clinch the win, even under pressure, and helped contribute to nearly 140 Seminole victories. During his final season, he clocked the most playing time of his career and became the first Seminole walk-on in decades to record a double-double, when a player reaches double figures in two key stats, including points, rebounds, assists, blocks or steals, in a single game. Prieto was a two-time team captain as well as a member of four NCAA tournament teams, the 2020 ACC championship team, and the Academic All-District 4 Men's Basketball Team organized by the College Sports Information Directors of America.
Prieto's accolades off the court are just as impressive: He was named five times each to the ACC Academic Honor Roll and the FSU Academic Dean's List and twice to the National Association of Basketball Coaches Academic Honors Court. He also won three Golden Torch Awards, through the FSU Athletics Academic Support Program.
"It would be hard to overstate what Harrison means to our team. For six years, he helped us develop our culture and instilled that culture into every single player who joined while he was here," said Leonard Hamilton, the two-decade veteran head coach of FSU Men's Basketball. "When we needed him on the court, he delivered because he was completely immersed in our program. He will be hard to replace because of the unbelievable person he has become during his career, and he truly represents the unconquered [Seminole] spirit."