Presidential Perspective
Chemist, entrepreneur and Florida State President Richard McCullough shares his thoughts on science and humanities collaboration and the value of the research enterprise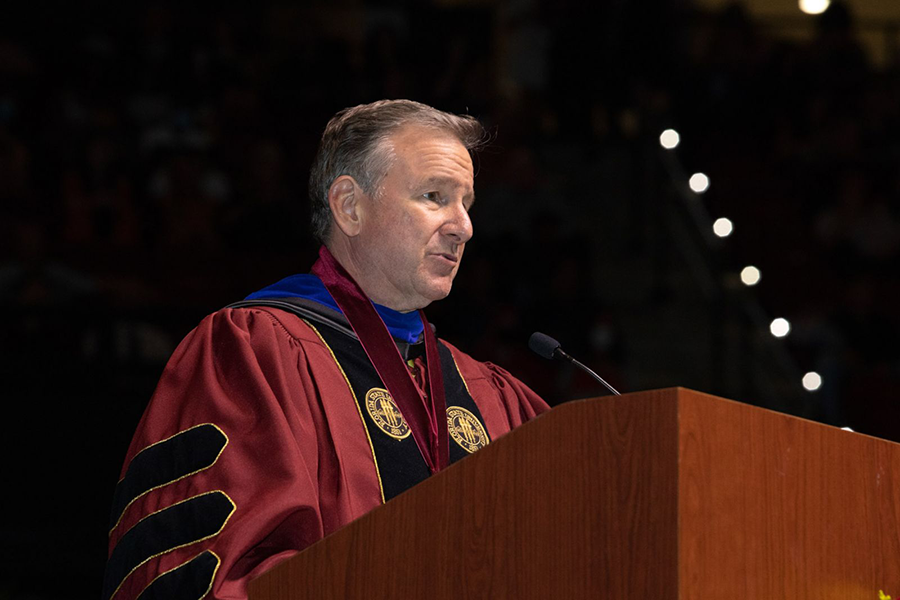 As Florida State University's 16th president, Richard McCullough brings to the role more than three decades of experience in academic research and leadership that have helped him hit the ground running since his arrival last August. McCullough's broad and ambitious vision for Florida State capitalizes on the university's legacy of research excellence and student success and challenges its community to strive for more: Expand the research enterprise, drive investment, foster diversity, encourage collaboration, and deliver added value.
"Florida State has indeed earned the right to be called a great university," McCullough said during his inauguration address, while outlining a vision for FSU that includes membership in the Association of American Universities and a spot inside the Top 10 ranking of the nation's public universities. "Now our challenge — and our responsibility — is to become even greater."
From his roles as vice provost of research and professor of materials science and engineering at Harvard University, to his decades in the chemistry department at Carnegie Mellon University, McCullough brings an interdisciplinary and academic focus to his presidency that aligns seamlessly with the College of Arts and Sciences' slate of offerings and spirit of collaboration. And his entrepreneurship — McCullough founded two companies and holds multiple patents — illustrates the economic value and transformative impact research institutions can generate for the communities in which they operate.
"President McCullough has accomplished much, and we are thrilled that he is now leading FSU," said Dean Sam Huckaba. "His enthusiasm for this institution and its potential to become even greater is infectious. All across campus, faculty members are responding to his calls for innovation and collaborative growth. On behalf of the College of Arts and Sciences, I am exceptionally pleased to welcome the president as a tenured professor in the Department of Chemistry and Biochemistry."
Spectrum Magazine talked with the president to learn more about his vision for FSU and what that means for the College of Arts and Sciences.
Spectrum Magazine: When you became president, you also joined FSU's Department of Chemistry and Biochemistry as a tenured professor. What can you tell us about your reasons for pursuing an FSU professorship, and how has your career as an academic shaped your leadership perspective?
RM: It was very important for me to pursue a tenured professorship because I am an academic, and I've been a professor at every university I've been associated with. At my core, I'm a faculty member, I just happen to be an academic administrator or the president, but I think about things as a faculty member because it's who I am. I wanted to be held to the same standard we expect for our tenured faculty members, so I asked to go through the full process: I was very happy to get tenure.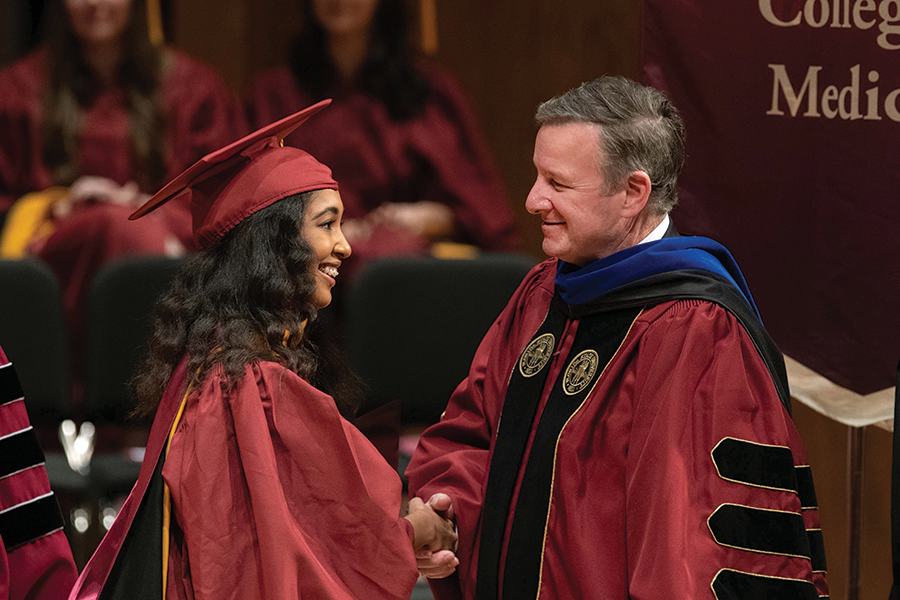 I'm a professor-centric academic administrator, and universities are great because of their faculty. The faculty set the university's reputation and that reputation leads to peer assessment. The university rankings in turn attract undergraduate and graduate students based on the quality of the programs, which are based on the quality of the faculty. Investment in faculty and shared governance with faculty and getting feedback from faculty are the heart and soul of my administration.
SM: Among the College of Arts and Sciences' competitive advantages are interdisciplinary collaborations that happen as a result of collocating the natural sciences and humanities. What collaborations have you seen among the sciences and humanities, and what do you envision on the horizon for such collaborations at FSU?
RM: FSU is a great place to consider connections between the hard sciences and humanities. Books and art and how we use those amazing resources as scientific research tools are incredibly significant. The history of science when it comes to climate change, for example, is one area where we see the impact of science on humanity.
It's often been said that the written word has a much stronger impact than the science itself because people connect with the human experience. If you look back at John Steinbeck's "Grapes of Wrath" and the Dustbowl or the Chicago meatpacking industry in Upton Sinclair's "The Jungle," those books had a much more profound effect than policy or science.
People don't often stop and think about the intersection between humanities and the sciences, but the power of the humanities provides the power to change the world.
SM: You've spoken often about commercialization activities and providing support to students and faculty members as they transform their research into startup companies. How do you see this fitting into FSU's larger research enterprise, and how will providing such support contribute economic value?
"One of the many wonderful aspects of Florida State is that we have alumni who truly love the university. It's not something we have to convince them of, so it is incumbent upon us to continue to demonstrate how we are advancing our programs and how their philanthropic dollars can be transformative."

— Richard McCullough, Florida State University President
RM: One of the things I'd like to do at Florida State is provide guidance for people interested in starting companies or translating or commercializing their technology that helps them understand not only how to do that but also encourages them and provides a clear path. FSU does not presently have a policy on starting a company, so we're working on creating one. Once we have an approved policy, then we'll provide opportunities for people to learn how to start a company.
I founded a couple of companies and it can be hard to figure it out alone, so it's important to provide pathways for people to learn how do it right. Starting a company is fascinating; I learned some of the most interesting problems that needed to be solved in science through that work.
My first company, we were trying to create materials for the televisions of the future, which are actually the OLED televisions of today [where the picture is formed by a thin, bendable layer of organic light-emitting diodes]. There's a lot of science that goes in understanding how to increase the lifespan of the lights and the televisions, but you're also creating jobs.
Companies create a lot of jobs — even small startups create five or six jobs. We created 80 jobs in Pittsburgh through my first company, and my other company employed about a dozen people. Startups create jobs that help keep talent in Tallahassee and in Florida, and they contribute economic value — money comes into those companies and gets spent locally.
When you do it the right way, startups can help transform economies and the city itself. Once you start having a lot of companies form, people start paying attention. Then other companies start considering sending a few people to Tallahassee to set up an office. Then, maybe, it's establishing a bigger office. All of a sudden, you're talking about adding 1,000 new, high-paying jobs in the region. It's not something that happens overnight, but it's something I'm very excited about.
For a very long time, I've been an adviser to Washington University in St. Louis and Oxford and Princeton and I've been on the [American Association of Universities] Committee on Tech Transfer and Commercialization, so this is an area I know a lot about and look forward to seeing what we can do here.
SM: Among your stated goals is to increase research expenditures at FSU, particularly National Institutes of Health funding. What can you tell us about your plans in this area, and how will the forthcoming partnership with Tallahassee Memorial Hospital help FSU advance this goal?
RM: The Florida Legislature has been incredibly supportive of FSU. Governor DeSantis signed the budget and we received $125 million to build a new life sciences research building that may be near TMH and could bring in as much as $45-55 million in life sciences research into the area. Ideally the space will be populated with physician scientists, and it will also help attract new physicians to Tallahassee and take our already good health care and make it even better — that is our ultimate goal.
The digital health data science initiative we're trying to get off the ground will also hopefully attract corporate partners, and we have amazing things going on in nursing and with mental health in psychology and the College of Medicine. We're bringing seven-and-eight-figure research grants into FSU, which means we're competitive with pretty much all the researchers in the country for funding.
Research is a real strength for FSU, so we'd like to continue to build on that and branch out with increasing expenditures across our disciplines including chemistry, biology, physics, statistics and more.
SM: College of Arts and Sciences alumni account for nearly a third of all living FSU graduates and range in age from 21 to 101. What would you most like them to know about the value FSU brings to its alumni at all stages of their lives, and why is it important for them to continue to invest in FSU?
RM: One of the many wonderful aspects of Florida State is that we have alumni who truly love the university. It's not something we have to convince them of, so it is incumbent upon us to continue to demonstrate how we are advancing our programs and how their philanthropic dollars can be transformative.
We must engage alumni in interesting ways and show how that involvement can be mutually beneficial. We have great direct support organizations and I am seeing how we can start to integrate more with our colleges, develop new initiatives and build on the programs we already have in place.
For the latest on presidential news and initiatives, visit president.fsu.edu and follow @PresMcCullough on Twitter.