Magnificent Mind
FSU neuroscientist Wen Li studies processes behind human emotion, cognition and psychopathology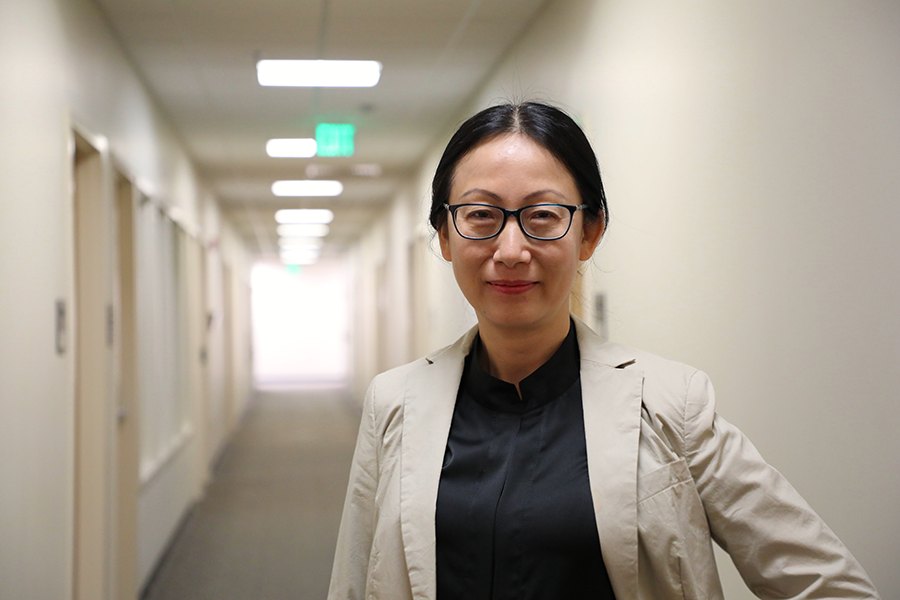 "Isn't it just so beautiful?" Florida State University associate professor of neuroscience Wen Li asks, gazing at the image on her computer screen, smiling from ear to ear.
Li looks at MRI scans of a human brain the way many people look at a colorful sunset, and her passion for neuroscience and clinical psychology is undeniably infectious.
Growing up in Wuxi, China, a town with a deep intellectual tradition located about an hour outside of Shanghai, Li became interested in studying psychology after seeing the mental and cognitive suffering endured by patients that went unnoticed by the doctors treating them for physical afflictions.
"It was the mental toll that was not acknowledged at all at the time in China that upset and pained me. It prompted me to study psychology to raise awareness and understanding of mental illnesses," Li said.
Li viewed the United States as a global leader in various areas of science, culture and mental health, and decided to move abroad in 1999 after being accepted to Northwestern University, where she completed her doctorate.
"I was lucky enough to enter a great university with great resources to help international students. The cultural shock, cultural and linguistic barriers were still very real and hampering. It took many years to largely overcome them," Li said.
Despite the hurdles, Li dove into research and landed a job at the University of Wisconsin-Madison in 2008. In 2015, Li came to Florida State, attracted by FSU's Strategic Hiring Initiative in Brain Health and Disease, the opening of the functional MRI facility, and university's overall strength in clinical psychology.
"Dr. Li was one the first hires we made when the FSU MRI Facility became a reality," said Frank Johnson, chair of the Department of Psychology. "Through her work, she continues to demonstrate the ground-breaking potential that the fMRI brings to the FSU campus."
Li now helms the Cognitive Affective Neuroscience Lab at FSU, which conducts a wide range of research on clinical psychology and neuroscience. Studies from her lab have been published in prestigious journals including Science, Neuron, Brain, Proceedings of National Academy of Sciences, Current Biology, and Journal of Neuroscience. Li has attracted over $2 million in funding from the National Institutes of Health as principal investigator for her research.
"Wen is fantastic for her breadth and depth of knowledge and ability to communicate it," said Joshua Brown, a third-year neuroscience graduate student in the CAN Lab. "She is truly passionate about science and will discuss at length the insights she has uncovered herself and the knowledge she has gained from her collaborations with others inside and outside of her field in cognitive neuroscience."
Brown, whose research focuses on the neural underpinnings of attention and fear memory, said the facilities and clinical focus at FSU have afforded him opportunities to innovate, such as recording electroencephalogram and fMRI data simultaneously. This allows for new analyses of dynamic brain activity that are not possible with traditional static measures.
"Wen's training in clinical psychology, together with her diverse methodologies involving fMRI, transcranial magnetic stimulation, and EEG, have been instrumental in developing a new area of research excellence in human cognitive neuroscience over the past decade," said Lisa Eckel, director of FSU's Interdisciplinary Program in Neuroscience. "Wen led this effort, allowing us to expand our graduate training program by attracting top students who are interested in using human-imaging techniques to conduct cutting-edge basic and translational research in cognitive neuroscience."
Li's latest work analyzes how neural electrical oscillations at certain frequencies may help to downregulate the hyperactive brain and restless mind, especially for those dealing with stress and anxiety. She is also researching how transcranial neural stimulation, achieved by passing a weak electrical current through the skull, can be used to enhance such oscillations so as to mitigate pathologies and normalize mental and behavioral activities in patients.
"By integrating research on different levels spanning basic principles by which the brain operates, different large-scale networks, and psychological processes and behavior, we are translating basic science in the lab to treatment at the clinic," Li said. "By isolating specific neural mechanisms and inventing non-invasive techniques to target these mechanisms, we are developing new treatments for these debilitating and hard-to-treat conditions."
"High-impact discoveries do not come by easily. To answer important questions, which are usually hard to do, one needs to have grit in order to overcome obstacles along the way."

— Wen Li, Associate Professor of Neuroscience
Leading research that could provide hope for how conditions such as Alzheimer's disease, post-traumatic stress disorder, schizophrenia, and depression are perceived and treated is only half of what Li hopes to accomplish through her work. The other half is sharing her fascination with psychology and cognitive neuroscience with her students and inspiring them to harness their own power through a combination of passion and perseverance, what Li calls, "grit."
"High-impact discoveries do not come by easily," Li said. "To answer important questions, which are usually hard to do, one needs to have grit in order to overcome obstacles along the way."