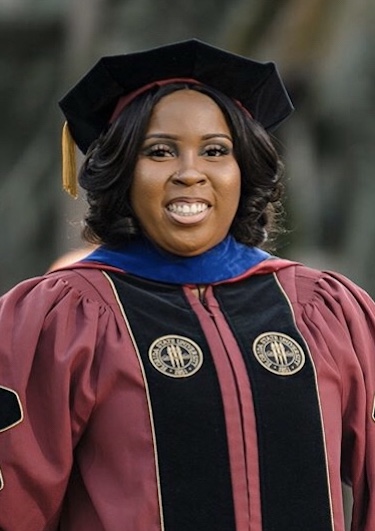 Physics phenom
From Trinidad and Tobago to Tallahassee, Kalisa Villafana writes a new chapter
By Rodney Campbell
A funny thing happened to Kalisa Villafana a few months before earning her Ph.D. in nuclear physics at Florida State University. She discovered she was making history. 
After enrolling in the physics graduate program in 2012 and attending a few National Society of Black Physicists conferences, where she met a lot of women who were "firsts" at their university, Villafana began to wonder if FSU had ever had a black woman in its physics program. 
"I decided to look into it more and contacted the archives department at FSU," said Villafana, who earned her master's degree in 2015 and completed her Ph.D. in August. "I was able to confirm that I would be the first black woman to earn a Ph.D. in the FSU physics department." 
The feat is just as impressive on a national scale. Villafana became just the 96th black woman in the country to ever earn a Ph.D. in physics. 
"I know Kalisa has been somewhat surprised by all this attention but she definitely deserves it," said Mark Riley, Villafana's major professor since 2013 and current dean of the FSU Graduate School. 
Villafana is accustomed to taking an unconventional route to earning her education. After graduating from an all-girls school in her native Trinidad and Tobago, she was one of only seven women in her physics classes while earning her undergraduate degree at Florida A&M University. 
Strong mentors helped Villafana achieve her goal of earning a physics degree, a dream she had from age 12. After taking a year off to work as a teacher back home, she became a mentor at FSU by joining the Florida Georgia Louis Stokes Alliance for Minority Participation, a partnership with the National Science Foundation to increase the numbers of minority STEM bachelor's, master's and Ph.D. recipients. The NSF, along with the State of Florida, funded Kalisa's research within the experimental nuclear physics group. 
"I received so many emails from young people who wanted to pursue the field and wondered how they could get to this point," Villafana said. 
"I tried to encourage and mentor people. It made me do my best." 
Overseeing her research efforts and collaborating with her on a daily basis gave Riley a clear view of Villafana's hard-earned knowledge and passion for her field. 
"Kalisa is a superstar," he said. "She is brilliant, persistent and has a fabulous sense of humor. She cares about people and moving the world forward to a better tomorrow. It has been a joy to work with her and the research results she has produced are simply outstanding." 
For her thesis, Villafana analyzed complicated high-resolution gamma-ray spectroscopy data from a nuclear fusion evaporation reaction experiment at the John D. Fox Superconducting Linear Accelerator Laboratory on campus. She then examined findings from a second experiment at Argonne National Laboratory in Chicago using the world's most powerful gamma-ray detector, Gammasphere, which was featured in the 2003 movie "Hulk." 
Villafana spent several years sifting through complex datasets to extract results on the structure behavior of a number of exotic iso- topes of tungsten, gadolinium and samarium atomic nuclei. 
"Part of the fun of graduate school is to be the first human to discover something no one else had ever seen, and Kalisa discovered a lot of new stuff," Riley said. "We have already published a paper in The Physical Review on the superfluid correlations between the protons and neutrons in these and neighboring heavy nuclear systems and how these correlations respond to increasing angular momentum and excitation energy. No other group in the world had done this in such a comprehensive and elegant systematic way." 
Villafana's accomplishments helped her secure a job at Intel six months before graduation. It was a seed first planted in 2017 when she met one of the company's recruiters at a FAMU-FSU College of Engineering workshop. 
A year before her planned graduation, she followed up with Intel. The company responded and interviewed Villafana last winter. A week after the meeting, she was offered the job and the company was willing to wait six months for Villafana to finish her degree. In August, she packed her bags and moved nearly 1,900 miles from Tallahassee to Chandler, Arizona, to start her job as a process engineer. 
"I'm doing a lot of data analysis," she said. "Things that I did for my Ph.D. are helping me." 
Villafana plans to continue helping others as part of her work. She may no longer be at FSU, but the lessons she learned in Tallahassee will last a lifetime.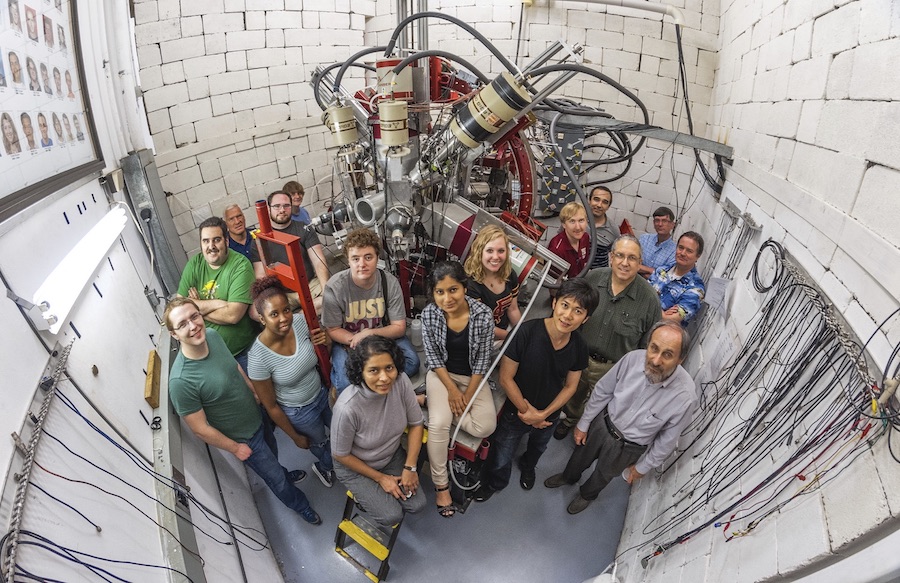 title-inside title-centered
2