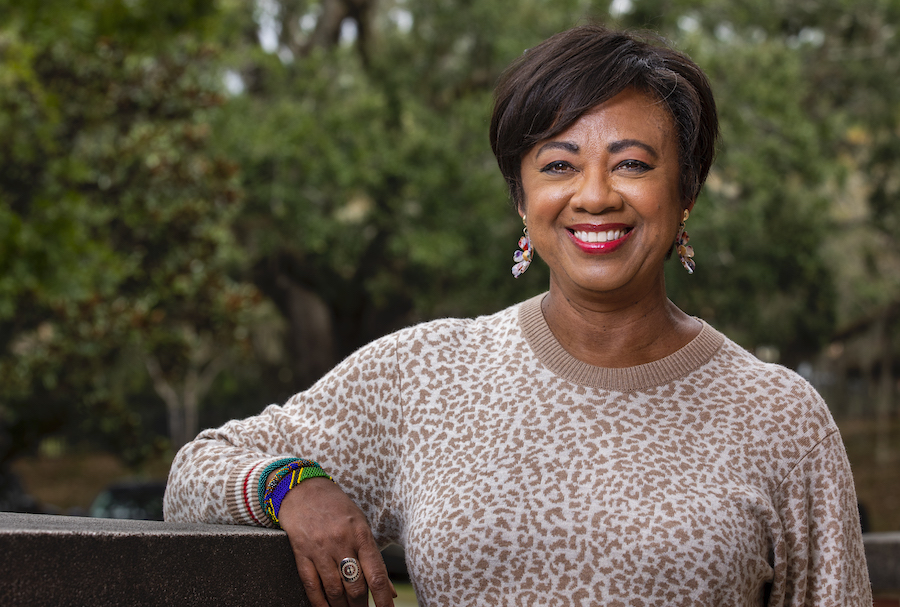 Meteorologist in Manhattan
WNBC-New York Chief Meteorologist Janice Huff has a heart of garnet and gold. The Florida State University alumna chased her dreams all the way to the Big Apple and is boldly blazing the trail for future forecasters.
By Amy Robinson
For New Yorkers, Janice Huff is a household name. At Florida State University's Department of Earth, Ocean and Atmospheric Science, she is nothing short of a legend.
"I first became interested in weather when I was child, probably around five years old," Huff said. "I loved science and watching clouds change shape and morph into thunderstorms — I was afraid of lightning but fascinated with storms."
It was a gift from Huff's mother that put a name to her passion.
"When I was eight, long before the internet, my mother bought me a set of World Book Encyclopedias. One day I was looking through the "M" book and came upon the subject 'meteorology.' That's when I decided I wanted to become a meteorologist!"
In 1978, Huff graduated from Eau Claire High School in Columbia, South Carolina, with acceptance letters from three universities: North Carolina State, the University of Florida, and Florida State.
"FSU invited pre-admission students to Tallahassee for a weekend tour of the campus. I never got to the other schools because I fell in love with the university!"
Huff's college career coincided with several iconic moments in FSU history including Bobby Bowden's heyday, the hiring of Mike Martin and the opening of the Donald L. Tucker Civic Center.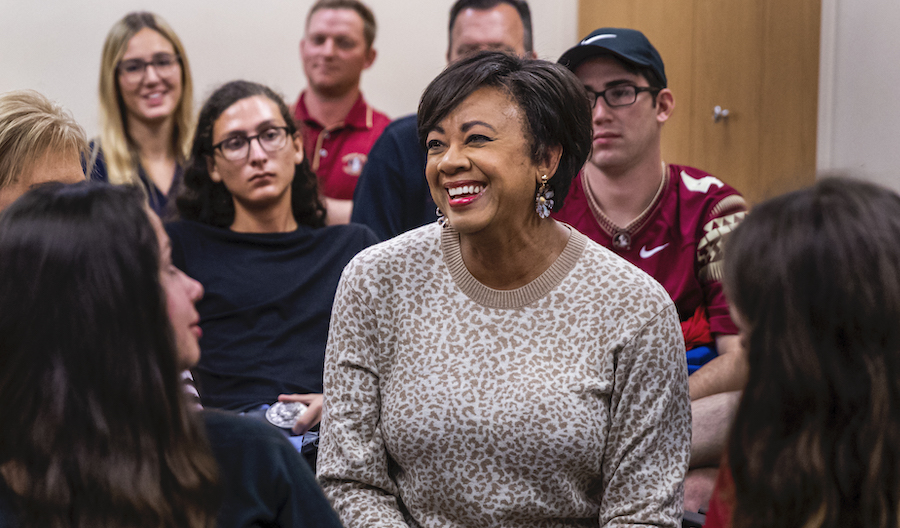 After earning a Bachelor of Science in meteorology, Huff landed a job as a weekend meteorologist for WTVC in Chattanooga, Tennessee. Even early in her career, Huff's forecasting prowess was as undeniable as her charm. It wasn't long before she began taking larger television markets by storm, accepting offers from stations in Tennessee, Georgia, Missouri, California and, ultimately, the No. 1 market in the country, New York City.
In 1995, Huff joined the team at WNBC, where she would go on to become the station's chief meteorologist. It's the position she holds today, now leading a team of four full-time forecasters. For the entire 25 years of her tenure at WNBC, Huff as been the only female chief meteorologist in New York City.
Her dedication and passion for her work have opened many doors along the way.
"One of the best memories of my career was interviewing President Barack Obama in the Rose Garden of the White House and reporting live from the press briefing room. I was there with a group of meteorologists and weathercasters from around the country to discuss the annual Climate Assessment of the nation," Huff said. "It was truly an out-of-body experience."
Another fond memory is when Huff received the call from the American Meteorological Society that she had been elected a Fellow, one of the organization's greatest honors.
"I had no idea I had been nominated. I'm still in shock I was chosen with the likes of the late Ted Fujita, Joanne Simpson, and FSU's James O'Brien and T.N. Krishnamurti."
Other notable FSU grads who are Fellows include Marshall Shepherd (past AMS president) and Alan Sealls (past National Weather Association president).
Huff hasn't forgotten her roots, however, and frequently returns to Tallahassee to mentor students. She most recently returned in October during FSU Homecoming Week, speaking to students at the annual alumni meteorology workshop.
Huff makes it a point to attend the workshops and meet with as many students as possible. She has missed just two sessions in the workshop's 22-year history.
That Saturday, Huff and other distinguished meteorology alumni — including Bryan Norcross, Nancy Dignon, Alan Sealls, Mike McCall, Chris Smith, and Yolanda Amadeo — met with FSU meteorology students and critiqued their forecast tapes.
"It's important for the broadcast students to connect with alumni working in the field. It's just as important for me to get to know them and talk about my experiences in TV meteorology. They need to know it's possible to become just as successful," Huff said.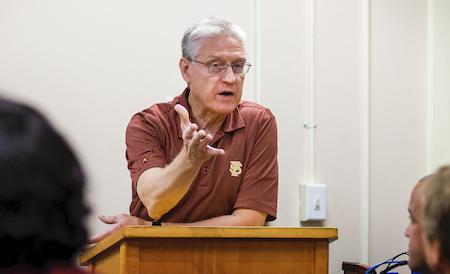 FSU associate professor of meteorology Jon Ahlquist has organized the workshop for years and seemingly remembers every student who has ever graced the greenscreen.
"Our annual weathercasting workshop is designed so that FSU weathercasting students hear from professionals in the field rather than just from me as the instructor. Students are inspired by alumni like Janice who have attained and have maintained status in major markets and who give back selflessly to FSU," Ahlquist said.
Sophomore meteorology student Jonathan Marcus attended the workshop to get feedback on tapes from his first semester in weather broadcasting.
"Janice Huff has been in one of the most competitive and largest television markets for the past 25 years now, showcasing her infectious personality and commitment to public safety. Yet time and time again, she comes back to FSU to help out those of us just beginning in the field," Marcus said. "I believe that truly showcases her character."
Student Sloane Haines describes the FSU meteorology program as a family, a point validated by the impressive number of accomplished alumni that return for events such as the weather workshop.
"I am very grateful that we have such an impressive alumni network, from New York City to the Weather Channel in Atlanta and the West Coast," Haines said. "Being a woman and a minority in a STEM field can be intimidating at times, but having powerful women to look up to, such as Janice Huff and Yolanda Amadeo, is inspiring. These women have accomplished so much in their careers."
Huff says her advice to aspiring meteorology students is simple; be patient, never stop learning and stay true to yourself.
"Let your passion shine through and work will never seem like 'work,'" Huff said. "When it stops being fun, it's time to move on."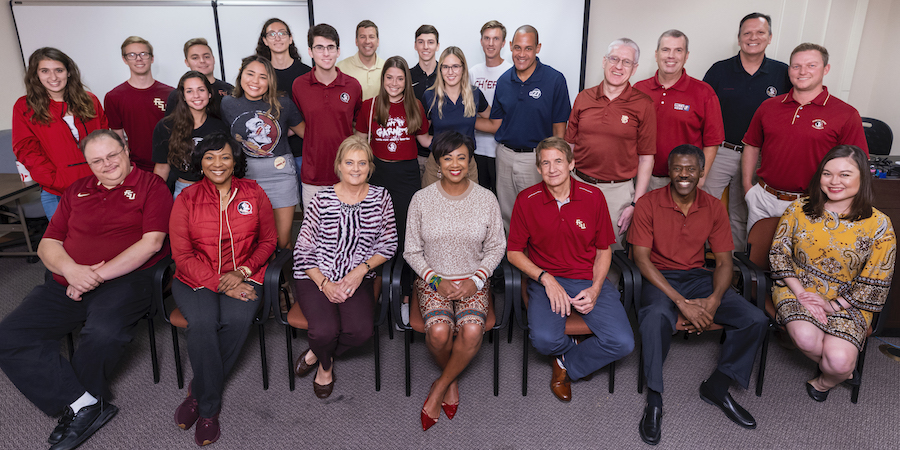 title-inside title-centered
2