Student Spotlight: Johanna Marquez Diaz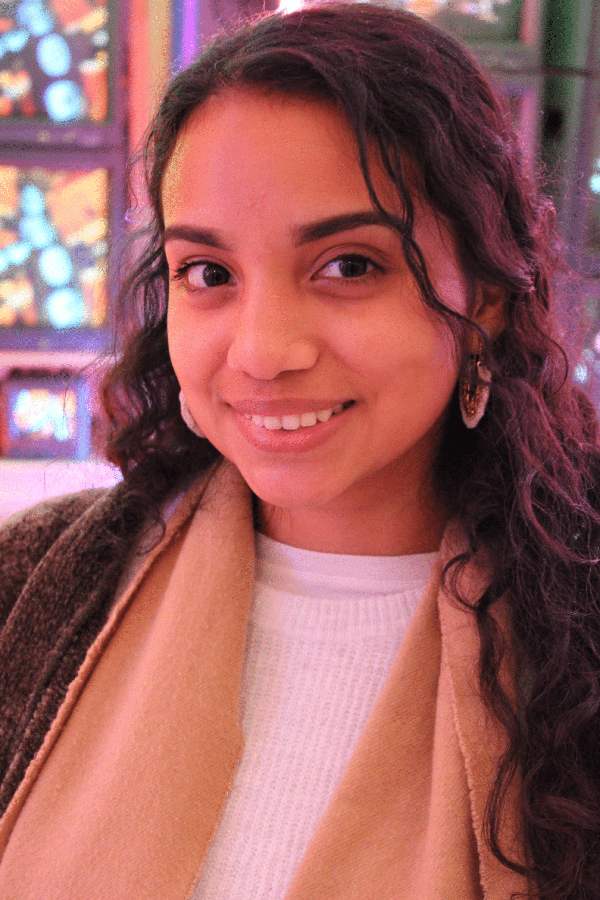 Johanna Marquez Diaz is a senior majoring in behavioral neuroscience in the FSU Program in Neuroscience and minoring in chemistry, both programs that are part of the College of Arts and Sciences. Diaz is a member of the Florida-Georgia Louis Stokes Alliance for Minority Participation in STEM and a transfer student from Seminole State College of Florida. Diaz actively participates in FSU's Undergraduate Research Program through the Center for Undergraduate Research and Engagement and plans on serving as a UROP leader this fall.
Where are you from? When is your expected graduation date? What brought you to FSU?
I am from Orlando, Fla., and I plan on graduating in Spring 2022. I transferred from Seminole State College of Florida to Florida State University in Summer 2020 because I have always wanted to attend FSU, and its research opportunities fit perfectly with my interests.
What inspired you to choose your major and your specific area of research?
I have always been interested in research, psychology and biological science. The field of neuroscience covers all of these areas with an additional focus on brain behavior. Upon declaring my major, I knew I wanted to be part of a fascinating, growing field with an advancing scientific community.
What aspect of your research do you find most fascinating?
Neuroscience research is extremely complex, and the process of obtaining data is interesting. Because I actively participate in a directed individual study with professor of psychology Diana Williams at the Williams Laboratory. I have learned many lessons already about brain complexity and data retrieval. I am excited to learn more!
You are an active member of the Undergraduate Research Opportunity Program at FSU. What has your experience been like in this program, and how does your passion for neuroscience guide you?
I've had the opportunity to meet individuals from all fields who are eager to share their knowledge, and this program helped me meet other transfer students interested in research. This past year, I worked with Lynette Hammond Gerido, a researcher in the College of Communication and Information at FSU, on her project analyzing health disparities, decision-making, and information behavior. Although my research project was not focused on neuroscience, I can apply my experience collecting quantitative and qualitative data to future neuroscience research. I will be a UROP leader teaching transfer students this upcoming year, and I hope to inspire them with my research experience and guide them on their research journey.
Who are the faculty or staff members that have helped or inspired you?
I am most inspired by my research team at the Williams lab: Diana Williams, research scientist Lisa Rascoe Anderson, and laboratory technician Isabel Coiduras. They are always enthusiastic about teaching me valuable skills for success in the lab, and I appreciate their hard work and dedication to students.
How has your role as a student researcher helped prepare you for academic and professional success? Where do you anticipate your research will lead you in your career?
Working with Lynette Hammond Gerido through UROP helped me learn about the methods and interpretation process of qualitative and quantitative research. These skills enhance my abilities in my current role as I learn about other research processes in the Williams lab. As a DIS student, I plan to apply the skills that I learn in undergrad to pursue graduate school and future research in neuroscience.
You are an active member of the Florida-Georgia Louis Stokes Alliance for Minority Participation in STEM. How has this organization helped you grow and prosper in the field of neuroscience?
The Florida-Georgia Louis Stokes Alliance for Minority Participation (FGLSAMP) in STEM has provided me with a great support system as I have received expert-level advice on academic and personal success from many mentors in the program. This program helps me apply to exciting opportunities in my field and offers additional resources for minority students to excel, and I recommend others to join FGLSAMP who are looking for additional support.
What do you like to do when you're not doing schoolwork or research?
I love to volunteer. In Spring 2021, I volunteered at From Outside In, a nonprofit organization based in Orlando, Fla., that provides free shopping experiences to youth in need. I plan to participate in other volunteer opportunities in Tallahassee soon.
After graduating, what are your plans? Although you might miss FSU, what are you looking forward to in your post-graduate life?
I am looking forward to working in a research lab and attending graduate school. Both experiences will build my skills in order to pursue a doctoral degree in neuroscience in the future. I am excited to apply the research skills I have acquired at FSU and explore different opportunities in the field of neuroscience.
What advice do you have for fellow students?
Don't be afraid to ask for help! People are usually happy to help you in your academic or personal journey, and it can be a wonderful opportunity to learn. Asking for advice from professionals working in your dream job is also extremely beneficial.