Student Spotlight: Florence Egbeyale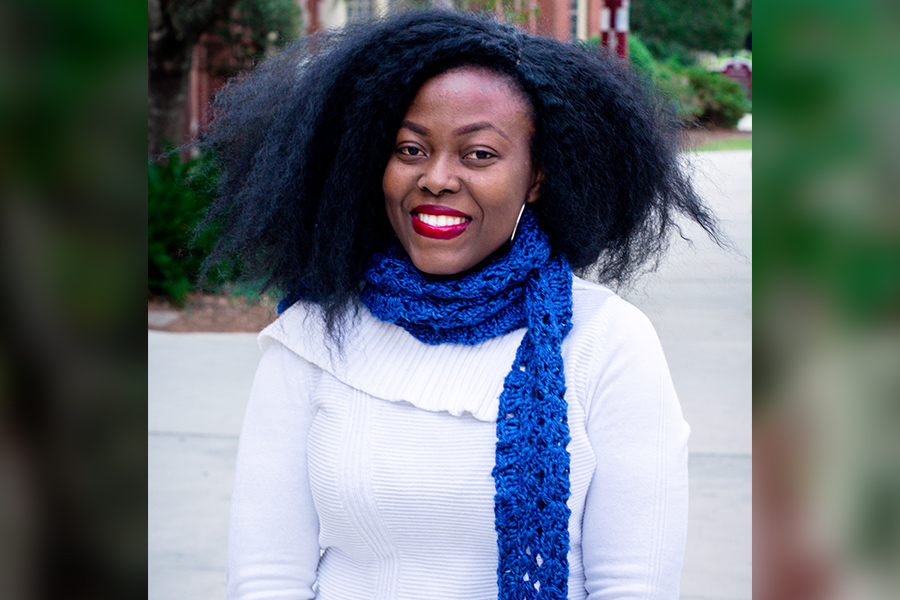 Florence Egbeyale is a doctoral student pursuing a degree in religions of Western antiquity through Florida State University's Department of Religion, part of the College of Arts and Sciences. Egbeyale graduated summa cum laude from the University of Ibadan, Nigeria, with her bachelor's and master's in 2015 and 2018 respectively. Her research interests focus on the intersections of Judaism and Christianity and include religion's impact on society and culture. Egbeyale has been published a total of five times since 2018, the most recent of which being published by Bloomsbury Academic and Professional.
What year are you in school, and when do you expect to graduate?
I'm a fourth year Ph.D. student, and I will be graduating in 2025.
Tell us a little about your background, where you're from and what brought you to FSU.
I'm a native of Ilero, Oyo, Nigeria, but I have primarily resided in Ibadan, Nigeria, which is where I had my elementary, secondary and tertiary educations to the master's level prior to pursuing my Ph.D. in the United States. My continuing efforts to strive for excellence in academic research inspired my interest in pursuing a graduate program outside of Nigeria. I'm particularly fascinated by the broad scope of FSU's Department of Religion and the elasticity in accommodating the kind of interdisciplinary research in which I am interested.
What inspired you to pursue a doctoral degree in religions of Western antiquity?
The trajectory of my life and my aspiration and resilience to achieve excellence are informed by how I grew up: I am the last of 13 children born in a polygamous family. I am a first-generation student, and I am the first in my family to pursue a graduate degree. I believe pursuing a doctoral degree is vital to me becoming equipped to carry out studies in contested areas in my field, not only in Africa, but globally.
What were the reasons you chose your area of study?
I grew up in an environment that deeply embraces religion. I have encountered people who used selective textual interpretations to justify misogynistic tendencies and the maltreatment of women. On a personal level, I have been a victim of ill-treatment traceable to these kinds of religious interpretations. My interest was piqued when I realized many issues can be addressed through religion-related academic research. The male-dominated nature of the field and the belief that women can bring considerable changes to the conversation were also motivating factors. As an African woman and a scholar, I believe that I'm creating positive change within the field of religion.
What do you want the public to know about your studies? Why are your topics important?
The significant position that religion and religious discourse holds in various societies across the globe cannot be overestimated. My specific interest is the interpretation of religious texts through an intersectional lens; these interpretations have important implications for scholarly discourse regarding issues such as gender equity, leadership, and sexual reproductive health and rights. Historically, there is no shortage of narrow and egocentric analytical frameworks for textual interpretations, which have aided in the perpetuation of racial prejudices, ethnocentrism, patriarchy, segregation, and the neglection and subjugation of some people who fall into societies' margins.
What aspect of your areas of study do you find most rewarding?
I find it beneficial that my academic studies explore the various intricacies and dynamics of not only the literary components to religious texts, but also the sociological and historical dimensions to texts that shape various perceptions on crucial decisions in society. FSU also provides a space to speak freely about religious discourses with people who have different, identifiable beliefs; this is enriching and insightful as it fosters intra- and inter- religious understanding in many respects.
What aspect of your area of study do you find most challenging?
Many people don't understand the importance this type of scholarship offers. The work we do is instrumental in bridging important societal gaps. There are also a lot of misconceptions about the type of research I'm interested in — I've had experiences when people accused me of being anti-religion, and some think I'm training to become a clergy member.
What are some current goals or projects that you're working on?
I'm presently in the middle of satisfying the requirements for my doctoral candidacy, after which I intend to fully launch my research, which is focused on investigating the interconnection of texts and contexts in African Initiated Churches and the complex human insight on the place of religion in society and sexual and reproductive health.
Are there any faculty or staff who have helped or inspired you?
The faculty in the religion department have been exceptionally kind to me; however, I'm super grateful for the great support and help I've received from my immediate adviser, professor of religion and director of graduate studies Matthew Goff. I'm also immensely thankful to the other three faculty members in my track — associate professor of religion and distinguished teaching professor David Levenson, associate professor of religion Nicole Kelley and assistant professor of religion Drew Durdin — for their guidance and kindness.
What on-campus resources have helped you achieve success?
I will say FSU is the best in terms of having faculty and staff members who are both helpful and accessible. I've also benefitted from the work of the Division of Student Affairs' Department of Student Support and Transitions, which provided me with the technology I needed to make the COVID-19-induced switch to remote learning. Additionally, the University Libraries have been an incredibly helpful resource.
Following your graduation, what are your plans? Even though you might miss FSU, what are you looking forward to once you graduate?
My long-term goals are to pursue a career as a university professor and to continue the advancement of marginalized and vulnerable people through my research. I believe my persistent work in this direction will benefit humanity by influencing policies and laws to achieve a better life for all people of all categories in different contexts.