Student Spotlight: Cera Hsu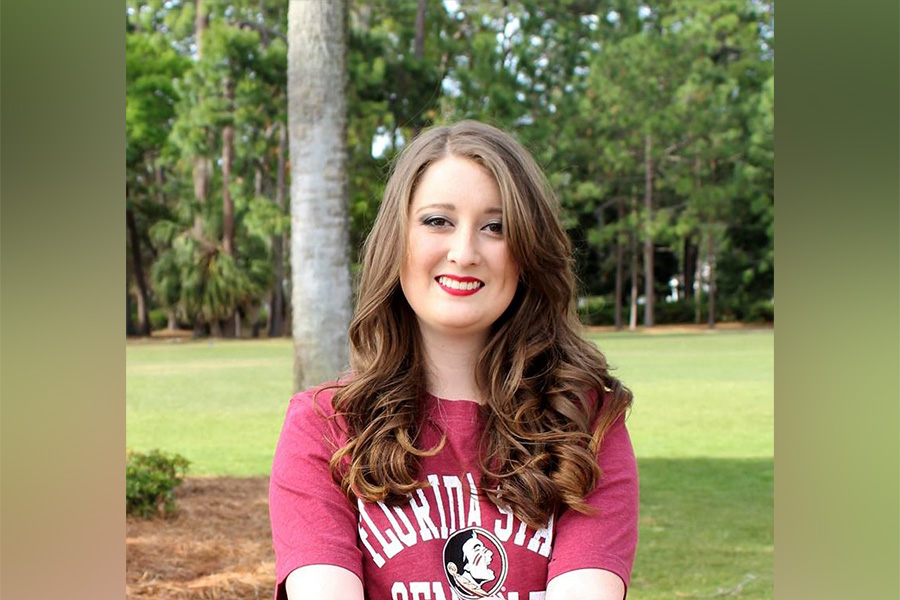 Cera Hsu is a doctoral student pursuing a materials chemistry degree through Florida State University's Department of Chemistry and Biochemistry, part of the College of Arts and Sciences. In 2017, she received her bachelor's degree in chemistry from Valdosta State University. Hsu has been a graduate research assistant with Professor Albert Stiegman's research group since coming to FSU in Fall 2017. Her research involves studying the effects of microwave heating on the chemical dynamics of reactions. Hsu is also a graduate teaching assistant, and she earned the Department of Chemistry and Biochemistry's Outstanding Teaching Assistant in General Chemistry Award for Spring 2020 and Spring 2021. This will be her second year as president of FSU's Graduate Women in STEM organization.
What year are you in school, and when do you expect to graduate?
I am a five-and-a-half-year graduate student, and I'm graduating this fall.
Tell us a little about your background, where you're from and what brought you to FSU.
I'm originally from a small town south of Atlanta. After high school, I attended Valdosta State University where I studied chemistry, however, chemistry wasn't initially my first choice. I started undergrad as a criminal justice major because I wanted to go into forensics, but after a discussion with someone from the Georgia Bureau of Investigation, I decided to pursue a STEM degree so I could be better qualified. Searching for the right science for me, I stumbled upon VSU's chemistry department where the department head happened to hear about my situation and told the secretary to sign me up for the chemistry degree track. Through the chemistry department, I was blessed to have some great professors and mentors that guided me through the chemistry profession and encouraged me to pursue graduate school.
After applying to several graduate programs, I attended the chemistry and biochemistry visitation weekend at FSU, and I fell in love with the department and the professors here. Funny enough, two of my professors from VSU attended FSU for their graduate degrees, and that further inspired me to study here.
What inspired you to pursue a doctoral degree in materials chemistry?
When I first came to FSU, I didn't exactly know what kind of chemistry I wanted to study. I became particularly interested in materials chemistry because of the potential applications and benefits, and how it has the capability to improve the world around us. Materials chemistry can be anything from discovering new energy-efficient processes to new battery technologies to developing biodegradable materials.
Tell us about your work with the Stiegman Research Group.
Working with Dr. Stiegman has been one of the greatest experiences I've had in academia. He's a great adviser and has always been there for me when I have questions or when I want to bounce ideas around on potential directions for projects. Our research together mainly consists of utilizing microwave chemistry, or the application of microwave radiation to chemical reactions, to determine if we can find more energy-efficient ways of producing industrial reactions. Currently, we have been studying ways to convert CO2 (carbon dioxide) to useful products such as CO (carbon monoxide) or CH4 (methane), which are precursors to several industrial processes that our society utilizes.
What do you want the public to know about your research? Why are your topics important?
The topics of my research are important because of the ways microwave chemistry can change manufacturing processes in the industry. Microwaves have the potential to reduce or even eliminate the use of hazardous solvents and other chemicals while also having the potential to produce higher yields of substances like medicinal products, fuels, fertilizers and manufacturing of polymers (plastics) with the use of mineral-supported catalysts.
What aspect of your areas of study do you find most rewarding?
The most rewarding part of research is when a project idea works. So much of the work can be frustrating trial and error, but it's all worth it once you discover the solution to your problem.
What are some current goals or projects that you're working on?
My current goal is to graduate. I want to move into industry and to learn more about chemistry in and outside my field. I'd like to go into environmental sustainability research or refinement of raw materials into useable products with minimal to no carbon emissions.
What on-campus resources have helped you achieve success?
Does going to the campus Starbucks for my caffeine fix count? I've also used the online library services for classes and research.
Are there any faculty or staff who have helped or inspired you? Why/how so?
My principal investigator Dr. Stiegman and colleague/mentor Dr. Mitch Bogle. They have helped guide me through the difficult and interesting field that is microwave chemistry. They opened a whole new world of chemistry I didn't even know existed, and they have always been there to answer any and all of my many, many questions. I will forever be thankful that I had these two individuals to guide me throughout my professional career, and I have learned so much from them.
Following your graduation, what are your plans? Even though you might miss FSU, what are you looking forward to once you graduate?
My husband and I will miss Tallahassee and our FSU family, but we are looking forward to moving to a new location since we've both been in the Georgia-Florida area most of our lives. I look forward to our next adventure and continuing my career in the chemical industry. I hope to find somewhere I can continue finding ways to improve the world around us.