Student Spotlight: Bradley Hupf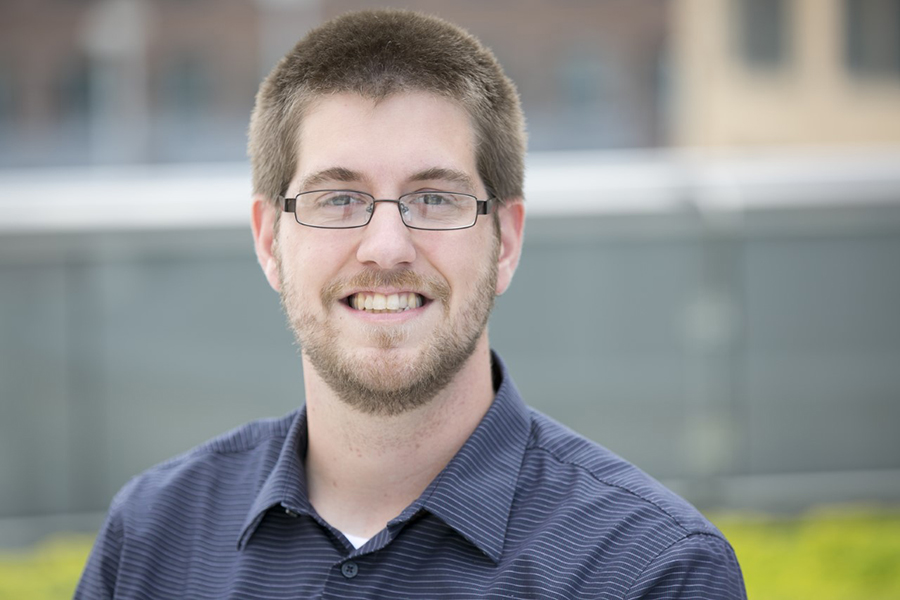 Bradley Hupf is a fifth-year doctoral student in the Florida State University Department of Statistics, part of the College of Arts and Sciences. He was awarded a Legacy Fellowship, a nomination-based, multi-year award for first-year doctoral or master of fine arts students, and is currently working with professors from both statistics and the psychology department to create an index that aims to help doctors predict the onset of depression.
Where are you from? What brought you to FSU?
I was born and raised in Miami. As an undergraduate, I completed one year at the University of Miami, but decided UM wasn't for me and transferred to the University of Florida. I finished my bachelor's degree there, then applied for the statistics doctoral program at FSU. I started as a teaching assistant, working alongside great faculty, and I now work as a research assistant. T
Tell us about applied statistics. How does it differ from theoretical statistics?
Applied statistics is all about focusing on a specific scientific problem where data is available and applying and developing statistical techniques to attempt to solve the problem. Whereas theoretical statistics is more about developing and advancing the general statistical-mathematical framework. They definitely rely on each other; theoretical work is needed to make sure you're applying the correct techniques and a lot of theoretical work is inspired by interesting real-world data sets and problems.
What don't people know about statistics? Why are you passionate about it?
I think most people don't realize how diverse the study of statistics is. Statistics is being applied in business, chemistry, biology, psychology and many other fields. Of course, a lot of math is involved, but we also use computer science to develop and apply code, as well as writing and presentation skills to effectively communicate results obtained from our analysis to others. I  am passionate about statistics because it attempts to answer, in a scientific way, difficult questions that are often subjective or lacking a definitive 'right answer.' For example, we can use statistics to measure if an ad campaign actually increases sales or use it to develop a reliable way to predict who will develop a specific cancer.
What are you working on right now?
I am working with Dr. Greg Hajcak, a psychology professor and director of the MRI Research Facility, who is trying to predict the onset of depression by searching for a predictive biomarker related to how the brain reacts to reward. In a previous study, an electroencephalogram, or EEG, was used to measure the brain activity of several patients while they played a game in which they could either win or lose a small amount of money. My advisers, Dr. Eric Chicken and Dr. Debajyoti Sinha, and I are developing a new way of combining this EEG data with other demographic variables to create an index (a single number summary of all the predictors), which has an increasing relationship with a measure of depression. That is, if a patient has a higher score on the index, then they have a higher predicted measure of depression.
Also, in the process of creating the index, we have become interested in determining what portions of the EEG are most useful in predicting the measure of depression and how those portions can help us better understand the onset of the disease. For example, is depression associated with an increased or decreased neural activity 200/400/600 milliseconds after the result of the game is presented to the patient?
You work with professors in both the statistics department and the psychology department. How have they inspired you?
Working with professors from both departments has inspired me to seek an interdisciplinary position in the future. I believe many of the questions being asked today are too complex for one field to answer. Bringing together experts from a variety of fields, allows individuals to play to their strengths and encourages examination of a problem from diverse perspectives.
You've spent a couple of summers interning around the U.S., how have these experiences changed or solidified what you know about statistics?
I've completed two vastly different internships. One was at Blizzard Entertainment, a video game developer and publisher, which was focused on business operations. The other was a research-focused internship at Takeda Pharmaceutical Company. These experiences solidified for me the wide variety of fields to which statistics can be applied. It also showed me that being a statistician isn't only about analyzing data, but also how to effectively communicate your results in order to aid in decision-making, whether it be to evaluate the effectiveness of an ad campaign or the decision to continue development of a new cancer drug.
How has the Legacy Fellowship impacted your time here?
The Legacy Fellowship has helped reduce the financial burden of graduate school and exposed me to the research of other graduate students, outside of statistics, through the Fellows Society, which is open to all graduate students who hold fellowships at FSU.
What do you like to do when you're not researching or working on your dissertation?
I enjoy going to trivia with other graduate students and playing video games when I have the time.
Upon receiving your doctorate, what are your plans? How will you celebrate?
Once I graduate, I plan on pursuing employment in either pharmaceuticals or in the business or finance world. I will celebrate my graduation by returning home to Miami and taking a break from statistics before starting my career.
What advice do you have for your fellow students or students who are interested in your field of study?
My advice is to explore the options of how to apply your degree. My experiences thus far have taught me that there are many different ways to use what I've learned.