Postdoc Spotlight: Josh Cullen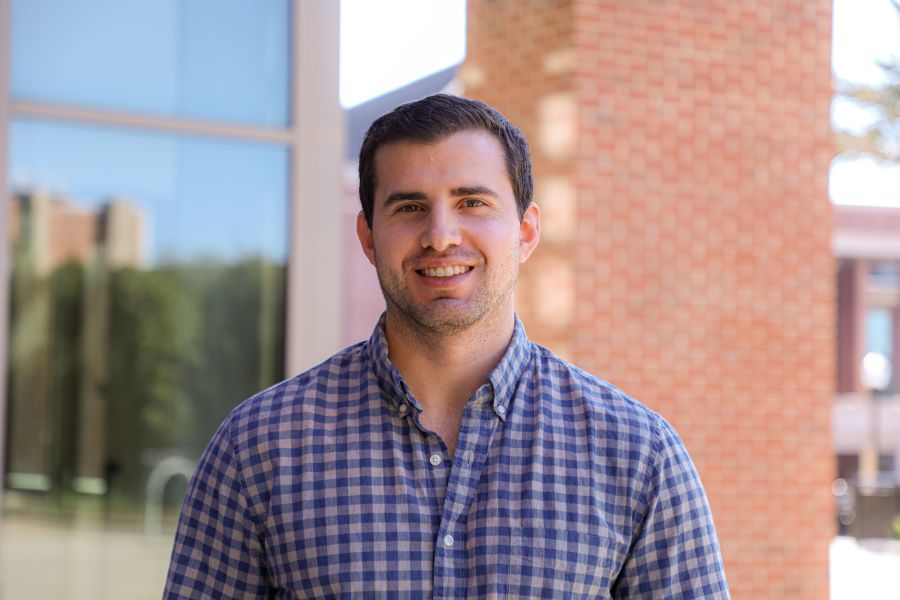 Josh Cullen is a National Science Foundation Postdoctoral Research Fellow in the Department of Earth, Ocean and Atmospheric Science, part of Florida State University's College of Arts and Sciences. Cullen earned a bachelor's degree in biological sciences from Clemson University in 2013 and earned a doctorate in wildlife and fisheries sciences from Texas A&M University in 2019. Cullen currently researches the movement patterns of marine animals, particularly sea turtles, through the Marine Turtle Research, Ecology and Conservation Group spearheaded by associate professor of oceanography Mariana Fuentes.
Tell us a little about your background and what brought you to FSU.
I'm originally from New Jersey, but I moved to South Carolina to earn my undergraduate degree from Clemson University, which is where I first cultivated my interest in science. My research there focused on a species of goby fish that climbs the rockfaces of waterfalls to reach upstream adult habitat. Then, I earned my doctoral degree from Texas A&M University, comparing the ecological roles of three different coastal shark species and studying how bite-force and tooth shape are related to diet changes as these animals age.
Can you break down your areas of interest for us?
My current primary research interest is green sea turtle movement ecology, specifically investigating their location, behavior and preferred habitat. Fellow researchers and I collect this data at the individual level and scale our analyses up to understand how these turtles respond at the population level. We expect there to be some variation among individuals; just like humans, turtles have different personalities. Even though they might live in different areas, we aim to get a sense of the whole green turtle population. The goal is to gain accurate insights that can inform conservation and management strategies for green sea turtles, especially since they are a threatened species.
What inspired you to choose your field of study?
Visiting zoos and the ocean, watching nature documentaries, and exploring the outdoors as a kid are usually what inspires people to go into environmental research, and I'm no exception. When I first entered college, I was on the pre-medical track, but I quickly found that wasn't my path after getting involved in research. Later, while earning my doctorate and conducting research on sharks, I assisted my adviser on a sea turtle movement project. This sparked my interest in both sea turtles and the field of animal movement ecology more generally.
What aspect of your area of study do you find most fascinating?
The massive physical scale of marine animals' movement patterns and behaviors is incredible. Additionally, many factors can impact an animal's behavioral patterns, such as its internal physiology, age, the external environment and seasonal weather patterns.
Tell us about your work with the Marine Turtle Research, Ecology and Conservation Group.
This is my second year working in professor Fuentes' lab. The lab's goals are to study the spatial ecology and behavior of marine turtles to improve real-world conservation and management outcomes, ultimately protecting these threatened species. My main task in the lab is running large statistical models that work to understand green turtle habitat preferences. I also mentor both undergraduate and graduate students, supporting their individual research projects as well as assisting in their professional development. Tagging turtles with satellite trackers is a collective effort between the lab and many other organizations including the National Oceanic and Atmospheric Administration and U.S. Geological Survey, as well as individual researchers like my former doctoral adviser, professor of marine biology at Texas A&M University Christopher Marshall.
What do you want the public to know about your research? Why are your topics important?
There are only seven sea turtle species worldwide, five of which are native to the Gulf of Mexico, and they are all endangered or threatened in some capacity. The predictive capacity of statistical models based on tracking data is highly useful; by having an accurate idea of where a species will be at a certain time, we can predict areas of high risk for boat strikes — when a boat's propellers make contact with and consequently harm marine life. We can also predict areas of high risk for bycatch of non-target species, or when one species is caught while fishing for another . These results can be used to inform government decisions regarding species conservation, such as restricting ship or boat speed in channels, defining boundaries for protected areas as well as setting the duration and timing of harvest periods for particular fish species.
Are there any faculty or staff who have helped or inspired you?
Professor Fuentes has been incredibly supportive since I began working in her lab, and I'm very grateful for her. Additionally, I'm inspired by the researchers in the Center for Ocean-Atmospheric Prediction Studies, or COAPS, particularly COAPS director and distinguished professor of oceanography Eric Chassignet.
Do you have any exciting projects or goals you're currently working towards?
I am currently developing a statistical model to accurately predict green turtle occurrences at any geographic location in the world. My goal is to create both short- and long-term forecasts of habitat suitability, which means a numerical index representing a habitat's ability to support a given species. Short-term forecasts are typically measured a couple of weeks out, whereas long-term forecasts related to climate change impacts can be used to project several decades into the future. Ultimately, I hope to produce a web application with maps to visualize these forecasts.
Following the completion of your postdoctoral appointment, what are your plans?
My position ends this summer, so I am already job hunting. I would like to conduct ecological research for a federal government organization such as USGS or NOAA , but I am also open to working with non-governmental organizations.
What advice would you offer to undergraduate students, graduate students, and fellow postdoctoral researchers?
Find a topic that's exciting to you, but remember the value of reasonable job prospects. It is important to develop a set of transferable skills that make you marketable to future employers; this is also important for conducting your own research. What I consider to be the top four crucial skills to learn as an environmental scientist are geographic information systems, computer programming or coding, statistics and technical or scientific writing. Being an effective communicator, both verbal and written, is critical to success in many different careers.