FSU's Spring 2022 graduates make waves and university history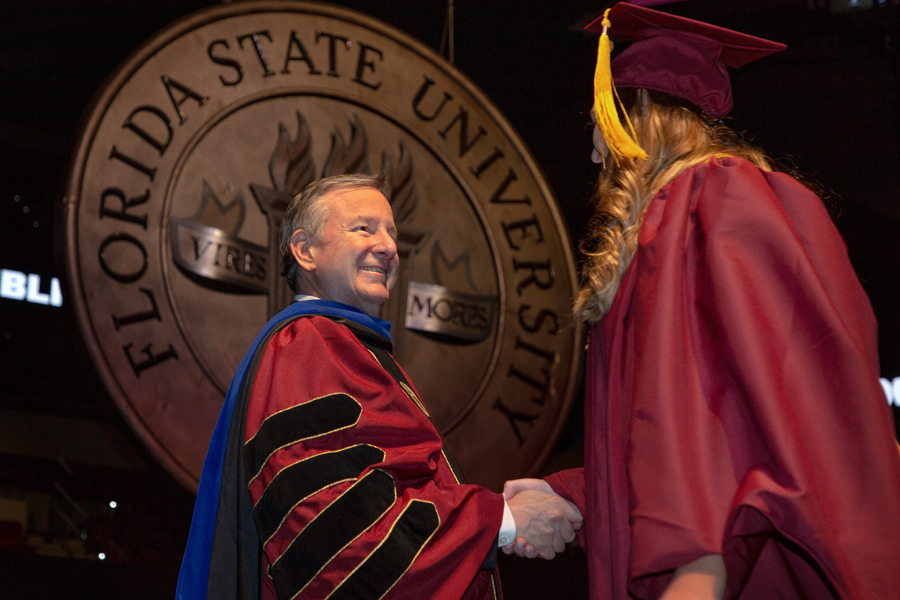 This spring, Florida State University will award degrees to nearly 7,200 graduates, conferring a total of 5,560 bachelor's degrees, 1,373 master's degrees and 230 doctoral degrees. The spring commencement ceremonies will take place April 29-30 and May 1 at the Donald L. Tucker Civic Center, with graduates from the FSU College of Arts and Sciences scheduled to take the stage beginning at 7 p.m. on Friday, April 29.
History will be made on Friday, as FSU confers a degree to the first graduate of its new Interdisciplinary Data Science Master's Degree Program, which launched in the Fall 2021. Luke Van Popering, who earned his bachelor's degree in scientific computing from FSU in 2021, will be the first to hold a master's in data science from the program.
"Luke is one of a kind," said Gordon Erlebacher, professor and chair of the Department of Scientific Computing. "As a student graduating from the data science program, he has exceeded my expertise in several areas due to his passion and dedicated focus on mastering advanced machine learning in all its facets. His work ethic is unrivaled and his dedication led to his graduating a semester early while satisfying all the requirements."
Van Popering completed an internship at NewSci, an artificial intelligence software development company based in Tallahassee directed by FSU scientific computing alumnus Nathan Crock, where he was offered a position as a machine learning engineer. After graduation, Van Popering plans to join the NewSci team full-time.
Also taking the stage at commencement is psychology major Trystan Loustau. The Barry Goldwater Scholarship recipient was featured as an FSU Student Star in 2020 and has continued to shine brightly, recently earning the university's Marion Jewell Hay Award, awarded to one outstanding Phi Beta Kappa Society member per semester.
Loustau said her experience at FSU has been enhanced by the rich spirit of community she has discovered among campus organizations she's been part of, including the Presidential Scholars Program, the Honors Experience program (HEP), the Undergraduate Research Opportunity Program (UROP), and student groups such as Power of WE.
"The mentorship and support I received from the faculty and staff involved in these programs enabled me to conduct research across a variety of disciplines and helped me to achieve several national awards and fellowships. Not to mention the brilliant, high-achieving students surrounding me, who constantly inspired me to dream bigger," Loustau said. "This amazing community of people made my undergraduate career so rewarding and I will forever cherish my time at FSU."
Loustau will be pursuing her Ph.D. in social psychology at Boston College, where she plans to continue her research on the ways in which morality can be utilized to bridge social divides.
Joining Loustau in the Class of 2022 is fellow Goldwater Scholar Kylee Hillman. The milestone holds extra excitement for the biology major, who is also a first-generation college graduate.
"My favorite thing about my time at FSU has been all the support I've received in pursuing my desired career path. The Office of National Fellowships, the FSU Career Center and members of my lab have been instrumental in getting me to where I am today. I am thankful for the support I've received from the community here at FSU," Hillman said.
Hillman's research mentor, associate professor of biological science Emily Lemmon, said Hillman applied for and obtained her own funding for her honors thesis research through the Ben and Karen Thrower Award within the Department of Biological Science, a unique accomplishment for an undergraduate.
"I recognize in Kylee that spark of passion for research and determination to pursue a career in academia that are strong predictors of future success in academic research. In every conversation about science, she shows impressively deep insight for her level. She exhibits remarkable perseverance in everything — a necessary attribute for a successful scientist," Lemmon said.
During her time at FSU, Hillman presented her research for the Tri-Beta Biological Honor Society Undergraduate Poster Competition. At the conclusion of her research project, she will submit a first-authored manuscript of this work for publication in the Journal of Herpetology. Hillman's post-graduation plans include gaining additional experience as a lab technician and applying to a Ph.D. program for plant molecular biology.
Also graduating this semester is Middle Eastern studies and international affairs student Madelyn Johnson. Johnson, a program assistant at FSU's Middle East Center, has received several awards throughout her undergraduate career, including being named a Boren Scholar, an FSU Presidential Scholar, serving as a fellow at the Institute of Politics at FSU, and receiving the Global Citizen Award from the Center for Global Engagement.
"I have made lifelong friends with fellow students and found incredible mentors in my professors and advisors. Although I am now leaving Tallahassee, I know I will be able to maintain these relationships and continue to benefit from my connections at FSU," Johnson said.
After graduation, Johnson plans to backpack in South America for six months before relocating to the East Coast to continue her work in refugee policy and advocacy.
For more information on FSU's Spring 2022 commencement ceremonies, visit commencement.fsu.edu.