FSU religion professor earns humanities fellowship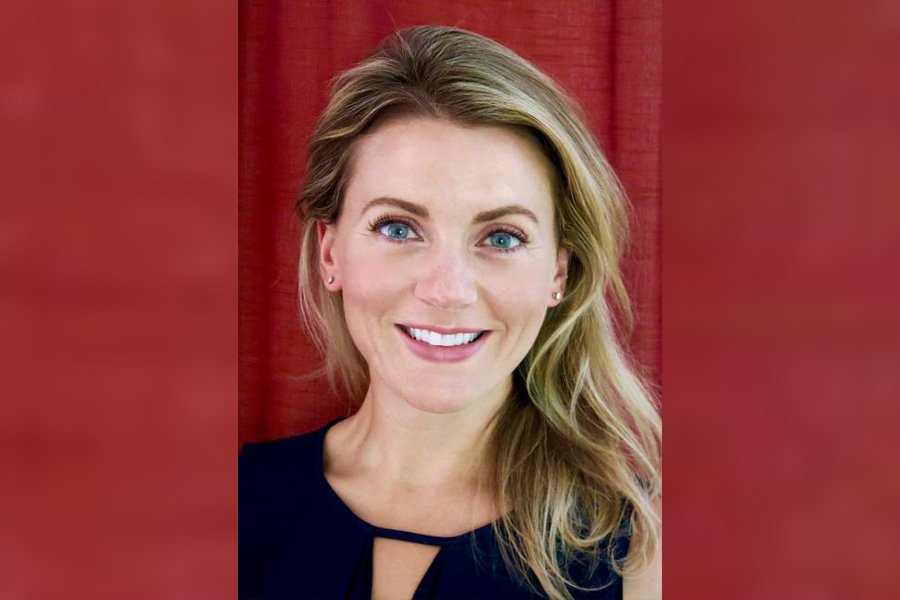 An assistant professor in the Department of Religion has been awarded the Stephen Risley Family Fellowship for the 2021-22 academic year.
Elizabeth Cecil, a historian of religion who just completed her third year of teaching at Florida State University, will use the $8,000 fellowship to continue working on her second book about the development and embedment of Hindu religious communities in regional landscapes of premodern Southeast Asia.
The fellowship was established in 1999 by the late J. Stephen Risley Jr. to support junior faculty in research as they work toward tenure. Risley, who graduated from FSU in 1953, valued education and was an active member of the Leadership Council, the College of Arts and Sciences' alumni volunteer board.
"We realized just how important it is for these professors to have the proper funds to conduct research. We truly enjoyed my husband's participation in the College of Arts and Sciences and are pleased to be able to support junior faculty in this way," said Dorothy Risley, J. Stephen's widow.
The Risley Fellowship is only available to faculty in the FSU departments of anthropology, classics, English, history, modern languages and linguistics, philosophy, psychology and religion. In addition to completing the application process, recipients must be nominated for the fellowship by their department.
"I'm very grateful to have been awarded this fellowship. It's wonderful that the Risley family wants to support and invest in university faculty this way," Cecil said. "The department has been incredibly supportive of me in research and teaching over the past few years. I'm lucky to be part of such a diverse and rich group of scholars in which there are so many different geographic areas and approaches to the study of religion represented."
Cecil's research investigates how religious traditions engage with, incorporate, and are in dialogue with natural landscapes. Her current book manuscript is a broadly comparative study that examines the elite use of art, architecture, and epigraphy at temple complexes from Vietnam, Laos, and Java to transform indigenous religious geographies into political landscapes dedicated to Hindu deities.
During her second year at FSU, Cecil earned a joint grant from the American Council of Learned Societies and the Getty Foundation for the study of art history. This grant, aimed at supporting scholars' use of visual and material culture in their work, allowed Cecil to conduct fieldwork in Thailand, Cambodia, Laos and Vietnam. Her follow-up research was aided by a grant from the Council of American Overseas Research Centers, funded by the National Endowment for the Humanities.
"This next step in my research is crucial because I rely on primary sources, so I need to be out in the field or in the archives gathering evidence. Along with that comes the necessary time to work through all of the material and pull ideas together. It's an exciting but challenging task of synthesis," said Cecil. "I'll be using the funds over the summer, which will allow me to put all of my resources, materials, and evidence from fieldwork and archival research into focused writing for my book."
This research is already enmeshed in Cecil's teaching, as she held a graduate seminar on Place, Space and Religion during the spring 2021 semester. She also teaches a Religion and Ecology course, and in 2022, she is set to lead a course on Religion, Empire, and Colonialism alongside associate professor of religion Matthew Day.
"Her research productivity combined with her innovative scholarship make her deserving of the Risley Fellowship," said Aline Kalbian, professor and chair of the Department of Religion. "Liz's innovation involves combining the study of texts with the study of monuments, inscriptions, and landscapes, placing her work at the interdisciplinary intersections of religion, art history, environmental studies, and archaeology."
Recent awardees of the Risley Fellowship include assistant professor of history Nilay Özok-Gündoğan, assistant professor of psychology Alexandria Meyer, associate professor of psychology Andrea Meltzer, associate professor of classics Jessica Clark, and associate professor of religion Michael McVicar.
Visit the Ways to Give page to learn more about supporting the College of Arts and Sciences and its researchers.