FSU physics hosts 2023 Dirac Lectures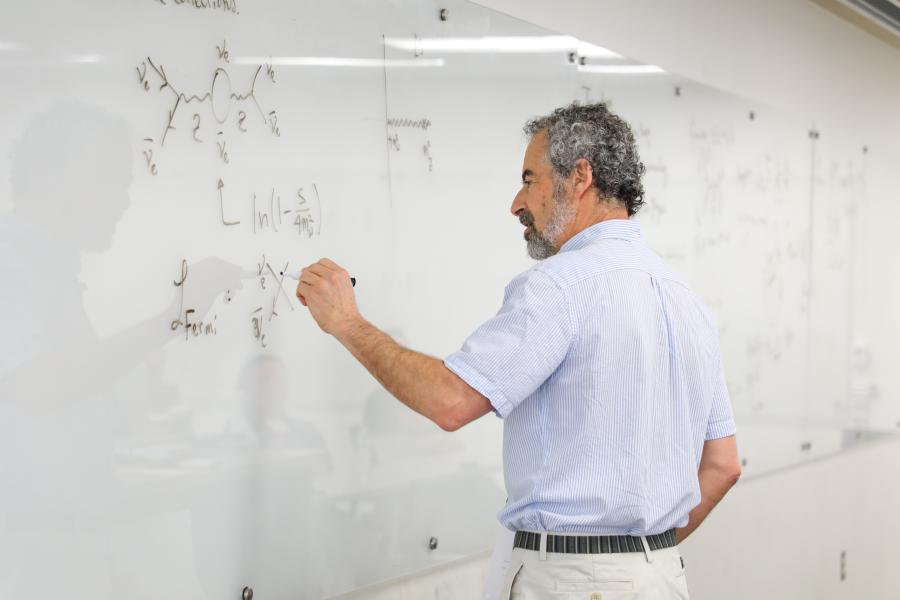 Leading physicists from across the U.S. joined the Florida State University Department of Physics last week for the latest iteration in a longstanding lecture series celebrating the memory of the late Nobel Laureate Paul Dirac.
The 2023 Dirac Lectures focus on effective field theories and the impact these have on a variety of areas including nuclear, particle, and gravitational physics. Effective field theories are theoretical approaches to the study of physical phenomena at a given length or energy scale, allowing the description and calculation of all phenomena at that scale without knowing their underlying physics at shorter distances or higher energies. Scientists consider these theories powerful and efficient ways to explore new ideas, leading to many discoveries throughout the history of physics.
The 2023 Dirac Lectures guests include:
• Zvi Bern, director of Bhaumik Institute for Theoretical Physics and professor of theoretical elementary particle physics, University of California Los Angeles
• Yuval Grossman, professor of physics, Cornell University
• David B. Kaplan, professor of physics and senior fellow of the Institute for Nuclear Theory, University of Washington Seattle
The series, which began in 2007, brings outstanding speakers to FSU to present on topics of particular interest and notability in the field. Laura Reina, the Joseph Owens Distinguished Research Professor of Physics and chair of the Dirac Lectures organization committee, founded the event with one of her former postdoctoral fellows.
"The lectures offer a unique opportunity for students and faculty to learn or review cutting-edge areas of physics that can stimulate further scientific interests," Reina said.
Paul Dirac, the series' namesake, was an English theoretical physicist and is widely regarded as among the most important physicists of the 20th century. In 1933, Dirac won the Nobel Prize in physics with Erwin Schrödinger for their joint discovery of new and productive forms of atomic theory. Three years after his 1969 retirement from the University of Cambridge, Dirac accepted an appointment as a professor of physics at FSU and continued to teach and research until his death in 1984.
"Interactions with the Dirac Lectures speakers build important contacts for the students, and it enhances the visibility of both the Department of Physics and FSU as a whole," Reina said.
Associate professor of physics Fernando Febres Cordero attended the very first Dirac Lectures in 2007, the same year he earned his doctoral degree from FSU. Now, he is a part of the lecture series' organizational committee.
"Our students, particularly graduate students, benefit tremendously from the guest lecturers' presentations," Febres Cordero said. "It is a unique opportunity for graduate students to have leading figures discuss details of state-of-the-art research topics. This extends to the faculty and staff of our department; the lecture series helps us closely follow exciting advances in different physics subjects."
This year's recorded lectures are available online, courtesy of FSU's Global Educational Outreach for Science Engineering and Technology initiative.