FSU chemistry graduates awarded prestigious Beckman Postdoctoral Fellowships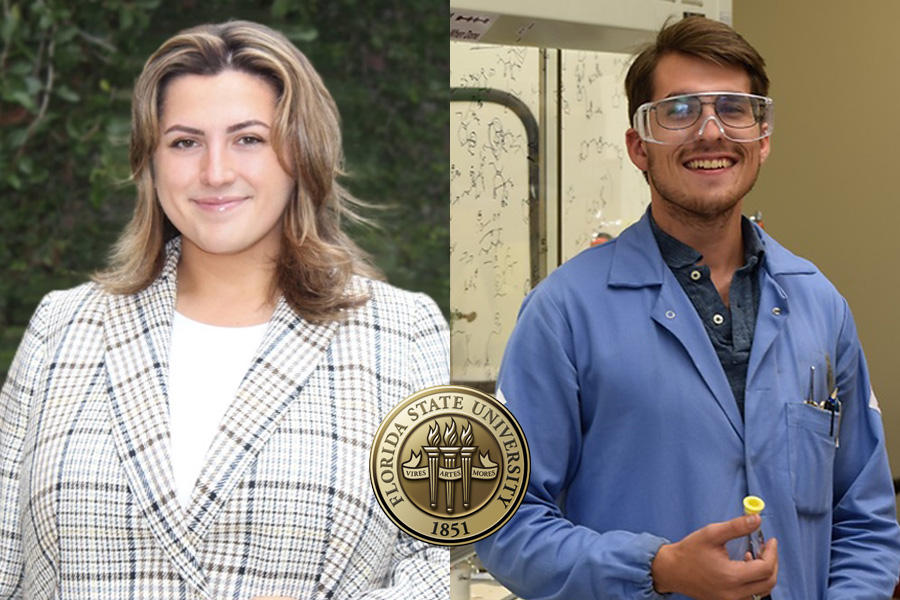 Two Florida State University chemistry doctoral graduates are among the recipients of one of the most prestigious and highly competitive fellowships awarded to postdoctoral researchers studying chemical sciences and instrumentation.
Ashley Arcidiacono and James Law, two recent doctoral graduates from FSU's Department of Chemistry and Biochemistry, part of the College of Arts and Sciences, have received Arnold O. Beckman Postdoctoral Fellowships to continue their respective research.
"The fellowship gives us the freedom to really push the boundaries of scientific knowledge," Arcidiacono said. "Not only does it celebrate our prior contributions, but it also facilitates the next step in our careers by financially supporting the research costs associated with pursuing high-risk, high-reward scientific endeavors."
The Beckman Fellowship program — named for Arnold O. Beckman, a revolutionary of the invention and development of chemical instrumentation and founder of Beckman Instruments — provides salary and research support to postdoctoral researchers pursuing groundbreaking areas of study in chemical instrumentation and chemical sciences.
Sixteen fellows were selected from hundreds of applicants, with each fellow receiving $224,000 over two years for salary, benefits and research expenditures. Instrumentation fellows receive an additional one-time amount of up to $200,000 to cover equipment costs. Arcidiacono and Law join 130 others who have received the award since the fellowship program's inception in 1991 and are the second and third recipients from FSU.
Arcidiacono, who graduated with her doctorate in spring 2023, is now a postdoctoral researcher at the University of Chicago, where she is using spectroscopic instrumentation to monitor color changes or light emitted from a sample under the mentorship of chemistry professor Sarah King. The goal of the work is to understand and control processes that occur after a material absorbs light, and the resulting insights can be applied to improving the performance of solar energy conversion devices, biosensors and even quantum computing.
"Ashley is relentless in pursuit of her goals," said Associate Professor of Chemistry and Biochemistry Ken Hanson, who advised Arcidiacono at FSU. "While many students shy away from work outside of their comfort zone, she takes on every challenge in the lab from making molecules to performing ultrafast measurements that were necessary to pursue her science."
Arcidiacono worked within the Hanson Research Group, which studies light-absorbing and light-emitting molecules and applies the work to areas including solar energy conversion and photo-assisted catalysis.
Law, who earned his doctorate in 2022, worked in the Frederich Lab, led by Assistant Professor of Chemistry and Biochemistry James Frederich, studying synthetic chemistry at the intersection of biology, chemistry and medicine.
Law currently works as a postdoctoral researcher at Massachusetts Institute of Technology where his work involves developing new catalytic methods to selectively build chiral molecules, sometimes called right- or left-handed molecules, using asymmetric catalysis. The goal is to prepare a specific molecular handedness that is difficult or impossible to create using current techniques.
"Controlling the 3-D structure of molecules remains a substantial challenge in synthetic chemistry," Law said. "My research involves developing highly selective reactions which facilitate the direct generation of chiral molecules using abundant precursors, like alkenes and ketones via reactions with copper catalysts."
These new reactions can be used to generate specific molecules for use in pharmaceuticals, fragrances, food additives and more.
"James is one of the most enthusiastic young scientists I have had the opportunity to work with," Frederich said. "He's deeply curious about all areas of science and especially adept at identifying difficult problems. He's also an outstanding team player, easy to work with, and one of the most trustworthy individuals I know."
The Arnold and Mabel Beckman Foundation, founded in 1978, supports U.S. institutions and young scientists whose creative, high-risk and interdisciplinary research will lead to innovations and new tools and methods for scientific discovery.
For more information about the 2023 Beckman Postdoctoral Fellowship awardees, visit beckman-foundation.org.