FSU chemist awarded DOE grant to design safer, more eco-friendly materials for fuel cells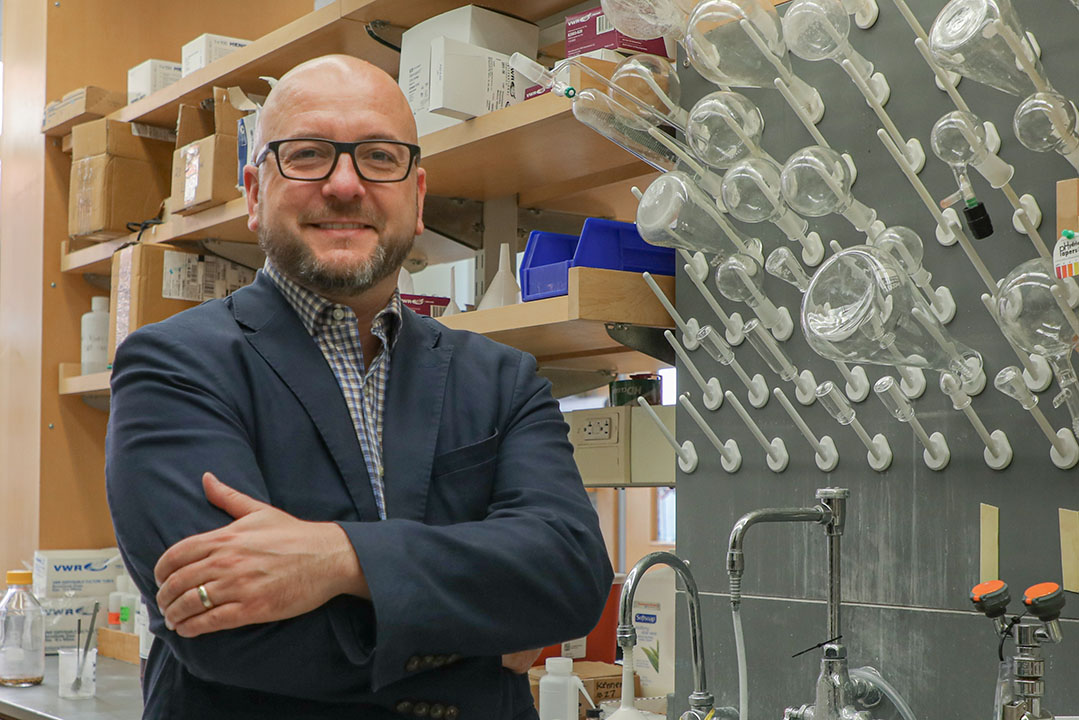 Fuel cells produce electricity by converting hydrogen into electrical energy. With potential to power long-haul trucks, serve as backup power sources for homes and possibly, one day, power aviation, fuel cells continue to be a forefront interest for production of clean energy because the by-product of energy production in a fuel cell is water, not carbon dioxide.
While fuel cells promise much for the future of clean energy, current devices employ fluoropolymers, compounds highly resistant to acids, bases and solvents. However, fluoropolymers, of which Teflon is the most widely known, continue to garner heightened scrutiny due to the expense, toxicity, and environmental impacts of fluorine chemistry used to produce them.
A group of researchers from Florida State University is part of a multi-institution team looking to overcome that barrier through a new project, funded by a $2.2 million U.S. Department of Energy grant, that will examine critical polymer components within fuel cell construction with an eye toward redesigning them in safer ways and generating improved performance.
Associate professor of chemistry and biochemistry and polymer chemist Justin Kennemur is leading the synthesis efforts aimed at creating novel materials that can replace today's fluorine-based polymer membranes.
Presently, polymer membranes made with perfluorosulfonic acid chemistries allow ions to move from one side of a fuel cell to the other with high stability and conductivity that makes for a long-lasting and efficient fuel cell. Proposed bans on fluorine in the United States and around the world have incentivized scientists to create fluorine-free polymer membranes. However, the steps to develop such technology are not fully clear.
"Correlating the polymer membrane's chemistry and molecular architecture to ion transport with the goal of maximizing conductivity and membrane stability is still in great need of investigation," Kennemur said. "That is what we hope to reveal with this project: New understandings of the optimal material design and conditions needed for such technologies."
The DOE grant will fund researchers over the next three years as they work to better understand the fundamentals of fuel cells' internal polymer membrane structure. These discoveries will be utilized in the design of fluorine-free polymers to develop cleaner, more efficient fuel cell technologies.
"This is a great team of principal investigators, led by University of Pennsylvania professor Karen Winey within the Department of Chemical and Biomedical Engineering and the Department of Materials Science and Engineering, with a wide range of expertise towards accelerated discovery and material development," Kennemur said. "Together we are advising postdoctoral scholars, graduate, and undergraduate students to work together, brainstorm and advance science. I look forward to seeing what this funding will allow us to achieve."
Kennemur's polymer research is among the pieces of a larger puzzle for developing new technology to fuel the world's energy needs, but polymers have applications across wide-ranging industries. Polymer research is used in creating sustainable technologies, including development of sustainable and degradable plastics, improved drug delivery and medicinal devices, and coatings for anti-bacterial fouling and adhesion, to name a few.
"Polymers are being charged (pun intended) with solving many grand challenges in society. It's an interdisciplinary science that requires synthetic chemists such as myself, biochemists, material scientists, scientific computing experts, and engineers to pioneer these societal needs forward," Kennemur said.
Polymer science research is an established area of strength at FSU and in the Department of Chemistry and Biochemistry, one that has grown over the decades and benefitted from interdisciplinary collaborations uniquely available due to the strength of adjacent computational and engineering programs.
"This significant Department of Energy effort combines expertise at FSU with leading experts in materials science and engineering at UPenn and PSU and molecular modeling at Sandia National Lab to address important transport mechanisms of protons and ions polymeric membrane systems," said department chair Geoffrey Strouse. "The DOE project illustrates the international recognition of the impact in polymer science that the Kennemur group has aspired to achieve."
Additional members of the research team include Michael A. Hickner at Pennsylvania State University and Amalie L. Frischknecht of Sandia National Laboratories.
For more information on this project, visit UPenn News.