FSU Biology's Hank Bass co-authors book aimed at inspiring the next generation of scientists
---
FSU Biology's Hank Bass co-authors book aimed at inspiring the next generation of scientists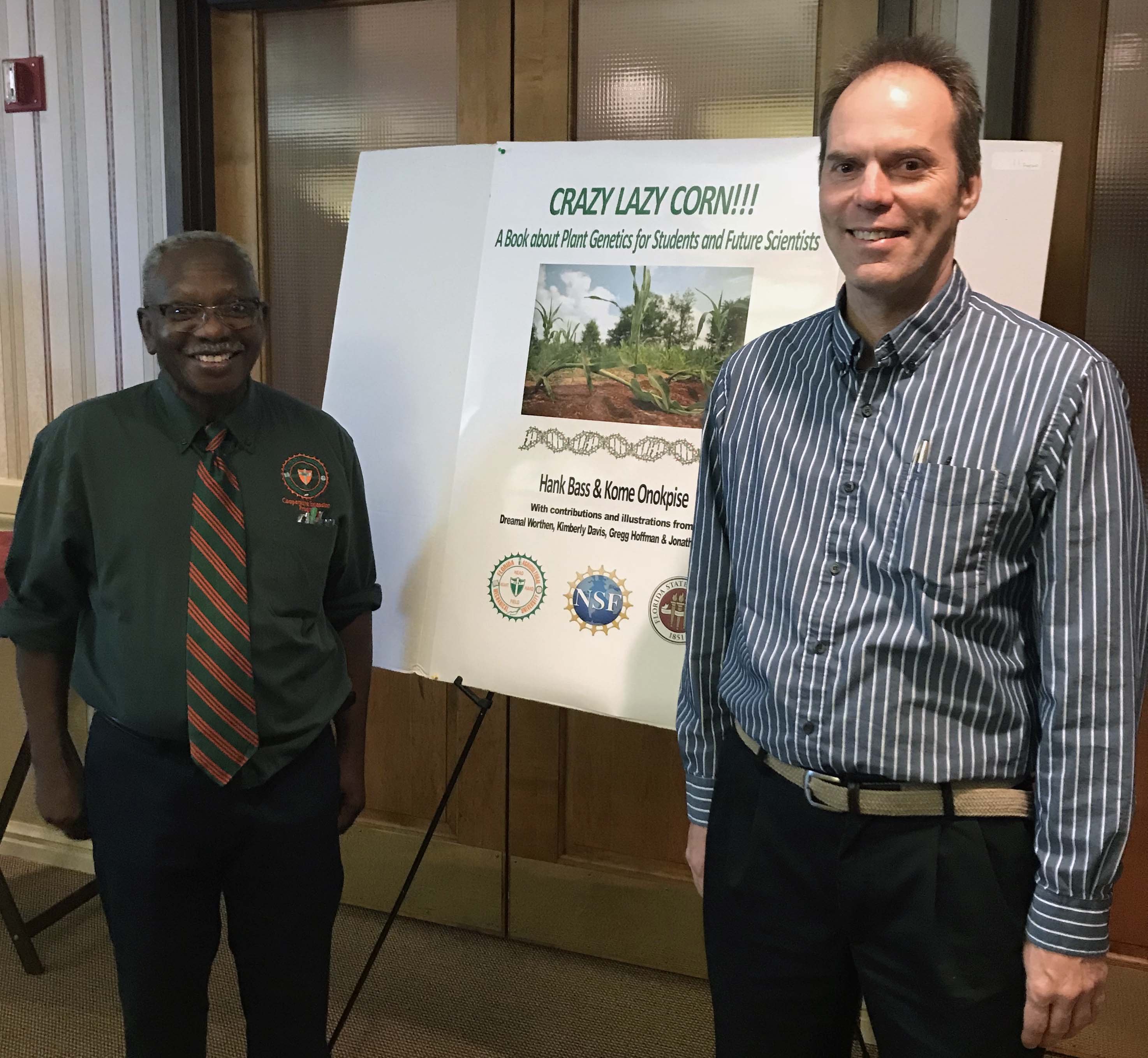 Florida State University Biology professor Hank Bass, along with professor Kome Onokpise from Florida Agricultural and Mechanical University's College of Agriculture and Food Sciences, celebrated the release of their book, "Crazy Lazy Corn!!!" Wednesday, Nov. 28, with a reception and teacher workshop at the University Club Center, in Tallahassee, Fla.
"Crazy Lazy Corn!!!" is a book about plant genetics for students and future scientists, the creation of which stems from a National Science Foundation Public Outreach grant and more than 10 years' worth of research and thought.  
FSU Biology Chair Tom Houpt and FAMU College of Agricultural and Food Sciences Dean Robert Taylor each gave a warm welcome.
Houpt noted that scientists are often asked how to encourage more people, particularly of a diverse background, into STEM fields, and children's scientific curiosity is often piqued through books like "Corn."
Taylor echoed Houpt's sentiments; "There is no doubt that 'Crazy Lazy Corn!!!' will produce the next wave of scientists and the next Green Revolution."
Onokpise highlighted the development of the book, which details the history of agriculture, plant science and how corn is used in general and to understand genetics, as well as how previous projects with FAMU's Forestry and Conservation Education program influenced its production.
"We started working with FACE students in 1998 and we were able to see the power of this program," Onokpise said.
During the teacher workshop portion of the evening, students and teachers from across Leon County flipped through the book and learned how "Corn" could be used as a teaching aid in upper elementary and middle school classrooms in a variety of ways.
As students asked questions about genetic mutations and the phenotypes of maize mutants, Cheryl Jennings, of SokheChapke Publishing, said "corn is great for teaching in an interdisciplinary way."
Bass and Onokpise look forward to receiving feedback on the book from educators and students alike to consider changes for future editions.
"What is important is that kids understand and see themselves as scientists at a young age and say 'Oh yeah, I could do that.'" Bass said. "Middle schoolers, in particular, aren't necessarily old enough to be thinking about a career in science, but they are old enough to process this information that demystifies what science does and is, which makes it less intimidating."
To learn more or request a copy of "Crazy Lazy Corn!!!" contact Bass or Onokpise via email.
Gabriella Paez is a senior English major, with a concentration in editing, writing, and media.