FSU alumna uses teletherapy expertise to aid students, educators during pandemic-related school closures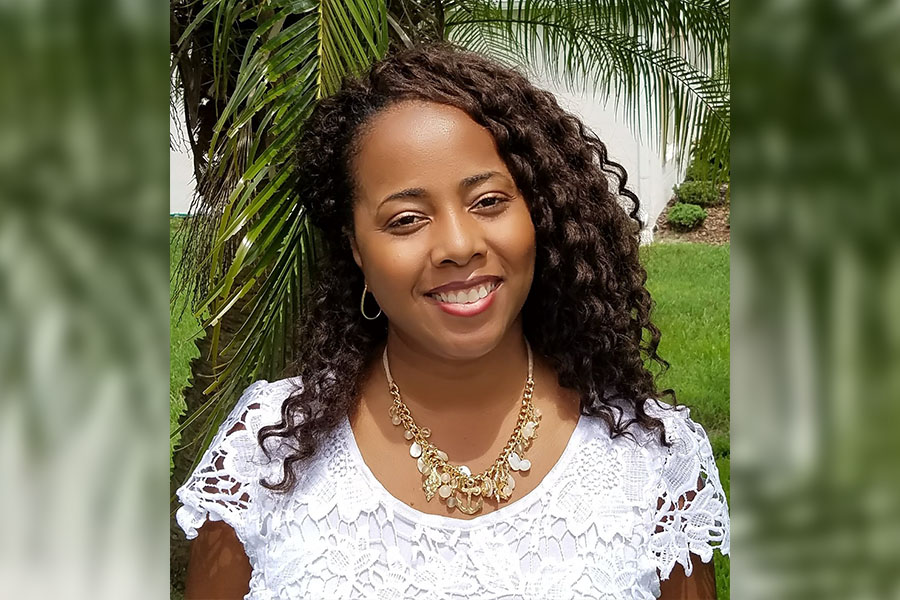 For many students who need extra support, and their families, learning remotely during the COVID-19 pandemic has been a frustrating experience as they sought to preserve educational gains without access to school-provided therapy services and the structure of in-classroom routines. The situation has also challenged educators, forcing them to transition from in-person to virtual instruction, and to innovate and adapt to maintain student engagement across time and distance.
For Florida State University alumna Belinda Givens, the school closures and social distancing sparked an opportunity to put her expertise into action to get students and educators the help they needed.
Givens, an American Speech-Language-Hearing Association Certified Speech-Language Pathologist, has spent the last five years of her 14-year career working as a teletherapist, designing and delivering language and speech services that have captured the attention of school-aged children across Florida, California, Washington, Ohio and Vermont.
"When the pandemic hit, I realized I could help people, and I started educating others because I have specialized experience engaging and teaching students remotely," she said. "I wrote blog posts, recorded and posted YouTube tutorials, and answered hundreds of emails weekly from fellow speech-language pathologists to help them understand how teletherapy can be a very effective solution, regardless of if the parent selects the option or if it's the only thing available during a pandemic."
While the pandemic has been a catalyst for many people who had been reluctant to try speech-language pathology in a virtual format, Givens, who earned associate's and bachelor's degrees in the FSU Department of Psychology in the 1990s before completing a master's in communicative sciences and disorders at the University of Central Florida, views these gains as permanent. More than 40,000 people worldwide visited her website in March and April 2020 alone.
Teletherapy can serve as a way to ensure students are receiving effective and quality therapy services and help public schools reduce overwhelming caseload sizes. There have also been secondary benefits, even for parents who had previously enrolled their children in private, after-school therapy, she explained. When parents are in earshot of the teletherapy sessions, the carryover, or retention of the techniques, is better.
"When parents are listening to the sessions, they pick up and continue the strategies. Outside of the sessions, they can reinforce and cue the students, so the students practice more regularly — a key element for retention," Givens said.
Understanding and incorporating the psychology of communication and knowledge building has always been important for Givens, who minored in education during her psychology undergrad and counts within her family a number of teachers. Crafting lessons that consider the cognitive aspects of thinking helps her create evidenced-based resources that align with how students think and connect ideas.
In the beginning, educators were the primary audience for the more than 200 print and digital activities and cards Givens has created, but that has since expanded into direct marketing to other speech-language pathologists and parents. The materials are used in small and larger group settings for literacy instruction and have "scaffolding" built in to ensure students who need extra support receive it and so more advanced students remain engaged.
"I have a passion for literacy and abide by a 'yes, you can' philosophy. I capitalize on what the students can do without focusing on their weaknesses, this helps build the rapport and the student's confidence," Givens said.
Among the most popular are Givens' sequencing and story-retell resources. Students read an original short story and then work through questions that help them identify story elements, context clues, and text evidence, and provide comprehension strategies that prepare them to be more successful in reading and expressing what they read.
When Givens was in graduate school at UCF, Linda I. Rosa-Lugo, associate dean of Faculty Excellence and Graduate and Global Affairs, served as her mentor. Rosa-Lugo said Givens' attention to diversity and inclusivity in her work allows her to connect to a broader audience.
"Belinda clearly understands the importance and beauty of communication across the scope of SLP practice. It is our duty as speech-language pathologists to provide access to improved communication to a wide variety of people across cultures and across the lifespan," said Rosa-Lugo, who is also the vice president for speech-language pathology practice for the American Speech-Language-Hearing Association. "As human beings, there is no greater need than to share our story. We are so proud of Belinda for taking the opportunity during the pandemic to ensure that those who might have been silenced, continued to have a voice."
As the pandemic recedes in the U.S., and more students and families prepare to return to the classroom this fall, Givens hopes the openness to embrace new formats and technology familiarity gained over this last year — Zoom, Adobe Connect, Google Meet — will help students more readily access therapy services in the future.
"Seeing the growth in my students drives me, and I get tremendous joy and satisfaction from doing a job I love," Givens said. "By rooting for these students, and advocating for them, they are encouraged to come back and the learning they gain will change their lives."