Faculty Spotlight: Zeina Schlenoff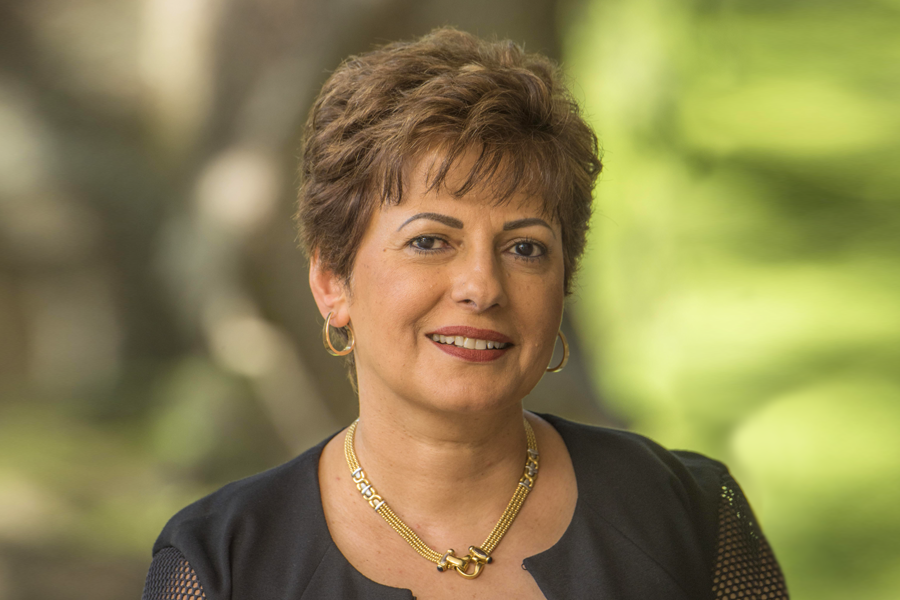 Zeina Schlenoff works as an Arabic teaching faculty member and the director and adviser of the Middle Eastern Studies program in the Department of Modern Languages and Linguistics, part of the College of Arts and Sciences. Schlenoff earned her doctoral degree from the University of Massachusetts Amherst in 1991 and specializes in 20th century French and Francophone Literature, especially female writers from the Arabic world. Previously, she served as the program leader for FSU's Intensive French Program in Paris, France.
Tell us a little about your background and what brought you to FSU.
I was born and raised in Lebanon. My childhood was wonderful and community-based until the Lebanese civil war began in 1975 during my teenage years. After nine years of enduring violence and destruction, I had the opportunity to come to the U.S. to seek a degree in higher education. Upon finishing my doctoral degree at the University of Massachusetts, I met my husband, and we moved to Florida where he started his career at FSU. A few years later, I also started my journey at Florida State University teaching Arabic.
Can you break down your areas of academic interest for us?
At Florida State, I teach Arabic to non-native speakers, and I offer classes on Middle Eastern culture. I also conduct research on women writers from the Arab world.
Who are your role models? Are there certain people who have influenced you most in your life and career?
My parents are my role models. My mother was an Arab woman, born in the first half of the 20th century, who never had the chance to attend college. She always encouraged me to seek an education and to reach for the stars. I learned everything I know about life from her. My dad was an engineer and an avid reader. We always read the same books and discussed them passionately together. From him, I developed my love for literature.
What is your favorite part of your job? What is the most challenging part of your job?
I love teaching and sharing my language and culture with my students. I cannot emphasize enough how much I enjoy my job. I am lucky to work with bright and enthusiastic students daily and to share my cultural experiences with them. Many of our program graduates pursue work in the civil and foreign services of the state and federal government. My students make me very proud as they apply what they learned at Florida State to the national and international stages.
I really do not have many challenges in my job. Students who take Arabic and major in Middle Eastern Studies do so with a clear goal in mind. Most of the time, these students are focused and dedicated, which makes my job easier and more rewarding.
What is your best memory so far from working at FSU?
FSU is much more than a place of work for me. It is a community that has supported me and my family during some very difficult times in our lives and gave us a place of belonging. I will always remember this sense of belonging at Florida State.
Do you have any exciting upcoming projects or goals you're working towards?
I am thrilled to share that in the fall of 2023, we are opening FSU's first language house. This means that a group of students from FSU's Arabic classes will be residing in Ragans Hall on campus, sharing three apartments in what we call "The Arabic Language House." It is an idea I have considered for many years where students studying the same foreign language can live together and use their new language skills with fellow classmates and friends in their dorms.
I am grateful to our dean, Sam Huckaba of the College of Arts and Sciences, for making this dream of mine come true and for appointing me as the founding director of the language house. We are currently planning cultural activities for the upcoming residents, and we plan to have a Fulbright assistant, who is a native speaker of Arabic, reside with the students. We hope that these students can experience a small portion of the Arab world and its culture without leaving campus.
What do you like to do in your free time?
I love gardening, bird watching and cooking.
If your students only learned one thing from you (of course, hopefully they learn much more than that) what would you hope it to be?
I hope they learn the importance of accepting others and maintaining respect for all human beings. Learning to speak Arabic and being able to communicate with people outside the U.S. in their native language enables countless collaborations and economic opportunities, both domestically and internationally.