Faculty Spotlight: Robert Romanchuk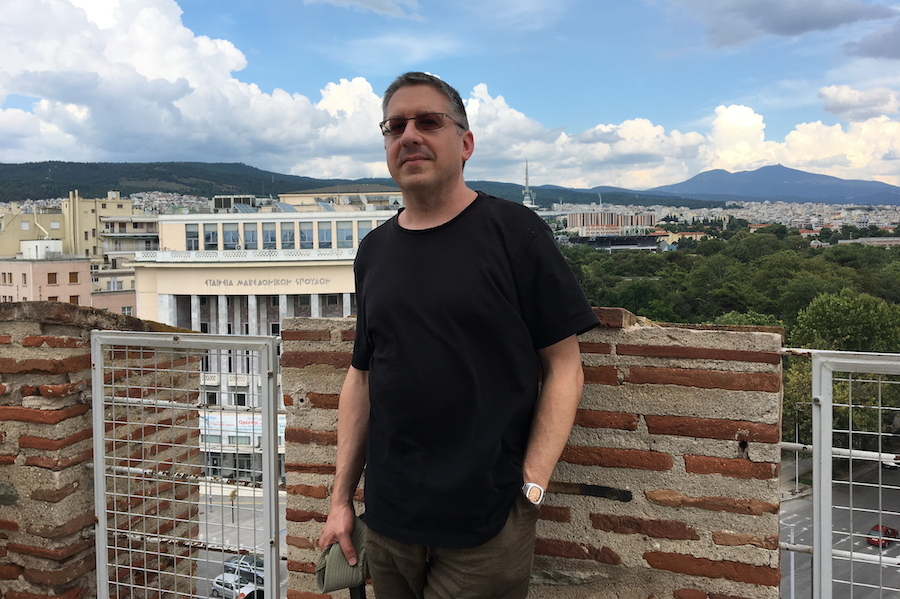 Robert Romanchuk is the Pribic Family Associate Professor of Slavic in Florida State University's Department of Modern Languages and Linguistics, part of the College of Arts and Sciences. He was a Harvard Ukrainian Research Institute/Ukrainian Studies Fund Fellow at Harvard University's Ukrainian Research Institute in Fall 2018 and a visiting scholar at the University of California Los Angeles in 2019. Romanchuk's research interests are in philology, or the study of ancient writings, and psychoanalysis, and center on Ukraine and the Balkans.
Tell us a little about your background and your academic credentials.
I grew up in Detroit, where I was born, and in Toronto, where my parents were born and the rest of our family lived. My grandparents were economic migrants to Canada from western Ukraine, which was then part of Austria-Hungary. In 1989, I earned my bachelor's degree in Russian and East European studies at the University of Michigan, and in 1999, I earned my doctorate in Slavic languages at UCLA. At UCLA, I was fortunate to be trained in languages ranging from modern Ukrainian to ancient Greek as well as disciplines ranging from philology and linguistics to structuralism and psychoanalysis.
What brought you to FSU?
Fate! A post office employee in West Los Angeles took the FSU envelope from my pile of academic job applications and said, "This is the one." I was glad to come here, as the department was hiring a medievalist, and I had just filed my dissertation on education and library science at a medieval north Russian monastery.
Can you break down your areas of research for us?
My discipline is philology, the close study of the writings of people (and mostly in languages) long dead. I also study non-clinical psychoanalysis, which makes use of many of the techniques of philology, studying speech for traces of long-dead conflicts in people's pasts. Most recently I have become interested in oral tradition, which aims to understand ancient stories and songs that were not written down until much later. Lately, I have been editing the Old Slavic translation of the medieval Greek epic of Digenis Akritis. It passed from the oral tradition to writing in Byzantium and encountered the oral tradition again in Slavic space. I have also been reading the early Russian-language Romantic literary works written in and about Ukraine, especially those by Nikolai Gogol, and working through what they can tell us about psychoanalysis.
What makes you passionate about these topics?
They teach us about our past and the pasts of others who are never really dead. We are always bringing the dead back to life, whether we think about it or not, so better that we think about it.
What do you want the public to know about your research? Why are your topics important?
We can't live in the world as we know it if we don't study other languages and learn from the past. The Russian invasion of Ukraine began in 2014 and took on horrific new dimensions in 2022. It's already having global effects few imagined, except those of us who knew the histories, myths, and languages of Ukraine and Russia, as we could pay close attention to what was being said and what it meant.
What is your best memory so far from working at FSU?
Working closely with small groups of talented students is the best thing about my job. In the past, I've trained students in research methods and got their help with my research in return. For several years I worked with UROP students on my Digenis Akritis project, and more recently, I've developed new courses and course resources with students.
Who are your role models? Are there certain people who have influenced you most in your life and career?
My mentors, among them UCLA Slavist Henrik Birnbaum, who escaped the Holocaust in Poland, and Harvard Byzantinist Ihor Ševčenko, who fled genocidal Stalinism in Ukraine, are mostly gone. I've seen the passing of a cosmopolitan and multilingual scholarly generation that experienced some of the worst horrors of the 20th century. Today, my role models are the people of Ukraine, whose courage surprises only those who don't know Ukrainian history. Ukrainians get up every day, not knowing if a missile or shell is coming for them, to do work on the front lines or the home front that makes our work seem small.
What is the most rewarding part of your job?
The most meaningful part of my job by far is serving as the Pribic Family Professor of Slavic. This professorship was endowed by Rado Pribic, 1968 FSU alumnus and professor emeritus of comparative literature at Lafayette College, in Pennsylvania. Rado's parents, Nikola and Elisabeth Pribic, founded the Department of Modern Languages and Linguistics' Slavic program in 1965 and taught Bosnian-Croatian-Serbian and Czech languages. Rado Pribic is a living link to the generation of scholars that trained me. He returns to FSU every homecoming and it is always good to see him!
What are some exciting projects or goals you're working towards this year?
Last spring, I worked with undergraduates and graduate students to develop textbooks for reading Ukrainian-language prose and the Russian-language Romantic prose of Ukraine. We need more Russian-language textbooks that focus on Russia's former colonies and fewer that focus on its imperial center. This fall, I'm working with a group of graduate students to outline a course on historical linguistics, specifically the reconstruction of the Proto-Indo-European language and lifeworld, which I hope to teach in the department's new Linguistics Program for undergraduate students. I'm also looking forward to teaching Ukrainian online next year if all goes as planned; and establishing a Ukrainian minor at FSU.
If your students only learned one thing from you (of course, hopefully they learn much more than that), what would you hope it to be?
Not to rely on me, or any other one person, for learning, but to learn from their world and themselves, for themselves and for others.