English alumnus and international vampire expert leaves mark on horror genre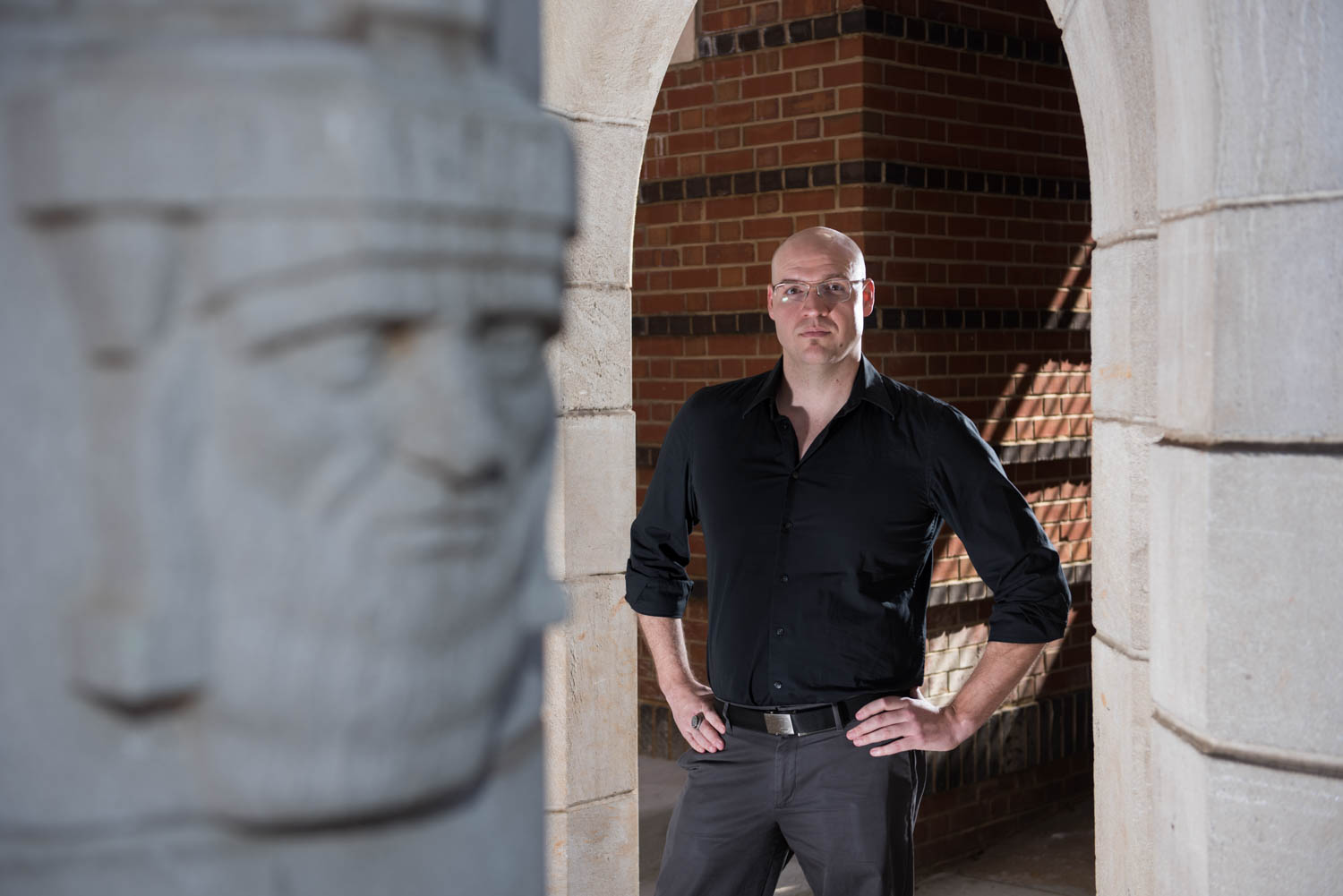 One of the world's most famous fictional characters is also one of the spookiest: Count Dracula, the title character from Bram Stoker's 1897 novel. With thousands of remakes, adaptations, and comic books, Dracula is the archetypical vampire, a legend of Hollywood and literature alike.
While Dracula's fame extends across the globe, there are also lesser known communities of present-day real vampires, people who drink human or animal blood or absorb psychic energy. According to them, this is a condition they are given neither a choice nor the freedom to change, and they attest to feeling weak and experiencing diminishing health should they stop feeding on blood or energy.
John Edgar Browning, a Florida State University alumnus from the Department of English, is a leading international expert on not only the iconic vampire Dracula but also real vampires, and he has consulted for programs by National Geographic, the Discovery Channel, the History Channel, Netflix, BBC Radio, AMC, Ripley's Believe It or Not and Disney+, to name a few.
Browning, who earned a bachelor's degree in literature from FSU in 2003 and now teaches as a professor of liberal arts at the Savannah College of Art and Design, credits a special topics in English course with former faculty member Caroline Picart for helping him realize his dream area of study.
"I'm very fond of my memories at FSU because my experience there showed me I could pursue my passions as a career. Growing up watching horror films was a great outlet for me to escape," Browning said. "I eventually began noticing ways in which monsters acted or were politically encoded and found a lot in common with them. Now when I do scholarship, it's with these old friends of mine who have been there since I was a kid."
While completing the first part of his doctoral studies at Louisiana State University, an ethnographies of literacy course allowed Browning to begin his first two-year study of real or human vampires in New Orleans. He went on to conduct several more years of research, including interviews with vampires, within a different vampire community in western New York while finishing his doctorate in American studies at the University at Buffalo, part of the State University of New York.
"Nothing has been more rewarding than my ethnographic work among real vampires. It changed my outlook on life in some ways," Browning said. "It has shown me that identity construction among alternative subcultures can help us redefine how we construct normalcy. Modern vampirism provides a strategic site for not only confronting but challenging the ideological assumptions embedded in how we hierarchize and marginalize the world around us, just as horror films have become a type of mirror that we hold up against society as a way of critiquing culture."
Browning's book "Dracula in Visual Media" earned him a Lord Ruthven Award, presented by the International Association for the Fantastic in the Arts for deserving work in vampire scholarship. The award recognized his documentation of over 700 films, television shows, documentaries, animations and video games as well as nearly a thousand domestic and international comic book titles and stage adaptations featuring Dracula or his semblance.
Overall, Browning has contracted or published more than 20 academic and popular trade books, over 100 articles, chapters, critical editions, and reviews in the horror genre, and is the co-editor of the second edition of "Dracula (Norton Critical Edition)." Norton Critical Editions include annotated text, contexts, and criticism to help readers better understand and appreciate the literature, and editing these editions is an honor reserved for top experts in their fields.
In addition to being an expert on vampires and the horror genre as a whole, Browning serves on the board of advisors for The Blood Project, a collaboration based out of Harvard Medical School aimed at promoting the exploration and deeper understanding of the role of blood in health, injury and disease. He is also a member of the editorial advisory panel for the academic journal Humanities and Social Sciences Communications (a Springer Nature journal), the advisory board for Ethics International Press, and advisory boards of several other organizations.
"What started for me two decades ago at Florida State has now come full circle, as I work alongside other world-renowned horror historians such as David J. Skal, my other co-editor for the second Norton Edition of Dracula whose work I read in my early teens, and continue contributing to the world of horror scholarship," Browning said. "FSU's world-class English department has helped me reach the top."