Biochemistry alumna earns postdoctoral fellowship to alleviate vitamin A deficiencies through orange corn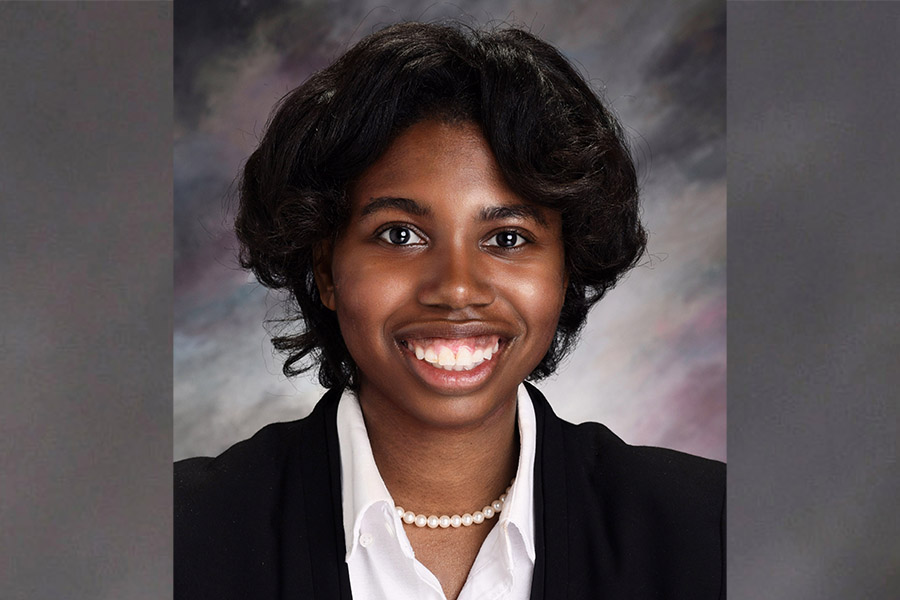 Vitamin A deficiency, a major public health problem in more than half of the world's countries, can lead to delayed growth, respiratory infections, maternal mortality and vision loss. As the leading preventable cause of childhood blindness, this deficiency is also associated with significant mortality rates from common childhood infections.
One Florida State University alumna is investigating how to prevent these deficiencies via a National Science Foundation entrepreneurial research fellowship, which enables her to explore how to make staple food crops, like corn, higher in their concentrations of crucial nutrients, including vitamin A.
Kerestin Goodman, who earned a doctorate in 2021 and master's degree in 2018 from FSU's Department of Chemistry and Biochemistry, will use the $78,000 award to work alongside researchers at Purdue University examining how to enhance nutritional benefits of corn by breeding corn high in nutritional compounds called carotenoids. Carotenoids, some of which our bodies can convert into vitamin A, are pigments that give yellow, orange, and red fruits or vegetables their colors.
"Many people in developing countries suffer from vitamin A deficiencies, and with our work, we hope to one day alleviate these deficiencies. Having a high intake of carotenoids in your diet not only helps to prevent vitamin A deficiencies, but it can also lower the chances of developing macular degeneration, a common eye disorder causing blurry vision, and cognitive decline especially in older adults," Goodman said.
The Innovative Postdoctoral Entrepreneurial Research Fellowship, presented by the American Society for Engineering Education and funded by the NSF, aims to train, mentor, match, and fund early-career STEM researchers engaging in innovative, high-tech entrepreneurial activities at startup companies around the country. Goodman will work with the startup NutraMaize, an agriculture company supported by the U.S. Department of Agriculture and National Science Foundation.
NutraMaize, co-founded by Purdue University professor Torbert Rocheford who began this research 20 years ago, originally developed a high carotenoid, orange corn rich with antioxidants that could easily be planted in the dry soils of Africa to abate vitamin A deficiencies there. Working with Rocheford, Goodman proposes to further enhance the benefits of orange corn, and eventually other staple crops, and make the organic, non-GMO crops available to more communities around the globe.
"Early in my academic career, I chose to take a more versatile approach to education. I wanted to be a well-rounded student academically as well as in my research abilities. This approach has allowed me to be prepared for both industry and academic opportunities," Goodman said. "This fellowship offers a unique chance to not only pursue postdoctoral studies but also participate in innovative research, expand my knowledge of high-tech entrepreneurship, and grant me with professional and academic development to further my research career."
While at Florida State, Goodman worked with professor of chemistry and biochemistry Qing-Xiang "Amy" Sang to better understand the effects of microplastics on humans and human cells. Their work is some of the first to show the adverse effects that these tiny plastic particles have on human lung cells, and their most recent research illuminates how kidney and liver cells are changed morphologically, proliferatively and metabolically by one specific microplastic.
"Kerestin is extremely motivated, diligent, smart and productive. She's published two original papers as the first author in the prestigious American Chemical Society journals highlighting her innovative research," said Sang, who also serves as a faculty member in FSU's Institute of Molecular Biophysics. "Even before her passion for researching the effects of microplastics on human cells, it's always been important to Kerestin to utilize her skills to benefit society and humanity."
Whether it's through microplastics or staple crops, Goodman is looking to apply her chemical and biochemical knowledge to solving real-life problems and learning more about industry and academic development to improve human quality of life.
"I'm very excited about this opportunity to conduct research at this level and to have hands-on experience with a company whose goal is not only to provide healthier food options for people in all areas of the world but also find pathways to new nutritional products," Goodman said. "With further research and development, we want to produce orange corn that can be grown in many different countries worldwide, providing more nutritious food options to those who need it most."