Student Spotlight: Owen Moore
---
Student Spotlight: Owen Moore
Owen Moore is a behavioral neuroscience major in the Program in Neuroscience, an interdisciplinary research and graduate training program at Florida State University. (He was a member of the program's first freshman class in 2018.) In addition to his work in the classroom, he plays tuba for the FSU Marching Chiefs, which recently returned from performing at the D-Day 75th anniversary ceremonies in France.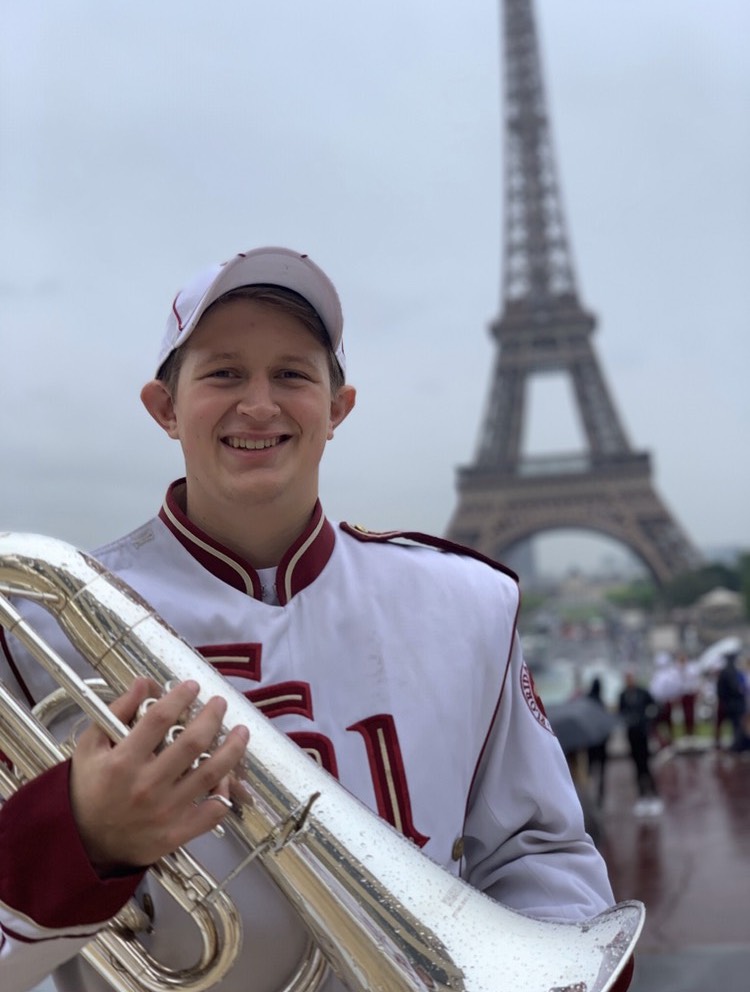 Where are you from, and what year in school are you? What is your anticipated graduation date?
I'm from Pace, Florida, a small town next to Pensacola. I should graduate in spring 2022, but I could graduate a semester or two earlier, depending on how I select my classes.
What brought you to FSU?
Florida State had many appealing qualities, the biggest being that the campus was relatively close to home. Another huge factor was the opportunity to play in the Marching Chiefs. I had never been to an FSU football game prior to choosing FSU, but I just really liked what I saw from the Marching Chiefs online. Academically, I was attracted to the amazing psychology program.
What inspired you to choose your major and your specific area of research?
Science has always been one of my favorite subjects. I was introduced to psychology during my senior year of high school, when I was diagnosed with an eating disorder. Dealing with this initiated an interest in learning about the human mind and how it functions.
When I attended FSU orientation, I learned about the new neuroscience major. I chose behavioral neuroscience because I realized it was the exact mix of disciplines that I was looking for, and could lead to more career paths such as medical school.
What aspect of the major in behavioral science do you find most exciting?
I am eager to begin the psychobiology elective coursework for my major, mainly classes such as "Psychopharmacology" and "Neurobiology of Brain Dysfunction." My favorite thing to study is how the biochemical and physiological aspects of brain function interact with behavior.
As of now, some of my favorite classes have been "Research Methods" and "Neuroscience Methods: Molecules to Behavior." I enjoy learning about the scientific method and how researchers use experimental designs to produce data and write papers.
How did you learn about the research opportunities that you ended up pursuing? 
I asked Nicole Lilly, the neuroscience academic adviser, for suggestions of ways I could start research, and she was helpful in pointing me toward the Directed Independent Study option. I started browsing the psychology department faculty roster and sending emails to professors along with my résumé.
As a result of my experience dealing with an eating disorder, I was mostly interested in the neuroscience of eating behavior. I interviewed with assistant professor Xiaobing Zhang, who has produced novel findings in the area of binge-eating by using a mouse model. I am currently doing my second semester of DIS with Dr. Zhang, and am privileged to have the opportunity to learn about the cutting-edge techniques used in his lab, such as optogenetics and patch-clamp recordings.
Are there other faculty or staff who have helped or inspired you?
When I took "Neuroscience Methods: Molecules to Behavior" with psychology professor (and now department chair) Frank Johnson, I had the chance to see numerous FSU professors present their research in detail every week. Dr. Johnson also assigned a lot of readings about earlier scientists and scientific academia in general, which sparked my interest in research. His lessons about the history of neuroscience and the way he discussed science thoroughly inspired me to pursue research as a career.
What on-campus resources/departments or offices have helped you prepare for academic success?
One of my favorite places to go on campus is the bottom floor of Dirac Science Library. The library is my go-to when I want to study alone, but when I study with a group, we almost always rent out a study room with a whiteboard.
I chose to do a freshman interest group my first semester. The senior who led my FIG colloquium was helpful in introducing me to FSU for my first semester, and I still contact her for assistance with pre-med classes and to learn more about medical school.
What do you like to do when you're not doing schoolwork or research?
Music is probably my favorite hobby. I enjoy playing guitar and listening to my favorite bands to relax. During the fall semester, a large chunk of my time goes toward the Marching Chiefs, as we practice every day and play for games on the weekends. The work is definitely worth it; there is nothing quite like the experience of playing music you love with your closest friends and supporting FSU's athletic teams.
The Chiefs' recent trip to France for the 75th D-Day anniversary parade on Omaha Beach was personally significant because two of my great-grandfathers fought in the D-Day invasion. Being able to honor them, as well as representing FSU in the beautiful city of Paris, made this the trip of a lifetime for me.
After graduating, what are your plans?
I am interested in two career paths. One is to attend an M.D./Ph.D. program in behavioral science so I can practice medicine as a psychiatrist and do biomedical research. The other is to earn a Ph.D. in clinical neuropsychology with a license in clinical psychology. With that, I could work in the clinical field as well as conduct my own research using psychophysiological measures such as the functional MRI to study humans from a psychological perspective.
Although you might miss FSU, what are you looking forward to in your post-graduate life?
I am excited to finish my undergraduate degree and focus exclusively on my career. I cannot wait to start graduate school, or medical school, and just soak up as much knowledge as I can. I truly love learning.