Student Spotlight: D.M. Aderibigbe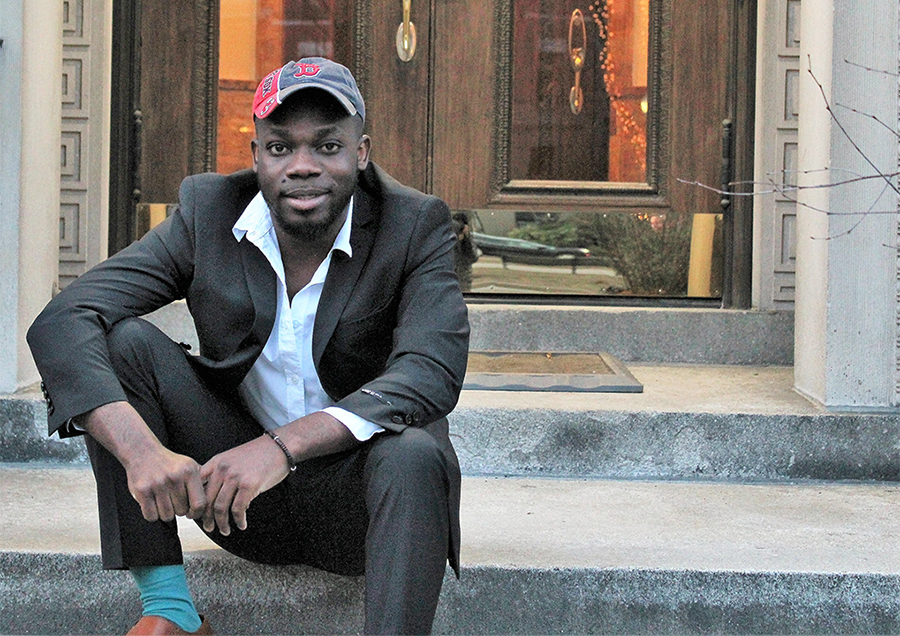 D.M. Aderibigbe is a poet and Ph.D. candidate in creative writing in the Florida State University English department, part of the College of Arts and Sciences. Aderibigbe's debut poetry book, "How the End First Showed," was selected for the 2018 Brittingham Prize in Poetry. 
Where are you from? Tell us about your academic background and when you plan to graduate. 
I am from Lagos, Nigeria. To be exact, I am from the Bariga area of Lagos. I graduated from the University of Lagos, Nigeria in 2014, where I studied history and strategic studies. In 2015, I left my country for the first time for the master's program in creative writing at Boston University, which I completed in 2017. I'm currently in my second year at FSU, so it is safe to say I will graduate in May 2022. 
What brought you to FSU?
I was particularly interested in FSU because of the incredibly talented faculty. The English department faculty here at FSU have a distinguished reputation, and I thought it would be magnificent if I got the opportunity to learn from them. 
What inspired you to pursue creative writing? 
The desire to not just be an accomplished writer, but a teacher who will spread the love of writing and literature as wide as it can get are what pushed me to pursue graduate studies in creative writing. 
Your specialty is in writing poetry. What about this form is most fascinating to you? 
I love everything about poetry: its essence, its hopes and aspirations, its light, its darkness, its music, its silence. But if I were asked to pick just one thing that interests me most about poetry, it is poetry's ability to understand what makes us human. Think of anything at all — living or inanimate, abstract or material — I can joyfully tell you that poetry understands it. 
Your debut poetry book, "How the End First Showed," received much praise and was selected for the 2018 Brittingham Prize in Poetry. Tell us about this experience and your reaction to these reviews. 
First of all, I'm grateful to God for making all these things possible. Secondly, I am grateful to all the generous readers and reviewers for approaching my book with such attentiveness and grace. Above all, I'm soaking it all in with an appreciative mind. 
Who are some faculty members at FSU that have inspired you, and how have they contributed to your journey? 
Some members of the esteemed faculty that I've been fortunate to continuously be inspired by include: Maxine Lavon Montgomery, Ravi Howard, Barbara Hamby, David Kirby and Rhea Estelle Lathan. This list will only continue to grow. 
In addition to the Brittingham Prize in Poetry, you have also won a Florida Book Award in Poetry and several fellowships from the James Merrill House, Banff Center for the Arts, Ucross Foundation, Sewanee Writers' Conference at the University of the South, OMI International Arts Center, Jentel Foundation and Boston University, to name a few. How does this type of recognition affect your work?
I am a poet who writes in a language that isn't his own, a poet who writes about events in Yoruba households, about events in Lagos food canteens, markets and streets. I am a poet who infuses a considerable amount of his native Yoruba into his poetry. 
As a poet who works in a space where he is a complete stranger, these fellowships and awards are a reminder to continue being true to my craft, and to all of the people and places I write about. With this said, however, when I sit on night's edge, ready to write, it is always a relationship between my writing pad and me — nothing more. 
What do you like to do when you're not writing poetry or working on your dissertation?
When I'm not writing, I'm just attending to other things in my life depending on the day. For instance, if it's a Tuesday, I'm likely reading and preparing to teach. On weekends, I'm buried in screams coming out of my own mouth as a result of soccer games — which I never miss. 
Upon receiving your doctorate, what are your plans? 
I plan to continue writing and teaching. I also plan to publish more books — starting with my dissertation — and have a sustained literary career. Graduation is a couple of years away, but if it were today, I would first give thanks to God. Then I would call my grandmother, my siblings and the rest of my family and friends. 
What advice do you have for fellow students?
Be kind and honest to yourself. Remember, the most important person in your life is you, so once you are good enough for yourself, it matters little and less if anyone else thinks you are not good enough. Remember, in your mind lies a street that leads to success. Explore this street, and you will be glad you did.