Postdoc Spotlight: Claire-Marie Hefner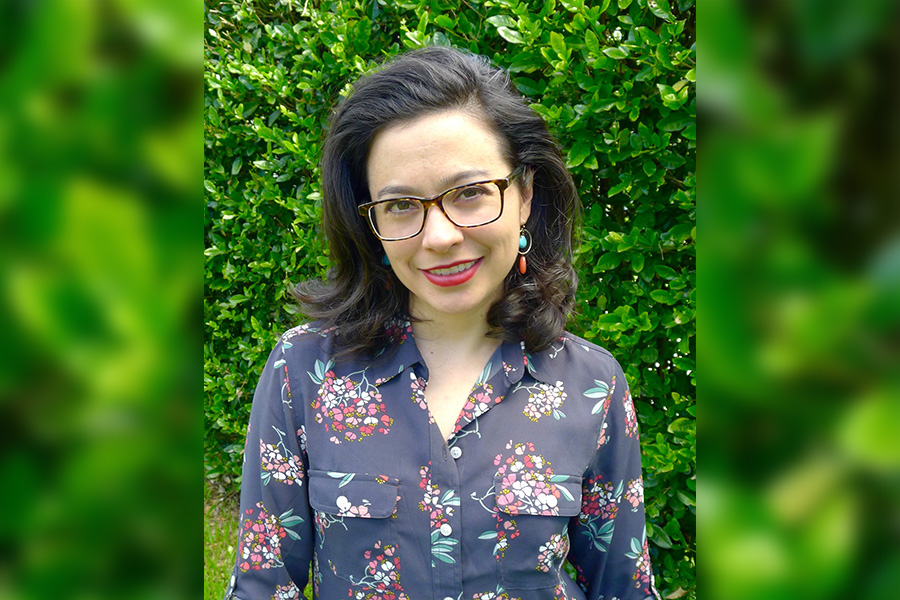 Claire-Marie Hefner is a postdoctoral scholar in the Florida State University Department of Religion, part of the College of Arts and Sciences. Her current book manuscript, "Achieving Islam: Women, Piety, and Moral Play in Indonesian Muslim Boarding Schools," is a comparative study of two Islamic boarding schools for girls in Yogyakarta, Indonesia, aimed at examining how young Muslim women learn and engage with what it means to be pious, educated, and modern in contemporary urban Indonesia. She is also developing a project on morality and digital media usage among Indonesian Muslim schoolgirls.
Tell us a little about your background.
I am a cultural anthropologist and postdoctoral scholar of Islamic studies in the FSU Department of Religion. I specialize in Islam, education, gender, and morality in Indonesia. I completed my doctorate at Emory University in 2016. I did my undergraduate education at University of Wisconsin-Madison, a big state university like FSU, and I am excited to be part of a large research institution again.
At FSU, I am currently developing my book manuscript based on my more than 10 years of research in the city of Yogyakarta, on the Indonesian island of Java. "Achieving Islam: Women, Education, and Moral Play in Indonesian Muslim Boarding Schools" is a longitudinal ethnographic study of women's achievement and moral learning in two Islamic boarding schools for girls.
What brought you to FSU?
I came to Florida State University in 2019 after teaching as a visiting assistant professor for three years at Manhattanville College, a private liberal arts school outside New York City. At FSU, I teach both undergraduate and graduate courses on Islam, media, ethnography, gender and sexuality. My postdoctoral appointment at FSU gives me the opportunity to continue teaching while also supporting my writing and research.
What inspired you to choose your specific area of research?
I grew up traveling to and living in Indonesia. My parents are both researchers, so that's what introduced me to cultural anthropology and the study of religion in Southeast Asia. When I was in middle school, we lived in Yogyakarta for a year and I began studying traditional Balinese dance, an artform from the Hindu-majority island of Bali. I was fascinated by the ways different cultures approached storytelling, which was often with religious themes, and portrayed gendered characters through dance. Dance and the arts were the gateways into my study of religion and gender. My study of Indonesian dance and music forms continues to this day — before the pandemic, I played the reyong, which is a long row of metal gongs suspended on a frame that involves complicated, interlocking rhythms, and danced with the FSU Balinese gamelan ensemble.
What aspect of your area of study do you find most fascinating?
My research focuses on analyzing and trying to understand the experiences, hopes, and aspirations of young women in Muslim schools. My current project is driven by questions like: how does Islamic schooling impact the imagined and real-life futures of female students? What does the moral learning of these students tell us about how young Muslims today engage, reconceive, and enact Islam? What roles do leisure and fun play in the ethical subject formation of Muslim women students? What lessons does this Indonesian example offer for how anthropologists understand freedom, agency, and what it means to flourish?
Can you give us an overview of a day in the life of a postdoc?
My days are a balance of teaching, reading and writing. I often try to write for a few hours in the mornings before classes and holding office hours. These days, I've added some Zoom writing sessions with colleagues for writing solidarity from afar.
How do you work with FSU's students and faculty?
I primarily work with students in the classroom where I enjoy seeing what questions they raise about Islam and gender. These questions are important to me as I develop my own research — I want to produce scholarship that answers questions and concerns that university students have about Islam. For example, I'm often asked if students are happy in these schools and if they have fun. These questions inspired my most recent article on how fun and leisure are critical moments for young people to test out moral guidelines they learn in school, mold them, and make them their own.
At FSU, I've also enjoyed being a part of a vibrant religious studies department where faculty approach questions of religion and ethics from diverse methodological and theoretical perspectives.
What do you want the public to know about your research? What has been the most surprising thing you have learned?
Islamic boarding schools are often imagined by outsiders as places of rote memorization, draconian rules, and limited human flourishing, especially for young women. My research challenges these misconceptions. I think people are often surprised to learn how vibrant these institutions are and that Indonesian Muslim schools have long been responding to the needs and demands of youth and their parents. These days, that often means incorporating the national curriculum and college preparatory courses for aspirationally middle-class students. An unexpected theme that emerged from my research was the emphasis on the importance of fun and a certain kind of freedom in the moral development of young Muslim women students.
Who are some of your role models and inspirations?
I've been really inspired by the teachers, administrators, students, and alumni of the two schools of my study. I have known some of the alumni in my research communities since they were in middle school, and it's been a privilege to watch them grow into accomplished young women.
Following the completion of your postdoctoral appointment, what are your plans?
I received a Hunt Postdoctoral Fellowship from the Wenner-Gren Foundation for Anthropological Research, which will begin when my appointment at FSU ends. This fellowship will support full-time writing for a year to allow me to complete my book manuscript.
What advice would you offer to students?
I would encourage you to explore in your college courses. There is a lot of pressure to find and pursue a major, but college is one of the few times you have this space to expand your horizons. FSU has a lot to offer, so take advantage of it while you can!