FSU neuroscience program confers first undergraduate degree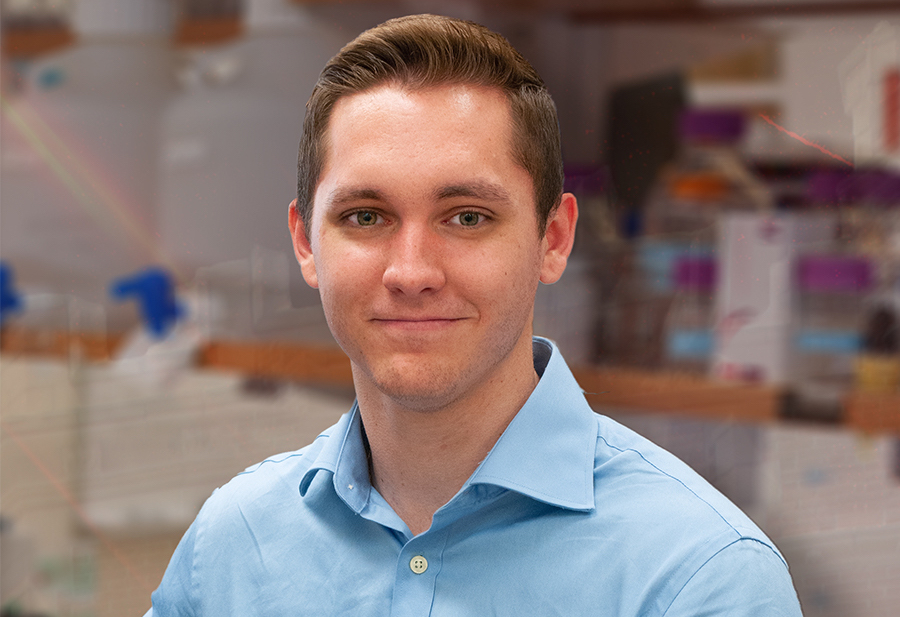 Florida State University's Program in Neuroscience is celebrating a major milestone — Austin John Burns, a 22-year-old senior from Weston, Florida, is poised to become the first student to earn a degree from FSU's new undergraduate major in neuroscience.
Burns, a cell and molecular neuroscience major, will cross the stage at the Donald L. Tucker Civic Center on Friday, Dec. 13, at the first of two FSU fall commencement ceremonies.
According to FSU's Office of the Registrar, nearly 2,700 students are graduating this semester: 1,989 will receive bachelor's degrees, 587 will receive master's/specialist degrees and 99 will receive doctorates. Burns is among 706 graduates hailing from the College of Arts and Sciences.
"It's very exciting. I'm happy to be the first and I think it's the start of a great program here," Burns said. "It's an awesome step in the right direction for FSU and for our new neuroscience program."
Lisa Eckel, a psychology professor and director of the Interdisciplinary Program in Neuroscience, said this landmark moment is the first of many for the growing program, which launched in Fall 2018 with 45 students.
"This is an important milestone that validates the college's commitment and all of the work that went into creating this exciting new major," Eckel said. "Enrollment has grown quickly —we now have a total of 305 neuroscience majors. This growth, which has exceeded our expectations, reflects keen student interest in brain function and careers tied to science, medicine, and health-related fields."
Burns said he always had a passion for science, but his interest in studying brain function specifically was inspired by a cause close to his heart.
"Around the time of my freshman year in high school, my mom was diagnosed with epilepsy. That motivated me into doing all kinds of research into the brain. I want to be a doctor now, so neuroscience was the perfect route for me."
Burns was drawn to Florida State early on because of the university's high-caliber research programs.
"As soon as FSU announced the program was coming out, I was essentially the first person in the door to meet with the adviser," Burns said. "It's been something I've wanted to do for a long time."
With his undergraduate degree in neuroscience now complete, Burns has his sights set on medical school.
To date, FSU is the only member of the State University System to offer a formal neuroscience degree to undergraduates. Frank Johnson, current chair of the FSU Department of Psychology and former director of the Program in Neuroscience who stewarded the new undergraduate major, said the push for the new degree track was fueled by undergraduate student interest and the success of the university's Ph.D. neuroscience program, which has been in place since the early 1990s.
To help launch the new undergraduate program, four new faculty members with backgrounds in neurobiology were hired in the departments of biological science and psychology. Johnson said the close and successful working relationship between the two departments set FSU's program apart and paved the way for the future.
The undergraduate major offers students the opportunity to learn about physiological brain mechanisms and how they give rise to behavioral functions. Diverse coursework is offered through multiple departments within the College of Arts and Sciences, including biological science, psychology, chemistry, physics, mathematics and statistics.
Because neuroscience is a rapidly changing field driven by new discoveries in research, students are also encouraged to gain hands-on research experience in the lab through directed individual studies and are provided with a dedicated academic adviser to help them down the path to graduation.
"The unique multi-disciplinary breadth of the neuroscience degree prepares students for a wide variety of STEM-related careers such as researchers, technicians, educators, and health-related professionals," Eckel explained. "There is also a growing demand for neuroscience majors in non-STEM fields, including law, business, economics and religion."
For more information on the FSU Program in Neuroscience, visit neuro.fsu.edu.