FSU creative writing alumnus wins Edward R. Murrow Award
An alumnus of Florida State University's Creative Writing Program has won one of the most prestigious awards in broadcast journalism — the Edward R. Murrow Award, presented by the Radio Television Digital News Association.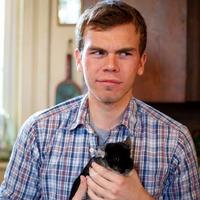 Eric Mennel received the honor for a story he reported on and produced while working for public radio station WUNC in Chapel Hill, North Carolina, in 2014. His story, "Why Some NC Sterilization Victims Won't Get Share of $10 Million Fund," told about the thousands of victims of a state-sponsored eugenics program that existed in North Carolina from 1933 to 1974, and the difficult time many victims have had in winning compensation cases.
"I'm always drawn to stories that have one foot in the past, one foot in the present," Mennel said. "In daily news, it's easy to forget that pressing topics have a long history that is truly reverberating up to this very moment. The story of eugenics in 20th-century America is a sad one, and modern efforts to reconcile that past have been largely wholehearted. But I knew people were slipping through the cracks, and it seemed important to let others know about that story so that further efforts to deal with that past could be better informed, both on a policy level and a personal level."
Mennel earned his Bachelor of Arts degree in creative writing from FSU in 2010. During his time at Florida State, he also worked at the university's volunteer-run radio station, WVFS, for nearly three years — good training for what was to follow. After graduation, he interned on the popular national weekly radio show "This American Life" with Ira Glass. He is now a producer with Gimlet Media in New York City and co-creator of the podcast "Criminal."
The Radio Television Digital News Association announced the winners of the 2015 National Edward R. Murrow Awards on June 24. The awards recognize outstanding work produced by radio, television and online news organizations around the world.
"From investigations that probe the issues that divide us, to features that highlight what can unite us, our winners are truly the best of the best," said Amy Tardif, chair of the Radio Television Digital News Association. "Their work demonstrates the dedication and perseverance that exemplify the highest standards of journalism excellence."
"It's a real honor to receive a Murrow," Mennel said of the award. "Looking at the list of other winners, I feel like the bat boy on the journalism All Star team. The North Carolina General Assembly is in session right now, so hopefully the story will gain some extra attention in Raleigh, and lawmakers can discuss some options for people who have fallen in this compensation loophole."
Ned Stuckey-French, an associate professor of English and director of FSU's Program in Publishing & Editing, recalled Mennel as an extraordinary student.
"I have known Eric since the spring of 2010 when he took a 'Major American Writers' course with me . . . . Eric's quiet wisdom, obvious talent and fine wit earned him the respect of his classmates early on in the class. He said something only when he had something to say and what he said was always well thought out, insightful and tactfully presented. His comments always moved the discussion forward. I could see the other students perking up and taking notice when he began to make a comment or ask a question. I have taught these books several times, but I learned something new about them from Eric."
This year's Edward R. Murrow Award winners will be recognized at the RTDNA Edward R. Murrow Awards Gala in New York City on Oct. 12.