Fantasy, religion and Harry Potter feature in FSU's London study abroad program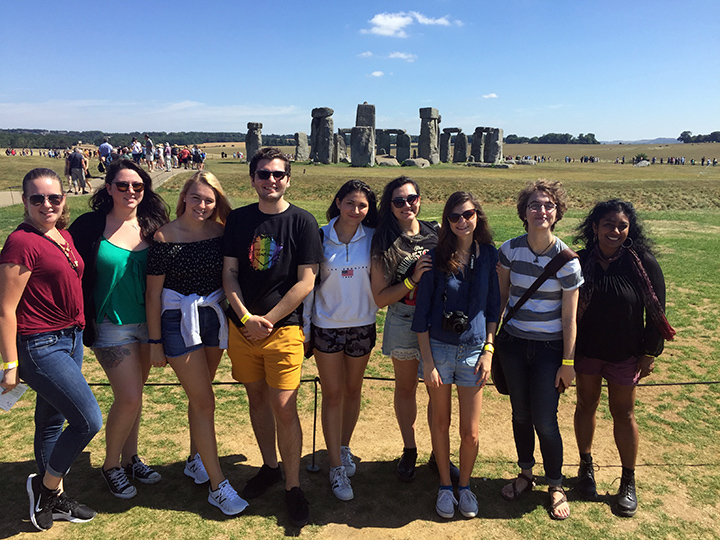 The "Harry Potter" class, formally known as Religion and 20th Century Fantasy Literature, had been taught on Florida State University's main campus for 10 years before the idea to bring it to the FSU London Study Centre with International Programs was born. 
"'Harry Potter" became a huge phenomenon and FSU already had a London campus. It just made sense," religion professor Sonya Cronin said. "Why are we not doing something that has to do with the British fantasy over there? And, so, a number of heads came together that went, 'what can we do to bring that element into what FSU is already doing in London?'" 
Cronin, the creator of the Study Abroad version of this course, explained that the transition from a regular course to a study-abroad program was a smooth one because the London Study Centre staff were outstanding and because of the nature of the class materials.
"Religion and 20th Century Fantasy literature has been one of our most popular undergraduate courses for the past decade," said Aline Kalbian, chair of the Department of Religion. "Students love reading literature they are familiar with, but looking at it through a different lens. Cronin is a beloved teacher and it is fun to imagine her teaching this material as part of FSU's international programs." 
A magical landscape 
The course's nickname can be misleading, as the curriculum includes readings famous British fantasy literature including parts of the "Harry Potter" series by J.K. Rowling as well as "The Chronicles of Narnia" by C.S. Lewis, and "The Lord of the Rings" by J.R.R. Tolkien. 
"The course lends itself to being taught in England. Part of our aim is to get you immersed in British culture because what you begin to see is that while Lewis, Tolkien and Rowling created these fantasy worlds, they didn't actually invent the world. The world is Britain. The magic is what makes the fantasy," Cronin said. 
Fans and scholars alike have noted sites throughout the United Kingdom that inspired the landscape of the novels: Diagon Alley is said to be modeled after Shambles Street Market in York, England, and the Sarehole Mill in Birmingham, England, is thought to have inspired Tolkien's Shire and Hobbitton. 
Cronin notes that because religion is deeply entrenched in British culture, the fact that British fantasy literature has religious roots is a natural, not forced, assessment. 
Recurring religious themes and motifs of sacrifice, temptation, restoration of the natural order and forbidden knowledge appear in these novels, and do not just stem from the imaginations of the fantastical authors. 
Something as simple as friendship, she explained, can be both an everyday and religious theme. 
"It can be taken back to [the Book of] Genesis, which claims that it is not good for man to be alone," Cronin said. 
The notes and the marks 
Students consider both the religious and historical influences on the works studied. Questions surrounding the impact and significance of the fantasy genre, what theological undercurrents are threaded within these works and why these novels are such a popular form of escapism are also discussed. 
The impact of World War II on both Britain and its literature is also an aspect of class discussion, because of the remaining visible reminders of the war, including marks and fractures artillery shells left on buildings. 
"That is a very different feeling, and it is still there in the consciousness of the British people … it's very much alive in the stories that we read — we see the kind of ethos, the way that the people develop [during wartime] and the way that the community reacts," Cronin said.  
Field trips with purpose
Students do not study abroad to be stuck in a classroom all day, Cronin quips, and the program works hard to maintain its substance and rigor, while keeping cultural immersion a priority. 
"In other words, it's not just walking around London going 'oh, look! It's the Tower of London, haven't we learned something today?'" Cronin said. 
Rather, they take shorter field trips to places like St. Pancras and King's Cross railway stations, the British Library, and the Imperial War Museums. They also take day trips to Oxford where they can eat at the Eagle and the Child pub, the meeting place of The Inklings, an infamous writing group that counted Lewis and Tolkien among its members, as well as a weekend trip to Edinburgh, Scotland.
Seeing the places where Lewis and Tolkien walked, or where Rowling wrote parts of "Harry Potter" make the setting and themes within the novels come to life for students: Fighting totalitarian regimes, stopping threats to goodness, light and freedom, navigating the ups and downs of friendship. 
"All of this is told in the context of fantasy narrative, but it is still real life that is being communicated," Cronin said. "When we open The Chronicles of Narniainthe very first pages the children have been sent out to the country to be protected from the London Blitz, so that is something you read about, but until you are walking through the streets, it is hard to grasp the gravity of what the British people survived." 
A cultural experience 
Students from a variety of majors, religion included, enjoy thinking about Western notions of good versus evil while roaming the streets of London like Tolkien and Lewis. 
Bailey Houghton, a studio art major from the class of 2020, first heard about the class while in a youth group in high school. 
"When I saw that the class itself was on my passions — fantasy literature — and that it would align perfectly with the Eisteddfod in Cardiff, the National Welsh Cultural and Music Festival, my desire to go finally managed to beat my phobia of airplanes, and I signed up," Houghton said. 
She noted the impact the program has had on her both as a student and as a person. 
"I honestly believe that taking this class was one of the wisest choices I have ever made. It rekindled my love for storytelling," Houghton said. 
Houghton and Cronin both point to the fact that understanding this literature and the surrounding cultural contexts change the shape of one's cultural consciousness. Popular literature, fantastical or not, is now a cultural identifier. Even outside of British or American culture, calling someone "Voldemort" is a widely understood diss. 
Studying these texts through the lens of religion shows the intersections of British culture, history and religion present in these popular fantasy works, and can provide a unique perspective for students from all disciplines. 
"While, of course, anyone looking for a major can find their home in religion and we are happy to have you, the aim of the class is not to convert people to being religion majors. What I hope is that you walk out of there and say that 'this was one of the best classes I've had at FSU,'" Cronin said. 
Gabriella Paez is a senior English major, with a concentration in editing, writing and media.