Faculty Spotlight: Qing-Xiang "Amy" Sang, Professor of Biochemistry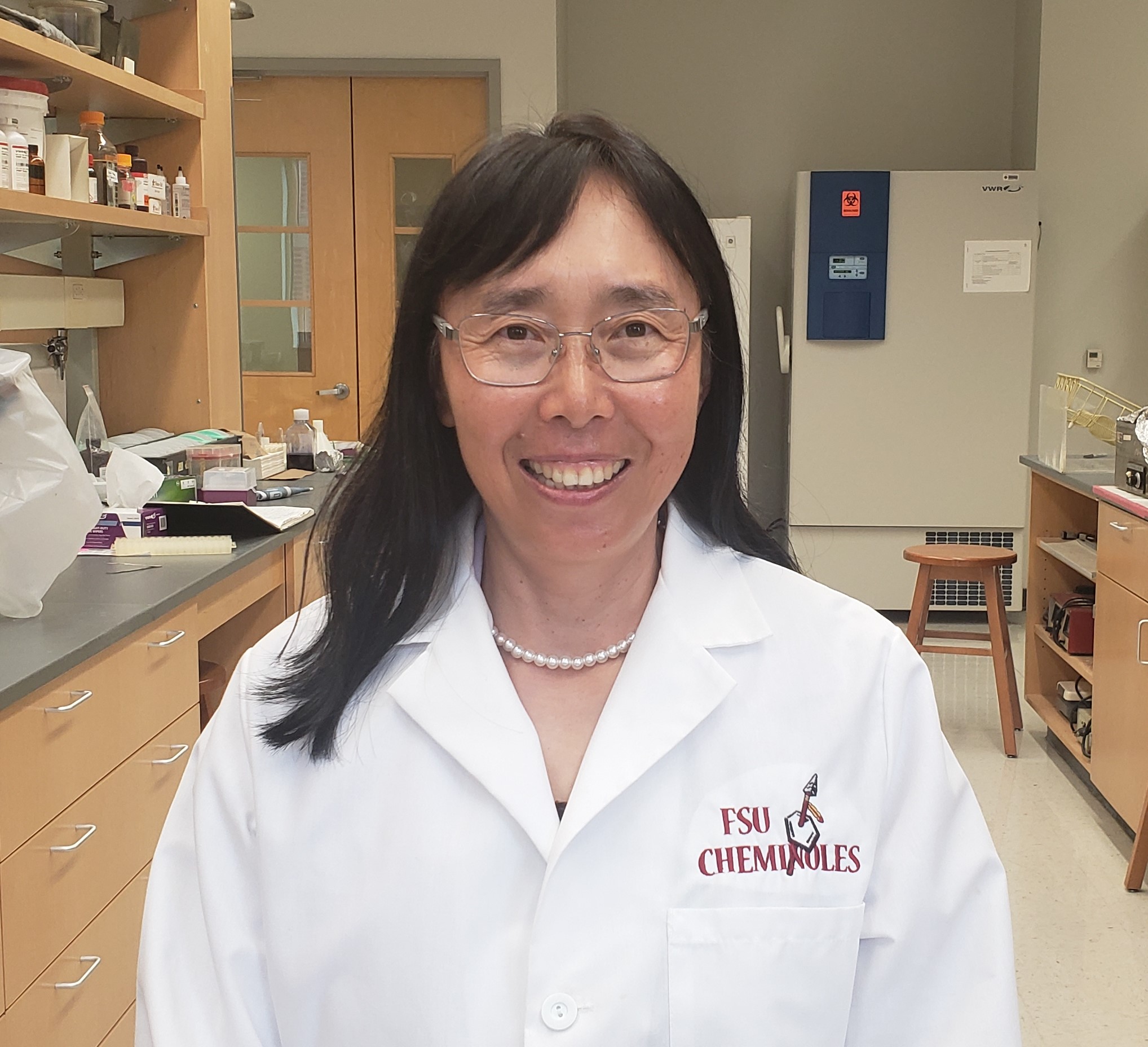 Qing-Xiang "Amy" Sang holds an Endowed Professorship in Cancer Research in the Department of Chemistry and Biochemistry, part of Florida State University's College of Arts and Sciences.
Tell us a little about your background.
I earned my B.S. in Biological Sciences from Hunan Normal University, China, in 1984 and, in 1986, I was lucky enough to receive a fellowship from Georgetown University to attend graduate school. I earned a Ph.D. in Cell Biology and Anatomy from Georgetown University Medical Center, Washington, D.C., in 1990, and I conducted my postdoctoral research training in chemistry, biochemistry and molecular biophysics at Florida State University until 1993. I became a naturalized U.S. citizen in 1996.
I received a National Institutes of Health National Research Service Award and an NIH Individual Postdoctoral Fellowship and became an assistant scholar scientist at FSU. I was hired as a tenure-track assistant professor of chemistry and biochemistry here in 1997, was promoted to tenured associate professor in 2003, and became a full professor in 2008. I have been awarded an Endowed Chair Professorship in Cancer Research since 2012 and became an Elected Fellow, American Association for the Advancement of Science in 2017.
When did you first become interested in the biochemical, molecular and pathological mechanisms of cancer, as well as cancer biomarker and drug discovery?
I have been curious about nature and natural sciences since I was a little girl. My favorite subjects were physics, chemistry and mathematics. One day my mother showed me a Popular Science article about the possibility scientists may know more about the Moon than our own human bodies. Since then, I have been fascinated by the complexity and mysteries of human health, disease and longevity.
I would like to use biochemistry, biophysics, molecular cell biology, and biomedical sciences knowledge and tools to figure out how malignancy is initiated and how cancer cells evolve and spread in order to discover new biomarkers for cancer diagnosis and effective treatment. These discoveries will enable design of new drugs and therapeutic strategies for more effective treatments, thereby improving quality of life for cancer patients and saving more lives.
What are your current research interests, and what makes you passionate about them?
In the past, metastatic cancer was considered a death sentence for many cancer patients. The transformative research in cancer immunotherapy with check-point inhibitors and chimeric antigen receptor T cells has brought hope and a cure to some late-stage cancer patients. Although new immunotherapy treatment outcomes are good for melanoma and lung cancer patients, many breast cancer and prostate cancer patients do not respond well to this groundbreaking immunotherapy.
Our collaborative team is investigating how human breast and prostate cancer cells are hiding from patients' immune systems and how they escape the cytotoxic T lymphocytes and natural killer cells. Based on breast cancer patients' gene expression data, we have identified cancer biomarkers that may serve as therapeutic targets for novel and combination immunotherapies. Ongoing research into prostate cancer patients' gene expression profiles will also shed light on how to improve immunotherapy for these patients.
In April, we were fortunate to receive a grant from the Florida Department of Health's Live Like Bella Pediatric Cancer Research Initiative to design and construct a novel, three-dimensional model that mimics human pediatric brain rhabdoid tumor formation. Atypical teratoid rhabdoid tumor, or ATRT, is a rare and aggressive pediatric brain cancer and current treatments are not specific and efficacious. Children treated with current methods have a high rate of reoccurrence with a more aggressive type of cancer. The long-term goal for this project is to use the new model to screen, test, develop and identify therapeutics for the effective treatment and cure of this deadly pediatric brain cancer.
What do you want the public to know about your research? Why is your topic important?
Scientists love humanity and science serves humanity. We hope our research will advance knowledge and understanding of the biochemical mechanisms of cancer initiation and progression, improve survival rates and quality of life for cancer patients, and contribute to curing cancer.
Who are your role models? Who has influenced you most in your life?
My role models are Marie Skłodowska Curie and Albert Einstein. My parents, teachers, professors, colleagues, students and cancer patients have influenced me the most in my professional life.
What brought you to Florida State University? Why do you enjoy working at FSU?
I wanted to learn more enzymology, biochemistry, molecular biophysics and medicinal chemistry. I love my bright graduate, postdoctoral and undergraduate students, and I enjoy collaborating with my colleagues and their students at FSU. They inspire and compel me to set higher research goals and accomplish more scientifically and technically. The administrative and research support staff members are helpful and professional. Moreover, the research facilities are great and the campus is beautiful.
What is your favorite part of your job?
Brainstorming creative ideas and strategies, doing research, solving scientific problems with my colleagues and students, and teaching biochemistry and interacting with students are my favorite parts of my job.
What is the most challenging part of your job?
I wish there was a more efficient way to obtain grant funding. It takes a lot of time and effort to prepare and submit grants – even ones that do not get funded – and that takes away from other things such as spending time with my students conducting research.
How do you like to spend your free time?
I enjoy singing, gardening, and watching flowers, butterflies and birds.
If your students only learned one thing from you (of course, hopefully they learn much more than that), what would you hope it to be?
A career in science, technology, engineering and mathematics is a challenging, wonderful and highly rewarding journey.