Faculty Spotlight: Paul Renfro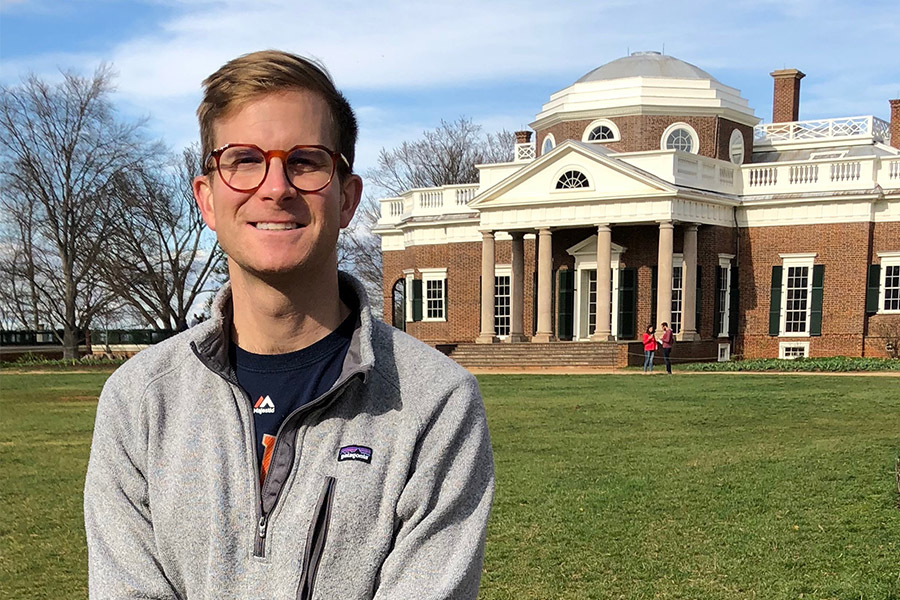 Paul Renfro is an assistant professor in the Department of History, part of the College of Arts and Sciences. His interest in American family values and social norms pushed him to craft his first book, "Stranger Danger: Family Values, Childhood, and the American Carceral State," as well as his upcoming book, an analysis of Ryan White, an Indiana teenager who became a public figure in the fight against the stigma of HIV/AIDS.
Tell us a little about your background.
I'm a political and cultural historian, and my research and teaching focus on the United States since 1945. Although I was born and raised in Texas, I traveled to Iowa City, Iowa, for my doctoral studies. After earning my doctorate from the University of Iowa in 2016, I returned to Texas to serve as a postdoctoral fellow at Southern Methodist University. I arrived at Florida State in 2018. My first book, "Stranger Danger: Family Values, Childhood, and the American Carceral State," was published by Oxford University Press in 2020.
When did you first become interested in dissecting the political and cultural history of the United States? Why do you focus on topics like gender/sexuality, the carceral state, and the nuclear family?
The post-9/11 era was formative for me. Although the Cold War had ended about 10 years prior, the post-9/11 moment resuscitated some of the Cold War's core themes and principles. The nuclear family reemerged as a bulwark against perceived threats, both foreign and domestic, as did consumerism. And the state grew more punitive — not only in the foreign policy realm, but also in its treatment of subversives, including sexual minorities.
Though I had long been interested in politics, this moment encouraged me to consider how sociocultural norms (concerning marriage, sexuality, and the family, for instance) shaped political culture and policy — punitive and otherwise. Who gets excluded, disciplined, and ostracized, and why?
What are your current research interests?
My next book project examines the life and afterlives of Ryan White, an Indiana teenager who contracted HIV through contaminated blood products and eventually died due to complications from AIDS. The book is under advance contract with the University of North Carolina Press.
What do you want the public to know about your research? Why is your topic important?
The new book project explores why Ryan White — a young heterosexual hemophiliac — emerged as the "face of AIDS" in the mid- to late 1980s, even though HIV/AIDS was (and still is) commonly portrayed as a "gay" illness. By analyzing Ryan's life — and the ways in which journalists, politicians, and everyday Americans understood or misunderstood it — we can learn how notions of vulnerability and "innocence" determine political and policy responses to various crises, from HIV/AIDS to the COVID-19 pandemic and beyond.
What brought you to Florida State? Why do you enjoy working here?
I was fortunate enough to apply for and land a tenure-track position at FSU. It's such a phenomenal institution. The students are sharp and enthusiastic, and the faculty and staff are incredibly talented and generous. Plus, the campus is gorgeous, as are Tallahassee and the surrounding areas.
What is your favorite part of your job and what do you find most challenging?
I really enjoy making connections between my teaching and my scholarship. I learn so much from undergraduate and graduate students, and their observations and insights help me approach topics in fresh and exciting ways. Making these sorts of connections can also prove challenging, as it can be difficult to reconcile certain historical realities with others or to make sense of competing perspectives and interpretations.
How has COVID-19 impacted your research and your role as a professor?
Because I've been unable to visit archives in person, I've been relying on newspapers, magazines, memoirs, television clips, films, and other sources that are available online. Last fall, I hired an archivist to undertake research on my behalf at the Howard County Historical Society in Kokomo, Indiana, and I also ordered some materials from the libraries at Cornell University. I'll finally be able to travel to Indiana for research later this summer, thanks to the support of the College of Arts and Sciences and the Council on Research and Creativity at FSU's Office of Research.
As far as my teaching and advising are concerned, interacting with students via Zoom isn't ideal, but we've made it work, mostly because FSU students are so engaged and intellectually curious. I look forward to being back in the classroom soon.
What experience has been the highlight of your career?
First, it's been such an honor working with Florida State students and watching them thrive, both at FSU and beyond. Second, publishing and promoting my first book, "Stranger Danger," has been incredibly humbling and rewarding.
Who are some of your role models?
All people are flawed, so I don't necessarily buy the idea that we should admire and emulate certain individuals. Plus, focusing on supposedly exceptional people can obscure the family, community, and institutional support systems in which those individuals are embedded and from which they benefit. Setting all of that aside, I can't help but marvel at Ryan White and his mother, Jeanne White, and countless other AIDS activists for the courage and resolve they showed (and continue to show) in the face of adversity.
What do you like to do in your free time?
In my free time, I like playing basketball, cycling, swimming, gardening, walking my dog, and watching Bravo shows.
If you had to give one piece of advice to your students (of course, hopefully they learn much more than that), what would it be?
Explore the questions and subjects that interest you. College is a time for open inquiry and discovery — so take classes that speak to you, don't be afraid to ask questions, join campus organizations that pique your interest, and find friends and mentors who challenge you.