Faculty Spotlight: Mike Shatruk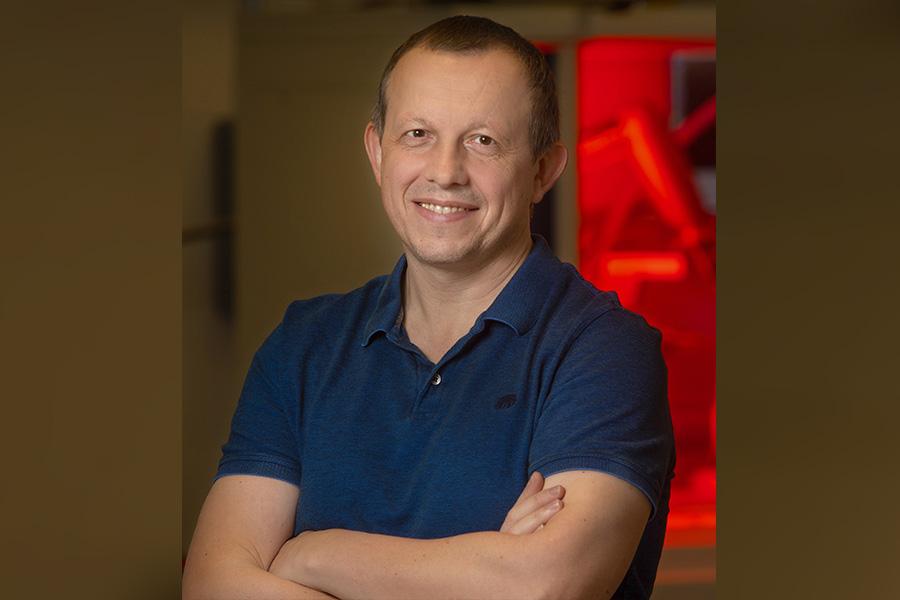 Mike Shatruk is a Cottrell Family Professor in the Department of Chemistry and Biochemistry, part of the College of Arts and Sciences. Shatruk has been teaching both undergraduate and graduate courses at Florida State for 14 years and serves as a research mentor and lead lab researcher for Shatruk Research Group. He earned his bachelor's, master's and doctoral degrees from Moscow State University and worked as a post-doctoral fellow at Cornell and Texas A&M University.
Tell us a little about your background.
I was born in the city of Lviv, Ukraine. My parents were schoolteachers, and from them I acquired my love for observing and questioning the natural world.
When did you first become interested in your areas of expertise (chemistry and inorganic materials)?
When I was in eighth grade, my mom showed me how sugar cubes could be set on fire when sprinkled with ash — this is known as chemical catalysis. Once she explained the periodic table's logic and the basics of atomic electron configurations, I was hooked on chemistry.
What are your current research interests, and what makes you passionate about them?
My research interests lie in understanding chemical relationships between crystal and electronic structures of materials, as well as their magnetic and catalytic properties. It amazes me that we can determine the breakdown of materials at the atomic level and define the properties of materials based on atomic electrons and interactions. My research group uses this fundamental understanding to develop new magnetic materials and catalysts.
What do you want the public to know about your research? Why is your topic important?
One inspiration for our research is the possibility to create new materials called magnetocalorics that convert magnetic field energy into temperature changes. It is possible that within the next decade these environmentally friendly materials will be used in refrigerators and air conditioning units to replace the hazardous chlorofluorocarbons used in current technology. Another interesting area of our research is the design of sustainable catalysts that produce hydrogen fuel from water or sequester carbon dioxide from air. These processes could ensure our clean-energy future.
Who are your role models? Who has influenced you most in your life?
I have learned from my parents, my teachers, my friends, and my colleagues and adopted positive traits from each of them. I am still learning how to become a better person, better scientist, better colleague, and better mentor, and I believe one should draw inspiration from the people around them in all stages of personal and professional life.
How has COVID-19 impacted your research and your role as a professor?
I have spent more time interacting with my graduate and undergraduate students. One-on-one interactions via Zoom have been crucial in maintaining good spirits among my mentees. My students have been incredibly supportive of my plans for maintaining productivity amidst the pandemic, and together we have minimized the impact of COVID-related restrictions on our research.
What brought you to Florida State University? Why do you enjoy working at FSU?
I was drawn to FSU by the collegiality of the Department of Chemistry and Biochemistry. During my interview, I immediately saw myself working enthusiastically alongside the people I met. I liked the aspirations of the department, and I saw the potential to grow together. The number of successful junior faculty in the department was also an inspiring plus.
What is your favorite part of your job?
My favorite part of my job is the everyday interactions with students. They keep me on my toes and inspire me to continue to learn.
How do you like to spend your free time?
I like watching soccer and hockey, playing tennis, watching movies, listening to music or tasting wine with my friends. I like traveling to new places and learning about different cultures.
If your students only learned one thing from you (of course, hopefully they learn much more than that), what would you hope it to be?
I hope they learn the importance of high-quality work. It boosts your confidence, earns respect and trust of your peers, and builds your reputation. At the end of the day, high-quality work allows you to take pride in what you do.