Faculty Spotlight: Anasa Hicks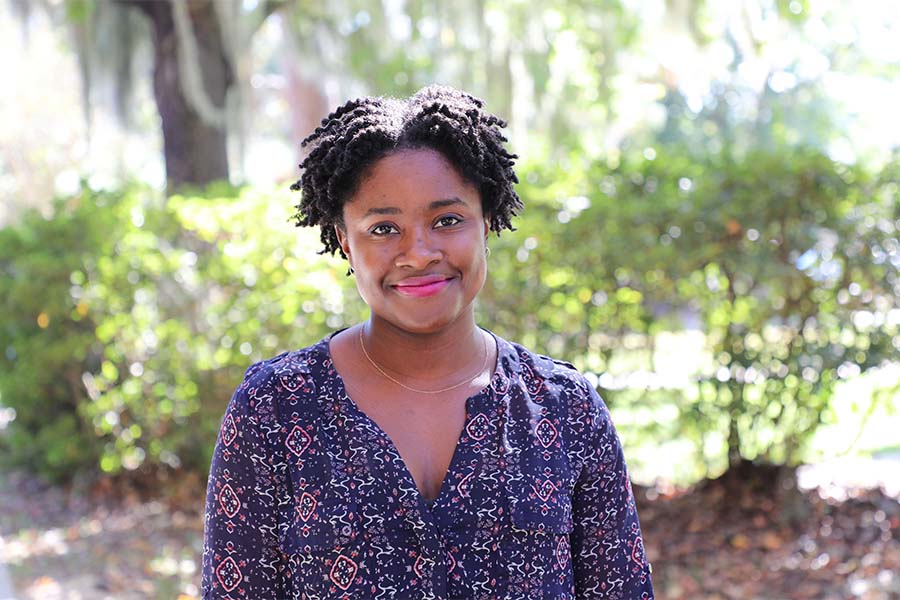 Anasa Hicks is an assistant professor of Caribbean history in the Department of History, part of Florida State University's College of Arts and Sciences. She earned her doctorate in 2017 from New York University, and her research focuses on Latin American and Caribbean history, especially 20th-century Cuba, Hispanic Caribbean, gender and labor studies. Hicks is currently working on a book project titled "Carlota's Heirs: Masculinity and Military Service in Revolutionary Cuba."
Tell us a little about your background and what brought you to FSU.
I was born in Texas, and then I moved to Michigan when I was nine. I went to the University of North Carolina at Chapel Hill for undergrad, and then I went straight to graduate school at New York University. I got a job here at FSU right after I finished my doctorate. I loved that FSU is a public university, one that aims to serve all Floridians, and therefore has a really diverse student body.
Can you break down your areas of study for us?
My field of expertise is in 20th century Cuba. More specifically, I'm interested in race, gender and labor in the 20th century.
What inspired you to choose these fields of study?
I always knew I wanted to study abroad. I took a Spanish class in middle school, and I loved it. I eventually learned that UNC had a study-abroad program in Cuba. At that time, it was one of only five American universities that had a study abroad program in Cuba. I decided to take advantage of the opportunity to go somewhere most Americans can't. At first, I didn't know much about Cuba except that they speak Spanish there. Before going abroad, I took a history of Cuba class, and I just unexpectedly fell in love with the country's history.
Tell us about the research you've conducted over the past few years.
Since being at FSU, I completed my first book project, "Hierarchies at Home: A History of Domestic Service in Cuba from Abolition to Revolution," which is about domestic workers in Cuba and was also my dissertation topic. It's currently in production with Cambridge University Press. The term "domestic workers" refers to maids, nannies, housekeepers, private drivers etc. Through my research, I learned that the majority of Black women who worked in 20th century Cuba were domestic workers despite most domestic workers not being Black women. Interestingly, domestic workers were organizing themselves politically before the Cuban Revolution ended in 1959, which doesn't precisely line up with the kind of standard story of Cuba. What I hope people take away from this project is just knowledge of a story that hasn't been told before and an inclination to challenge standard chronologies of certain events.
What inspired your current book project, and what do you hope readers take away from it?
"Carlota's Heirs: Masculinity and Military Service in Revolutionary Cuba," is a history of the veterans of Cuba's wars in Africa. After the Cuban revolution ended, the country became highly involved in African colonial wars. Most notably, Cuba sent soldiers to Angola in an effort to support the country's independence and to stave off a South African invasion. The first Cuban expedition to Angola was named Operation Carlota, for an enslaved African woman who led a major Cuban slave rebellion in 1843. It must have been such a formative experience for so many Cubans to stay in Angola for so long. There's not much research into what really happened and what it was like for the people who served there.
What experience has been the highlight of your career so far?
Probably the Association of Caribbean Historians conference. The pandemic has caused some cancelations, but normally, it's an annual conference held at a Caribbean university. The last one I went to was at University of the West Indies in Barbados. It's amazing to collaborate intellectually with people from the region that I study.
Who are your role models? Who has influenced you most in your life?
My parents. Both of them have always encouraged me to read and to be intellectually curious. The books that they got me to read for fun were often about African-American history, so I grew up being really familiar with the broad strokes of African-American History, not really realizing that was uncommon. I think reading those books is what made me so interested in history.
Of course there are also people that I look up to in my field, like my undergraduate and my graduate advisers. But so many of my colleagues and peers inspire me, and I think that not enough people talk about the inspiring people who are at the same level.
What do you want the public to know about your research? Why are your topics important?
Cuba is fascinating and important on its own, but I think that, especially for Americans, being more educated on Cuban history would be exceptionally useful. In Florida, Cuba is often used as a political tool, which is sad and frustrating. Before you have a staunch position on Cuba, it's important to know about the country and understand its historical relationship with the U.S., even if doing so doesn't ultimately change your mind.
What do you find fulfilling about your job and research?
Honestly, everything. I love doing research, I love reading, and I love going to archives. Teaching is much harder than doing research, but teaching is also fulfilling. It's really great to see students have breakthroughs, or to present to them information that changes how they think about a certain topic.
If your students only learned one thing from you (of course, hopefully they learn much more than that), what would you hope it to be?
I hope it would be to think critically. More specifically, I hope they will be able to evaluate sources of information and understand not only the argument, but to understand where those arguments come from and to be able to evaluate their value.