English professor recognized for 'Outstanding Community Service in Literature'
---
English professor recognized for 'Outstanding Community Service in Literature'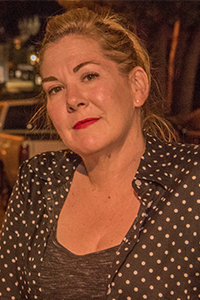 An English professor at Florida State University has been honored for her support of writers and their literary contributions.
Erin Belieu, a professor of creative writing and poetry, was recently announced as the recipient of the George Garrett Award for Outstanding Community Service in Literatureby the Association of Writers and Writing Programs (AWP). The award is named for writer, editor and mentor George Garrett, who made significant contributions to his field and was a founding member of the AWP Board of Directors. Included with the award is a $2,000 honorarium, in addition to travel, accommodations and registration to attend the AWP's annual conference in Portland, Oregon.
"It feels wonderful," Belieu said of receiving the award. "If I have made a positive difference in some emerging writers' lives, then I suppose the whole professing career hasn't been for naught! It was lovely to discover so many of my former and present students wrote on my behalf."
The criteria for the George Garrett Award states that the award will be given to "an individual who has demonstrated exceptional generosity to writers by excellent work in one or more of the following activities:
Teaching creative writing and literature
Serving as a mentor, supporter, or guide to writers
Publishing or editing literature, especially works by emerging or neglected talents
Building new resources that benefit writers (reading series, presses, awards, endowments, fellowships, stipends, programs, community centers, foundations, etc.)
Administering to programs or institutions that benefit writers or that expand audiences for contemporary authors
Working generally to make North America a more supportive place for contemporary literature and its makers."
Belieu has written four collections of poetry that have all received prestigious awards or nominations. Her poems have been included in the Best American Poetry anthology series four times. They have also been published in many prominent publications, including The New Yorker,The New York Timesand the Yale Review.
She is also the cofounder of VIDA: Women in Literary Arts, a research-driven organization that aims to increase critical attention to contemporary women's writing as well as further transparency around gender equality issues in contemporary literary culture.
The Garrett Award is quite competitive, as the award committee reviews more than 100 nomination letters per year.
Belieu spoke of her surprise at learning she had won the award during a phone call from AWP Executive Director David Fenza.
"I embarrassingly got a little choked up talking to him," she said, "as this kind of award that comes from your community, a much-beloved community to me, is about as moving as anything that's ever happened to me professionally. For your tribe to say, 'We see you. We value your contribution.'"
According to its website, "The AWP provides support, advocacy, resources, and community to nearly 50,000 writers, 550 college and university creative writing programs, and 150 writers' conferences and centers. Our mission is to foster literary achievement, advance the art of writing as essential to a good education, and serve the makers, teachers, students, and readers of contemporary writing."