English alumna, tax analyst recognized as Notable Nole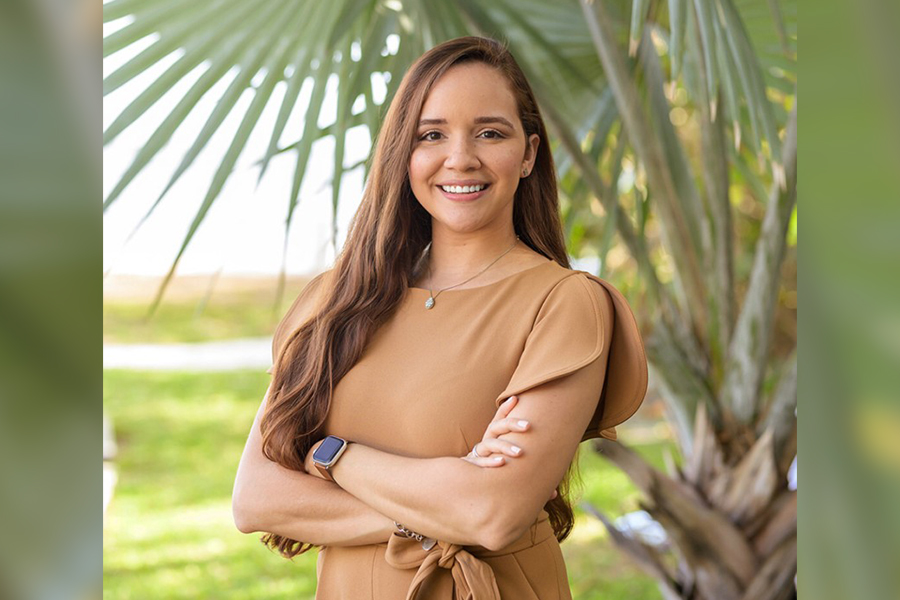 As a tax expert for TurboTax's public relations and communications team, Florida State University alumna Katharina Reekmans' typical day might surprise people.
The creative writing alumna helps demystify taxes for individuals and small companies by writing articles and covering breaking news updates for the TurboTax blog, and she is occasionally featured in social media videos on Instagram and TikTok as well as a newsletter delivered to thousands of the brand's customers. She has also been a senior tax accountant for Bright Tax Solutions, based in Richardson, Texas and Miami for nearly five years.
"As the saying goes, there are few certainties in life, and taxes are one of them," Reekmans said. "It might be hard to believe, but I actually find the tax code and tax law to be very interesting."
Reekmans was among the 19 young alumni recognized by the FSU Alumni Association as Notable Noles this winter. The Notable Noles program recognizes the outstanding accomplishments of FSU's alumni aged 35 or younger who have made exceptional achievements and significant contributions to their profession, community/society or the university through traditional channels or innovative approaches. Reekmans received a Reubin O'D. Askew award for her exceptional achievements and significant contributions as a tax analyst and enrolled agent, which is the highest credential awarded by the IRS.
"While I was in undergrad, I recall attending the awards ceremony for the Young Alumni Notable Nole Awards, and I was so inspired by the accomplishments of the alumni being honored. So fast forward fewer than 10 years later, to be presented with such a prestigious award was such an honor," Reekmans said. "It was great to share the stage with the other Notable Noles and Askew Awardees, and it was humbling to hear about everyone's brilliant work."
During her senior year of high school in South Florida, Reekmans embarked on a road trip with friends to visit universities in Florida. As they drove into Tallahassee and down College Avenue, Reekmans knew that FSU would be her home for the next four years.
"I couldn't believe that I was still in Florida; the moss-draped trees and brick buildings felt foreign to me compared to the palm trees and beachside I was used to in the Miami area," Reekmans said. "Walking the campus gave me all the feelings I had always imagined that college would."
She first enrolled at FSU as a biology major keen on going into the medical field. But after taking several general biology courses her freshman year, Reekmans realized that she didn't love the field as much as she imagined she would. She spent the next few semesters taking a variety of classes to satisfy general education requirements, hoping that something might prompt an "ah ha" moment that would bring everything into focus. During that time, Reekmans realized she loved writing and fell in love with the English Department's small, personal classes.
She graduated from FSU in 2013 with a bachelor's degree in English in creative writing and a minor in communications. Reekmans went on to earn her master's in business administration from Louisiana State University, Shreveport in 2020. During her time at FSU, Reekmans was heavily involved in extracurricular organizations; she served as president of Theta Nu Xi Multicultural Sorority Inc. and vice president of the Multicultural Greek Council. She was also an original member and copy editor of the then-newly established Diverse World Fashion Magazine, which is still flourishing today.
"I'm thankful for all of the individuals at Florida State who have inspired and shaped me," Reekmans said. "These leadership roles and the relationships I was able to establish along the way truly helped shape me personally and professionally. I hope to continue to embody the skills and qualities that we learned here at FSU — vires, artes, and mores — the strengths, skills, and character that have really helped distinguish me from others in my field."
Reekmans was born in Belgium and identifies as half-Belgian and half-Haitian, and considers diversity and giving back to underserved communities to be a personal and professional priority. Of note, she spent a year in Massaide, Haiti, working with the organization Friends of Massaide with the goal of bridging the Haitian diaspora community with those in the central part of Haiti. During the height of the pandemic, Reekmans also spearheaded Friends of Massaide's initiative to supply Haitians with personal health products including masks.
Additionally, she helps minority-owned companies further develop their business practices and accounting methods. Utilizing her language skills — Reemkans speaks four languages, including Haitian Creole — she educates the low-income Haitian community in south Florida on tax best practices, personal finances, retirement planning, and college savings plans at little to no cost.
"I always say if you want to see the future of Florida State — look no further than our Notable Noles and Askew recipients," said Julie Decker, president and CEO of the FSU Alumni Association. "Within the brief time since their graduation from FSU, these individuals have personified our university's tradition of excellence through their dedication and passion to their fields. We are proud to highlight our best and brightest young alumni, who will continue to achieve outstanding feats built on a solid education from Florida State University."
The FSU Alumni Association is accepting nominations for the 2022 Notable Noles Award through April 1. Visit the Alumni Association's website to learn more and to nominate outstanding young alumni who are making a difference in their professions, community or university.