Classics professor earns Archaeological Institute of America Service Award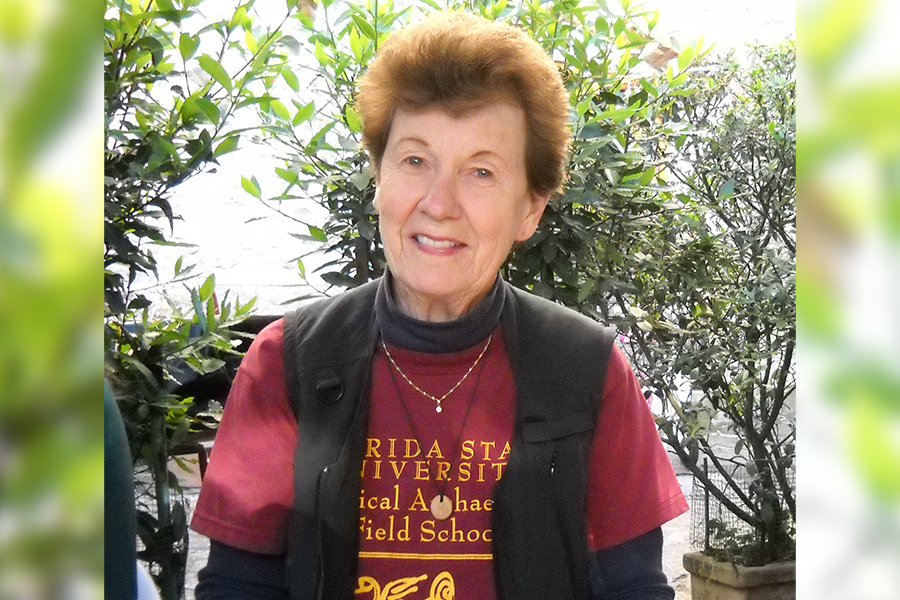 A distinguished research professor from the Department of Classics, part of the College of Arts and Sciences, has been awarded the 2022 Martha and Artemis Joukowsky Distinguished Service Award by the Archaeological Institute of America.
M. Lynette Thompson Professor of Classics Nancy de Grummond earned this award based on her exceptional service to the institute for over the past 50 years, and this is her second award from the institute following the excellence in undergraduate teaching award presented in 2015. Her research and excavations focus on ancient Etruscan, Hellenistic and Roman civilizations.
"Like any young child, I was always fascinated by the prospect of accidentally digging something up in the yard. This translated into my college years, as I started my undergraduate career studying Latin and Greek at Louisiana State University and graduated with a degree in classics from the University of North Carolina Chapel Hill," de Grummond said. "I'm so lucky to have this as my field because it encapsulates all my areas of interest including ancient languages, art history, and the cultural history of these areas."
The Lake Charles, Louisiana native joined the Archaeological Institute of America after earning her doctorate in 1968 and became a member of the institute's Tallahassee Society that same year. Since then, she has served as the chapter's president, vice president, secretary, treasurer, and program director. De Grummond organized the first regional symposium of the Tallahassee Society thanks to an AIA grant and founded the FSU Student Archaeology Club in 1976, and she became an assistant professor of classics in 1977. In 1985, she co-founded the AIA's Gainesville Society and has lectured to more than 57 local societies throughout the United States and Canada throughout her career. In 2012, de Grummond co-hosted the AIA Gala in New York, and she has served on many AIA committees since first becoming a member.
At FSU, De Grummond serves as director of excavations for "Cetamura, Archaeology in Tuscany," a program for aspiring archaeologists at the Cetamura del Chianti excavation site in Siena, Italy, sponsored by Florida State University International Programs. She has directed these excavations at Cetamura for 40 years. She has authored three books on Etruscan religion, culture and history, and has directed 20 master's papers and two doctoral dissertations on Cetamura.
"I was incredibly pleased and honored to learn that I had earned this award. I didn't feel I deserved it because oftentimes, these awards are for people who have worked at a high level in the association. I'm more of a grassroots member, so being recognized by the society is wonderful," de Grummond said.
Since becoming an FSU faculty member, de Grummond has earned 15 honors, awards and prizes from the university, including eight university teaching awards and nominations such as the Outstanding Graduate Mentor Award from FSU and the Phi Beta Kappa Excellence in Teaching Award. She is an elected fellow of the Society of Antiquaries of London as well as the Instituto di Studi Etruschi ed Italici in Italy. De Grummond has served on the editorial board for prestigious archaeological publications such as ARCHAEOLOGY magazine and Dig Magazine and has been a peer referee for the American Journal of Archaeology for many years.
"In addition to Nancy's well-known research, she is an effective teacher who maintains strong mentoring relationships with students and alumni. Her enthusiasm and dedication are recognized by colleagues at FSU and elsewhere, and especially by current and former students," said Christopher Nappa, chair of the Department of Classics. "She continues to innovate and create new opportunities for students at every level; she does this not only through traditional courses but also by giving students access to hands-on archaeological work locally and in Italy. It's so gratifying to see her hard work recognized in this way!"
The Archaeological Institute of America is the world's oldest and largest archaeological organization, with over 100 local societies across the globe. The institute promotes archaeological inquiry and public understanding of the material record of the human past to foster an appreciation of diverse cultures and shared humanity by supporting archaeologists, their research and its dissemination, and the ethical practice of archaeology.