Winter 2021
| Mon, 01/25/21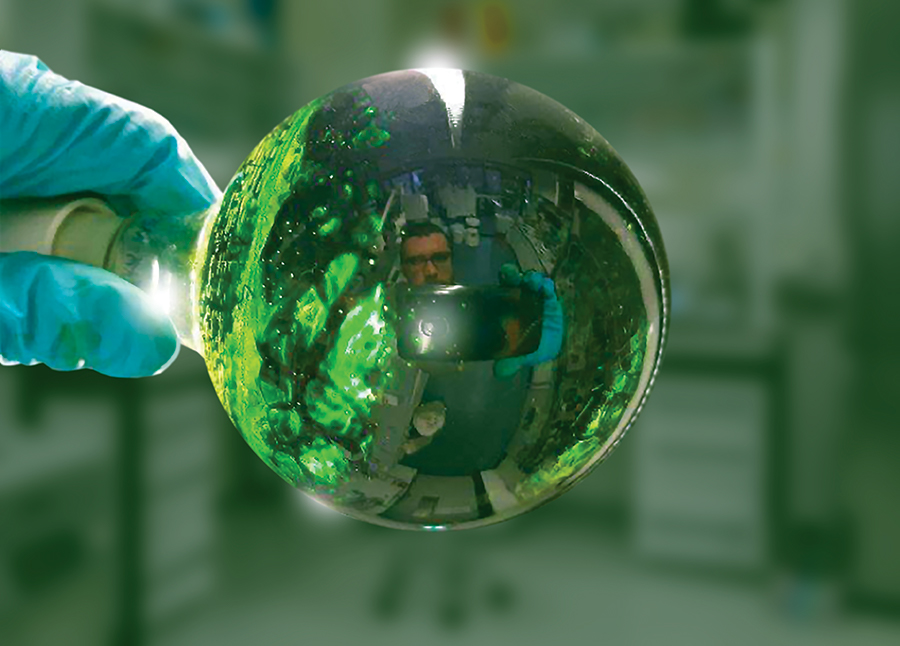 Ion the Prize
Florida State University alumnus Kerry Gilmore finds his calling with chemistry
By Amy Robinson
As an undergraduate at Roger Williams University in Bristol, Rhode Island, Kerry Gilmore saw himself becoming a marine biologist. The Massachusetts native had a passion for science and longed for a career that would make a difference in the world. As graduation neared, he enrolled in a class that would unlock a new fascination.
"I didn't find my passion for chemistry until I took organic," Gilmore said. "It is a conceptual, nuanced science that creates these beautifully layered problems."
So captivated was Gilmore that he decided to pursue a doctorate in organic chemistry. However, he remained unsure of which graduate school to attend. In his last year at Roger Williams, a lecture by a visiting chemist — Florida State chemistry professor Igor Alabugin — convinced Gilmore the best place was at FSU.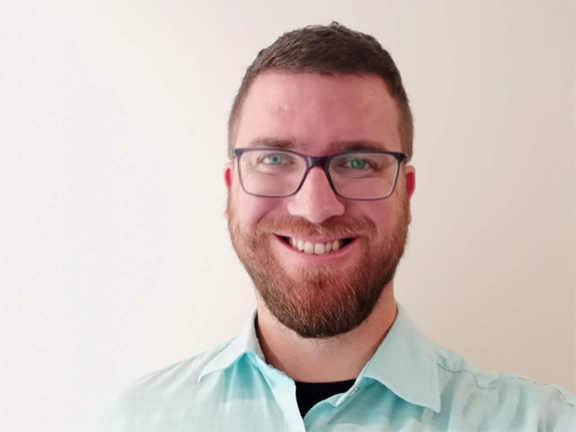 New 'Nole
It didn't take long for Gilmore to make an impression at Florida State. Craig Filar, director of the Office of National Fellowships, was thrilled to learn Gilmore was applying for a Fulbright Scholarship, which he ultimately won.
"Students from the scientific disciplines may not recognize their opportunity and viability in an application for the Fulbright," Filar said. "I hope his success inspires other students in the sciences to explore international opportunities."
The scholarship sent Gilmore to Bologna, Italy, for 10 months, where he conducted research at the Consiglio Nazionale delle Ricerche on a novel reaction he helped discover at FSU. The experience opened his mind to possibilities for other international endeavors. Back in Tallahassee, Gilmore worked closely with chemistry legends whose names now grace buildings and lecture halls on campus.
"I was able to work with Nobel Laureate Sir Harry Kroto for a summer and record a video about my research, which he often presented in his talks. Professor Michael Kasha pulled me aside to explain the excitation of gases resulting in the northern lights," Gilmore said. "Florida State presented me with several truly unique experiences."
Global impact
After earning his Ph.D. from FSU in 2012, Gilmore jumped at an opportunity to work overseas as a postdoctoral fellow at the Max-Planck Institute of Colloids and Interfaces in Potsdam, Germany.
"The decision to move to Germany was significant and one I didn't fully appreciate at the time. Not only was it the best decision for my career, but I also met my wife and started my family there," said Gilmore, now a father of two.
In 2015, Gilmore co-founded FluxPharm (Potsdam), with the goal of developing low-cost manufacturing methods for pharmaceuticals in countries lacking robust chemical industry. Three years later, he became a shareholder in Artemiflow, a company that researches and produces anti-malarial medication. Today, the company explores other possible medicinal applications for the molecule artemisinin, a natural product of the plant Artemisia annua.
"We have expanded our research efforts into studying the effects of Artemisia annua against COVID-19 and human cancers. These studies are both in cells as well as human clinical trials," Gilmore said.
Much of Gilmore's work revolves around green chemistry, developing products and processes that reduce or eliminate use or generation of hazardous substances. At the Max-Planck Institute, Gilmore and colleagues discovered a new, environmentally-friendly process for producing artemisinin from plant waste.
"Seeing Kerry become a leader in the field of green chemistry makes me proud and optimistic for the future of the chemical profession," Alabugin said.
Shared success
In 2020, both Gilmore and Alabugin celebrated awards from the American Chemical Society. Gilmore and two former colleagues from the Max Planck Institute, Peter Seeberger and Andreas Seidel-Morgenstern, were selected to receive the ACS Award for Affordable Green Chemistry, while Alabugin became the first FSU professor to receive the Arthur C. Cope Scholar Award.
"To have been honored alongside Igor, it simply shows the impact he has had and continues to have on science," Gilmore said. "He advances chemistry both through his own work as well as through those he has trained."
Alabugin was equally full of praise for his former graduate student.
"I am very lucky to have mentored students making a difference in the world," Alabugin said. "Kerry's doctoral work led to a fundamental discovery about the rules for making cyclic organic molecules that literally rewrote the textbooks. Judging from over 700 citations for Kerry's work, many chemists find the new cyclization rules useful."
The next generation
In the fall of 2020, Gilmore began a new chapter as an assistant professor at the University of Connecticut. Not only was it a long-awaited New England homecoming, but an opportunity to continue his research and build an innovative new program focusing on flow chemistry, in which chemical reactions are conducted in continuously flowing tubes rather than a flask.
Gilmore hopes to inspire his students in the way Alabugin inspired him, encouraging them to pursue their passion and have courage to take risks.