Winter 2019
| Tue, 01/15/19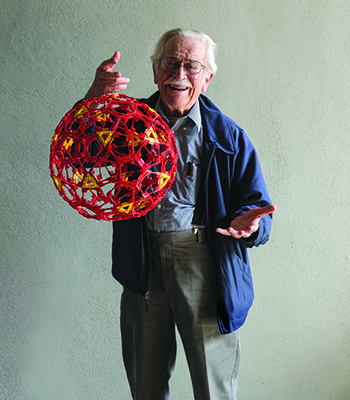 Scientific legend
Donald Caspar helped put the field of structural biology on the map.
By Barry Ray
At 92, Donald Caspar is still working to develop a greater understanding of some of the smallest living things.
"How are virus particles assembled, and how do protein molecules move to build complicated structures, send and receive signals, and catalyze vital processes? These are the broad questions on which my research has been focused," said Caspar, a professor emeritus in Florida State University's Institute of Molecular Biophysics who still maintains a small but tidy office on campus, 15 years after formally "retiring."
"You know, I still have a lot of unfinished work here that I would like to complete," he said.
A lasting legacy
Caspar has a résumé virtually any scientist would envy. Early in his career, he collaborated with famed molecular biologist James D. Watson, best known as the co-discoverer, with Francis Crick and Rosalind Franklin, of the iconic double-helix structure of DNA.
Around 1970, Caspar achieved what may be his most lasting legacy when he coined the term "structural biology," now used by researchers worldwide to describe the scientific field focused on identifying the molecular structures and interactions of biological molecules.
In 1994, Caspar had an especially memorable year — he received a Guggenheim Fellowship and was elected as a member of the Biophysics and Computational Biology section of the prestigious National Academy of Sciences. He also joined the FSU faculty after a long tenure at Brandeis University.
Caspar isn't focused on past successes, however. He is also interested in helping the discipline of structural biology stay relevant for many years to come. To help make that a reality, Caspar has made two major gifts to FSU: a $285,000 deferred contribution that will provide support in the area of structural biology within the Department of Biological Science, and a $30,000 outright gift to support research focused on neurogenerative diseases such as Alzheimer's and Parkinson's within the Institute for Molecular Biophysics.
"I would like to feel assured that what has been started here will continue to grow," he said of the gifts.
A namesake symposium
Another sign of Caspar's unique status within his field was the Donald Caspar Structural Biology Symposium, a gathering of researchers from all over the world that met at FSU two years ago, on the occasion of his 90th birthday. The 2017 event attracted scores of researchers in the fields of molecular and structural biology, including Nobel laureates and a number of his fellow National Academy of Sciences members.
"Donald Caspar is a legend in the structural biology field," said Piotr Fajer, director of the Institute of Molecular Physics. "All of these people coming here was a tribute to him. It's practically unheard of for so many National Academy members to come to a single symposium; the fact that it happened here is a testament to how respected and beloved he truly is."
Although he is now several decades past the age at which many people conclude their careers, Caspar sees no immediate end in sight for his time at FSU.
"I'm 92 years old, I will keep going as long as I am physically able — but I realize that the time is limited and, in the time I have left, I hope I will still be able to open some new frontiers in structural biology," he said.
---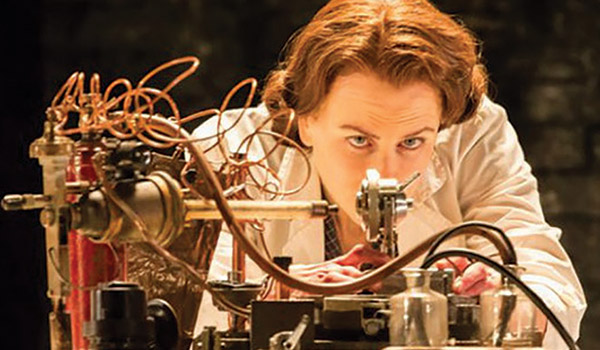 Science on stage
Few scientists get the opportunity to see themselves portrayed on the theatrical stage. Donald Caspar is one.
A character modeled on Caspar was featured in a play by Anna Ziegler, Photograph 51, which was about British scientist Rosalind Franklin, a key figure in the discovery of the structure of DNA who was never recognized for her contributions while she was alive. Caspar collaborated briefly with Franklin's team while conducting research in the late 1950s at Birkbeck, University of London.
"I think the tragedy was that it was not until many years after her death [of ovarian cancer, in 1958] that it was finally recognized how crucial her work was," Caspar said.
Academy Award-winner Nicole Kidman portrayed Franklin in the production of Photograph 51 that ran in London's West End in 2015. Caspar was played by English actor Patrick Kennedy, who previously appeared in the television series Boardwalk Empire and Steven Spielberg's War Horse.
How was Caspar portrayed in the play?
"Let's say a bit anachronistically," he chuckled. "Unlike in the play, I did not meet Rosalind Franklin until almost two years after she had moved from King's College, where she'd been working on DNA, to start her work on the tobacco mosaic virus. The playwright, Anna Ziegler, obviously took some certain liberties with the timeframe — she felt she needed a sympathetic American character in her play."
Anachronisms or not, discussions are underway to turn the play into a motion picture. Kidman has publicly expressed an interest in reprising her role in the film version.