Winter 2019
| Tue, 01/15/19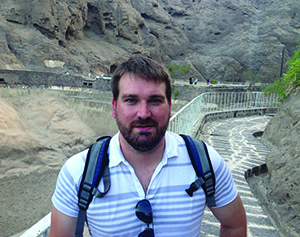 Human rights champion
Adam Coogle speaks for the voiceless in the Middle East
By Barbara Ash
Florida State University senior Courtney Reed was in Amman, Jordan, for two months last summer interning with a nongovernmental organization when she unexpectedly ran into FSU alumnus Adam Coogle, who was working just a floor above her office.
It was a fortuitous and pleasant encounter for Reed, an International Affairs and Middle Eastern studies major, because Coogle is a senior researcher in the Middle East and North Africa Division of Human Rights Watch. Reed has her eye on a similar career.
"It was both inspiring and encouraging to see an FSU grad in an important role like that, and it was fun to be able to pick his brain about the region and the human rights field," said Reed, who in addition to being a full-time student is a state legislative coordinator for Amnesty International USA. "I was extremely impressed by Adam and the work he does."
Coogle, a 2005 FSU graduate who double-majored in Religion and International Affairs and earned a master's degree in 2009 in Arab studies from Georgetown University, joined Human Rights Watch in 2010, opening the organization's first office in Amman in 2013.
Since signing on with the human rights organization, Coogle has conducted information-gathering missions to Tunisia, Egypt, Yemen, Qatar and Saudi Arabia, interviewing a broad range of sources, including victims and witnesses to human rights violations.
Authorities in Jordan consistently and notoriously curtail freedom of expression, detaining and bringing charges against activists, dissidents and journalists. The government discriminates against women by not allowing them to pass Jordanian citizenship to their children, who are denied basic rights. Syrian refugees stranded in remote border areas receive only limited access to humanitarian aid. These are some of the abuses Coogle works to rectify.
"My job gives me an opportunity to address wrongs the government is committing or abuses the government is failing to protect its citizens from," Coogle said. "If the work has a positive impact, then that is incredibly rewarding."
Coogle, who has conducted advocacy missions to Washington, D.C., London, Geneva and Brussels, writes extensively on the findings of his investigations into human rights abuses in the region, disseminating his research to international ministerial-level bodies and journalists.
His articles carry headlines such as "Saudi Arabia's 'War on Terror' Is Now Targeting Saudi Shiites"; "Why Aramco Investors Should Scrutinize Saudi Rights Record"; "Saudi Arabia's Death Sentence"; and "The Truth About Saudi King Abdullah's Human Rights Record." Those and other of his writings appear regularly in such publications as Foreign Policy, The Hill, The Jordan Times, Policy Review and the Huffington Post. He has been interviewed by CNN and MSNBC, among other media outlets, and participates in panels alongside other human rights experts.
The Tallahassee native traces the roots of his interest in the Middle East to his time at Florida State. As a Religion major, he says he was encouraged by David Levenson, an associate professor of Religion and Distinguished Teaching Professor, to read ancient scriptures in their original Aramaic language. His desire to study the Koran led him to Zeina Schlenoff, director of FSU's Middle East Center. Though classes in the ancient language were not offered, Coogle took several modern Arabic language classes with her.
"Over the years, there are a few students who stand out, and Adam is one of them," said Schlenoff, who also served on Coogle's honors thesis committee. "He was smart and committed to his classes and to becoming fluent in the language and is an excellent writer. You want someone of his caliber to have enriching opportunities that deepen his understanding of the area and prepare him for whatever path he wanted to pursue — in his case human rights. It takes a special person like Adam to care about justice, and I'm proud of him."
Coogle says it was Schlenoff who pushed him to apply for a Fulbright Scholarship, which resulted in his spending nine months in Jordan, where he conducted research on the relationship between religiosity and government style and further honed his language skills.
That Fulbright experience deepened Coogle's interest in the area, and upon returning from Jordan he enrolled at Georgetown University and completed a 15-month residency in Damascus, studying Arabic and working for the United Nations High Commissioner for Refugees. While in Damascus, he consulted with Iraqi refugees, assessing their psychological vulnerability and making referrals for treatments, and served as a translator for UNHCR Iraqi outreach group meetings.
Coogle says the amalgam of his experiences in the Middle East has made him feel comfortable in the region: Two years ago he married a Jordanian teacher he met when he was a Fulbright Scholar and is now the father of an infant son. Despite the unrest and instability in the region, Coogle says he would be happy making Jordan his home, with visits to his Tallahassee family — and FSU faculty responsible for putting him on his current path.
"When I look back, I appreciate the amount of individual attention and time our professors put into tailoring classes to students' specific interests," Coogle said. "They did everything they could to accommodate each of us and prepare us for post-graduation, and I'm grateful for the experiences and relationships I was able to build at FSU."