Winter 2019
| Tue, 01/15/19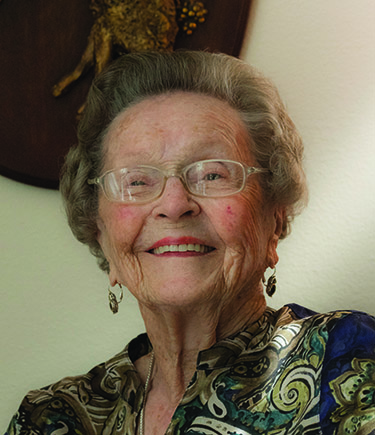 A lifelong commitment
FSCW alumna Mart Pierson Hill ('42) is still giving back
By Erin Hoover
At 98, Mart Hill is still part of the growth of Tallahassee and of her alma mater, Florida State University. Involvement with FSU over the years has helped her remain connected to her community.
"By becoming involved, you feel like you can improve your mind, as well as form relationships with other people," she said. "In my case, I feel like I'm communicating with people who are more intellectual than I am, and that I can learn from them," Hill said.
When she graduated with a bachelor's degree in English and theater in 1942, both Tallahassee and Florida State were very different places.
At the time, the published population of Tallahassee was about 15,000, about 8 percent of its current population. Florida State College for Women, as the institution was then known, was the third largest women's college in the country, and Doak Campbell was serving his first year as its president.
The Japanese attack on Pearl Harbor was fresh in the minds of Americans. Mart Hill remembers Pearl Harbor as if it were yesterday. Then Mart Pierson, she was sitting in the library reference room, now the Werkmeister Reading Room in Dodd Hall, in December 1941.
"I was writing a term paper on the poet Robert Browning, and someone burst into the room and said that the Japanese had bombed Pearl Harbor," she said. "Dr. Campbell was brand new then, and he was charged with the care of 1,800 girls, many of whom were afraid. He had to marshal his forces quickly, engaging counselors to calm students' fears."

Inspired to serve
Pierson herself was a leader and honor student, serving as president of the College Government Association and chair of the Student War Defense Committee. She was a member of Phi Beta Kappa and Phi Kappa Phi scholastic societies, Alpha Delta Pi sorority, Esteren, the Mortar Board honor society and the Village Vamps performance troupe, and she was elected May Queen.
Pierson and other college students from across Florida discussed what they could do to help the national war effort. FSCW students planted victory gardens, invited the pilots training at nearby Dale Mabry Field to dances, and sold the first war bonds in Florida.
During her senior year, Pierson had the unusual honor of picking up Robert Frost from the train station for his visit to the college. Her parents lent her the family automobile to transport the poet, arguably the best-known literary figure in America at the time, around campus.
After graduation, Pierson moved north to help Alpha Delta Pi establish a chapter at the University of Maryland. She attended graduate school there for a time, but she was drawn to Washington, D.C., where she got a job to help the war effort, working for American Airlines.
Coming home
Over the next several decades, she would take up leadership and public service with the same passion.
In 1944, Pierson returned to Tallahassee. She married Louis Hill and raised a family. Her children, Dr. Louis Hill Jr. and Almena Hill Pettit, still live in town.
Among many local causes, Mart Hill served two terms as president of the Tallahassee Junior League, and helped start the Tallahassee Junior Museum (now the Tallahassee Museum), serving for two years as its president. She was also appointed by Florida Secretary of State Bruce Smathers to a four-year term on the Fine Arts Council of Florida. When John F. Kennedy accepted the Democratic presidential nomination in 1960, Hill was in Los Angeles, serving as a Florida delegate.
Foundation for success
That same year, FSU's president, Robert Manning Strozier, asked a small group of supporters, including Hill, to begin a foundation at FSU, not only to raise money but, as she put it, "to create good will for the university throughout the world."
"Dr. Strozier had come from Chicago, and he told us that nationwide, all large universities had foundations," she said. "He thought that we should have one, too." The only surviving founder, Hill continues to serve actively on the FSU Foundation board.
The group of five trustees has now grown to more than 50, and the FSU Foundation recently closed its eight-year Raise the Torch campaign, surpassing its $1 billion goal by raising $1.16 billion for the university.
"By becoming involved … you can improve your mind, as well as form relationships with other people … I feel like I'm communicating with people who are more intellectual than I am, and that I can learn from them."

— Mart Hill
Hill's support has touched students and faculty alike. Early on, she and her late husband became members of the Francis Eppes Society, reserved for friends of FSU who have given between $1 million and $4,999,999 to the university over the course of their lives. She has supported programs within the College of Arts and Sciences, the College of Music, and the College of Medicine. Hill also helped create the Theatre Patrons Association, serving for a time on its board.
Cementing a legacy
Today, she is an active member of the College of Arts and Sciences Leadership Council, a board she helped found in 1999 as a charter member.
"Mart Hill is fully engaged in the educational and social aspects of the council," said Janet Stoner, chair of the Leadership Council. "Mart can and does offer perspective on FSCW/FSU as well as Tallahassee. It's always a treat to see her smiling face and hear her stories about the university and Tallahassee."
FSU has awarded Hill an honorary doctorate of humane letters in recognition of her service. This past October, she accepted the Bernard F. Sliger Award, the single highest honor given by the FSU Alumni Association.
Dean Sam Huckaba calls Mart Hill's support of FSU "generous and unflappable."
"She has taken a special interest in our college, and in particular the Department of English, where she earned her degree as a graduate of FSCW," he said. "I'm honored to count Mart Hill as a friend and confidante and proud to call her an alumna of the college."
Erin Hoover earned a Ph.D. in English from FSU in 2017.