Summer 2021
| Wed, 07/21/21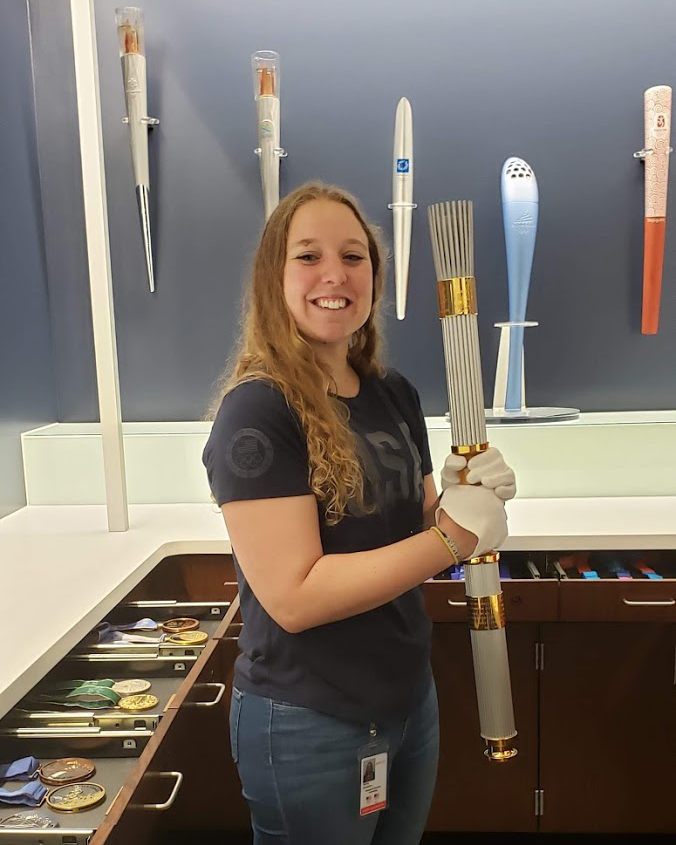 Head in the Game
FSU alumna Jessica Hensley uses statistical skills to help Olympic athletes excel
By Amy Robinson
As the eyes of the world turn to Tokyo for the Olympic Games this summer, the hard work of Florida State University alumna Jessica Hensley will take center stage. The former collegiate athlete is not competing in the games, but conducting key statistical analysis for Team USA in her role as a data analyst for the United States Olympic and Paralympic Committee.
Hensley's passions for both mathematics and sport make the job an undeniably perfect fit. Now, she's helping Olympians achieve their gold medal dreams and inspiring others to find their ideal careers.
Star student
Before earning a master's in statistics from Florida State, Hensley completed her undergraduate degree in mathematics at Emory & Henry College in Virginia. There, she captained the varsity swim team and served as president of the mathematics club, parlaying her swimming affinity into various undergraduate research projects, including using linear regression models to calculate optimal elbow angles to improve stroke efficiency for female sprint freestylers.
When she wasn't in the water competing or presenting at national conferences, Hensley spent her summers interning out of state and developing her statistical expertise.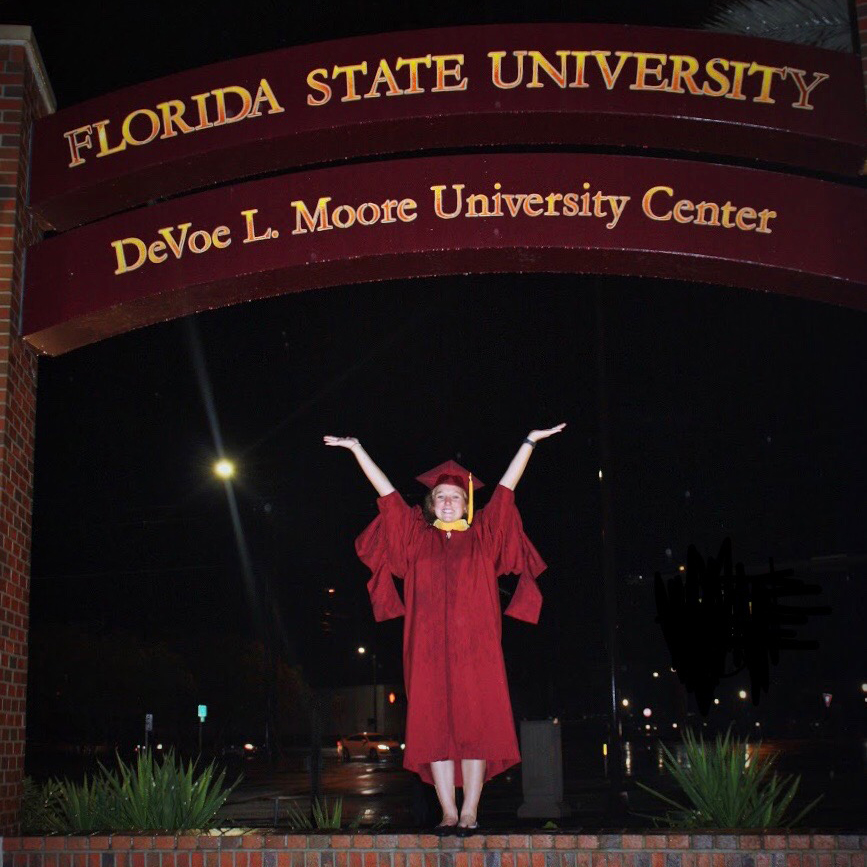 "During my undergraduate degree, I completed three statistics and data analytics-focused internships at Elder Research, Charlotte Hornets and ESPN. Each helped mold my interests and eventually uncover my passion for sports analytics," Hensley said.
As a statistics and information intern at ESPN headquarters in Connecticut, Hensley was responsible for ensuring the accuracy of live game data for MLB and WNBA games, and managing historical database information for the network's popular Football Power Index and Basketball Power Index rankings.
When Hensley decided to attend graduate school to gain a deeper understanding of statistics and computer science, and to try her hand at becoming a teaching assistant, the Vero Beach native found a new home at FSU.
"It was the collaboration that occurred in the statistics building conference room, from professors and classmates to underclassmen, where I truly learned the most and made lifelong friends. Anyone could ask for help and everyone would pitch in to solve problems," Hensley said.
Golden opportunity
Before completing her graduate degree, Hensley interviewed with the U.S. Olympic and Paralympic Committee for a sport performance analyst position, but had to pass on the opportunity when she learned they needed the job filled immediately. Then, a few weeks before graduating in 2018, the USOPC contacted Hensley to inform her she'd been recommended for a new opening on the team, as a data analyst.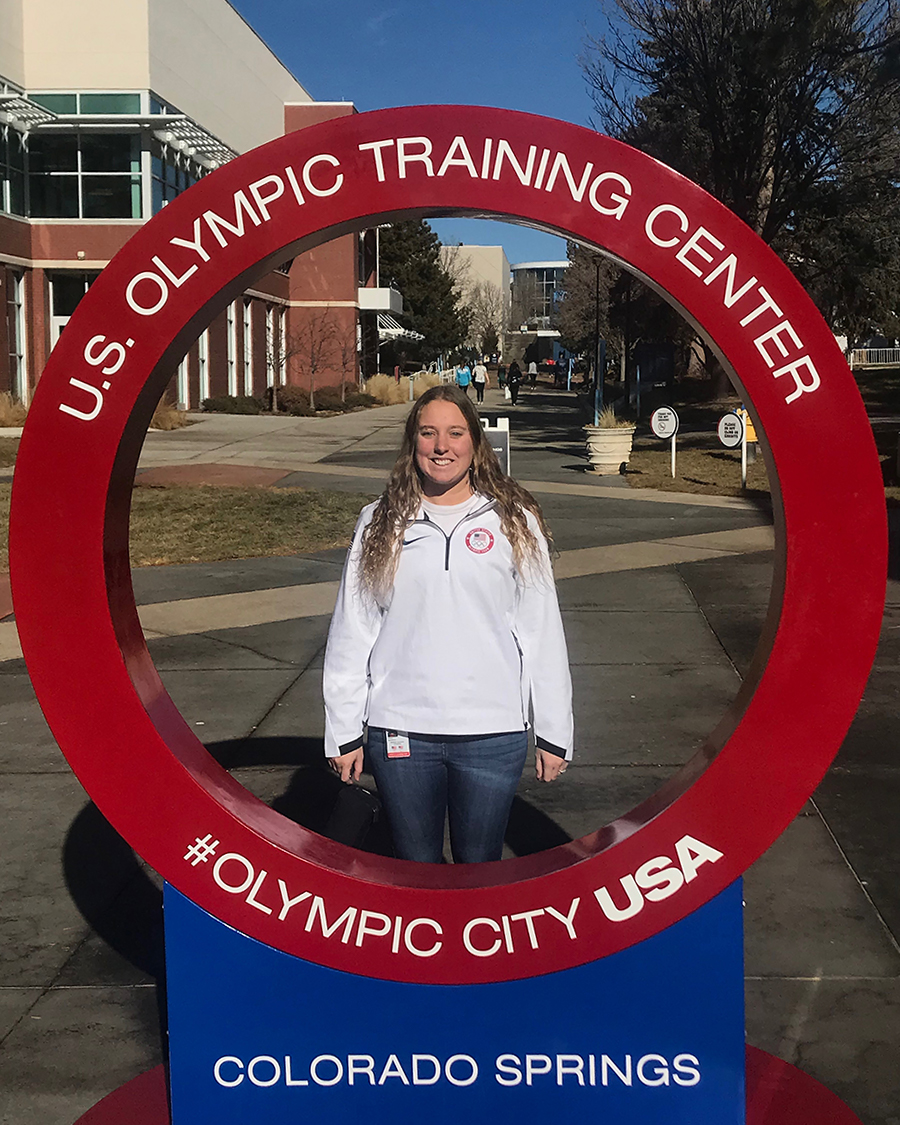 "A few weeks later, I was living in Colorado Springs and working my dream job," Hensley said.
Statistics department chair Xufeng Niu said Hensley's success exemplifies the high demand for graduates with statistics and data analytics backgrounds.
"Statistics has wide applications in many fields, including government, industry and sports," Niu said. "The training Jessica received from our program provided her statistical skills and experience in big data analysis and management, which are essential for making data-driven decisions for the U.S. Olympic Committee."
Team USA
Hensley hit the ground running at USOPC in January 2019, and her work ranged from creating statistical models predicting performance trajectories and medal probabilities for Olympic athletes, to creating data visualizations on everything from strength and conditioning to finance. Hensley recently helped create financial reports documenting and valuing, for the first time, the benefits the USOPC provides to athletes and National Governing Bodies.
"It was amazing to see so much hard work put out into the world and make a difference in communicating how we allocate resources to our athletes both directly and indirectly," she said.
Hensley beams with pride talking about memories she's already made at USOPC, including an unforgettable moment during the FIFA Women's World Cup in 2019.
"It was the semifinal game, USA vs. England, and the entire sixth floor was crowded around the small TV in our department's area, watching together. We made popcorn and everyone was cheering Team USA to victory. In this moment, I felt so much Olympic spirit and for the first time it really sunk in that I was a part of Team USA," she said.
Hensley is taking that team spirit to Tokyo this summer, where she will spend five weeks assisting Team USA as its Olympians and Paralympians take on the world's best athletes.
"We are very proud of Jessica's outstanding achievements," Niu said. "Her success will greatly motivate more women to study statistics and work in the data science field."