Summer 2021
| Wed, 07/21/21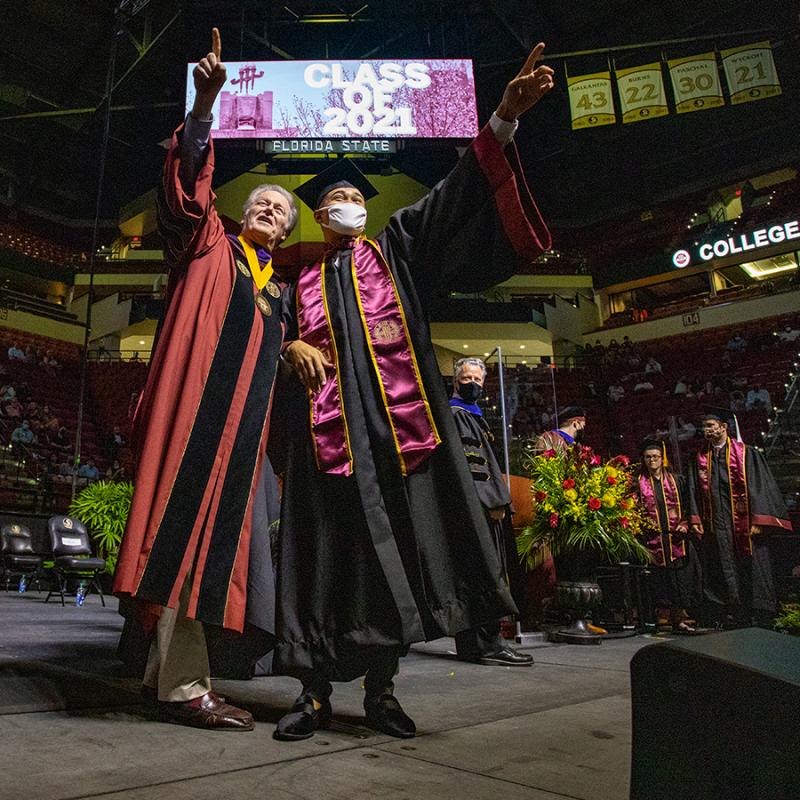 365 days in
As the pandemic passes the one-year mark, FSU continues to lead in the fight against COVID-19
By Amy Robinson
When the sun rose over the Donald L. Tucker Civic Center in Tallahassee April 17, the air crackled with anticipation. For the first time in over a year, Florida State University was hosting in-person commencement ceremonies.
Graduates began arriving with their families bright and early, proudly donning hard-earned caps and gowns. Facemasks, a new addition to standard commencement regalia, did little to hide the excitement on the faces of the Class of 2021.
The crowd was a more intimate group than in a typical year, with commencement being structured into a series of smaller ceremonies to allow for social distancing, but there was no shortage of Seminole spirit inside the Tuck. In a video message, then-Student Body President Jonathan Levin congratulated his fellow graduates on overcoming the unforeseen challenges the of the past year.
"The Class of 2021 is beyond resilient. Students from across the globe, but especially here at FSU, redefined what it means to be unconquered."

— Jonathan Levin, Former Student Body President
"The Class of 2021 is beyond resilient," Levin said. "Students from across the globe, but especially here at FSU, redefined what it means to be unconquered."
Change of plans
When COVID-19 was first declared a global pandemic by the World Health Organization in March 2020, several FSU researchers were already far from home on research trips. Marcos Colón, a documentary filmmaker and postdoctoral scholar with the Department of Modern Languages and Linguistics, had just arrived in Peru to continue work on a film about environmental crises in the region when the country suddenly went into lockdown.
"I had to escape in a cargo ship loaded with four tons of food transiting the Amazon River from Peru to Brazil," Colón said.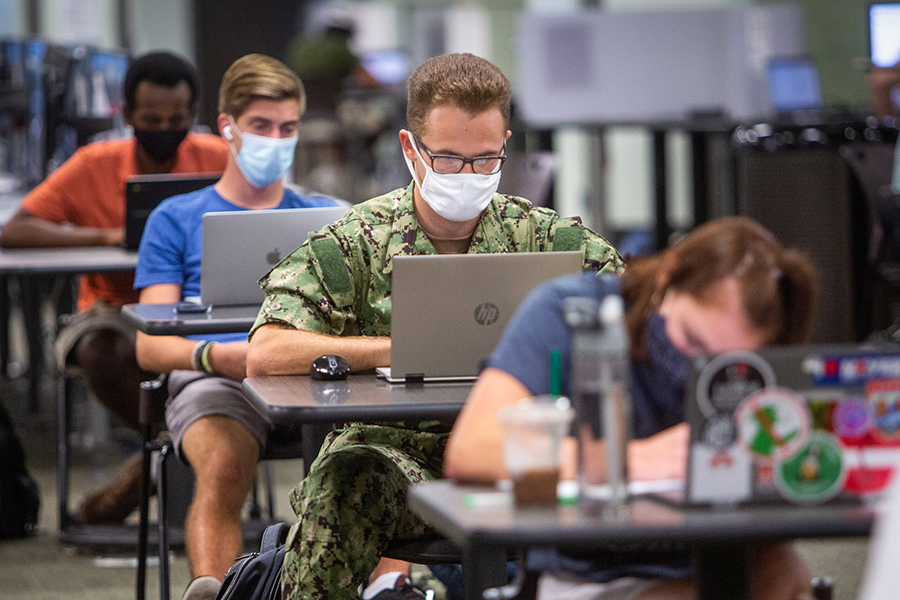 When he was finally able to make it to Brazil, Colón spent days awaiting a flight.
"The U.S. Embassy sent an airplane but not everyone was able to get on, so we'd have to wait for another one. Even though it took me about 20 days to get back to America, I know people who waited there for six months," Colón said.
Although he was forced to cancel the remainder of his trip, including plans to interview Pope Francis for the documentary, what Colón witnessed aboard ship alerted him to food insecurities in the region — a problem worsened by the pandemic.
"I started to document every stop, and that opened up a new line of research for me," Colón said. "I went to the Amazon to finish one film and I came back with two."
Dominic Woelki, a postdoctoral scholar in the Department of Earth, Ocean and Atmospheric Science, was on a sea expedition that departed South Africa in early March. When the pandemic was declared, the crew aborted its mission and sailed all the way from the Southern Ocean, near Antarctica, to Germany.
"I was supposed to be on the research vessel for around six weeks, but ended up being away from my pregnant wife for five months," Woelki said.
After months at sea, travel restrictions prevented Woelki from returning to the U.S. Finally, after a stay in Germany and a short trip through Turkey, he made it back home in July 2020.
"I was frustrated because there was a good chance I was going to miss the birth of my first child. In the end everything went fine, but it took a lot of work and risks," Woelki said.
Vaccine nation
Since COVID-19 was first identified, scientists around the world raced to develop a vaccine, and three vaccines were approved for emergency use this winter and early spring by the U.S. Food and Drug Administration.
In January, through a partnership with the Florida Department of Health in Leon County, Florida State began administering a first round of vaccines to faculty, staff and students meeting state eligibility requirements. Fewer than three months after the first shot was given at the Tucker Center, FSU is now vaccinating Floridians ages 16 and up as part of the state's strategic vaccination effort.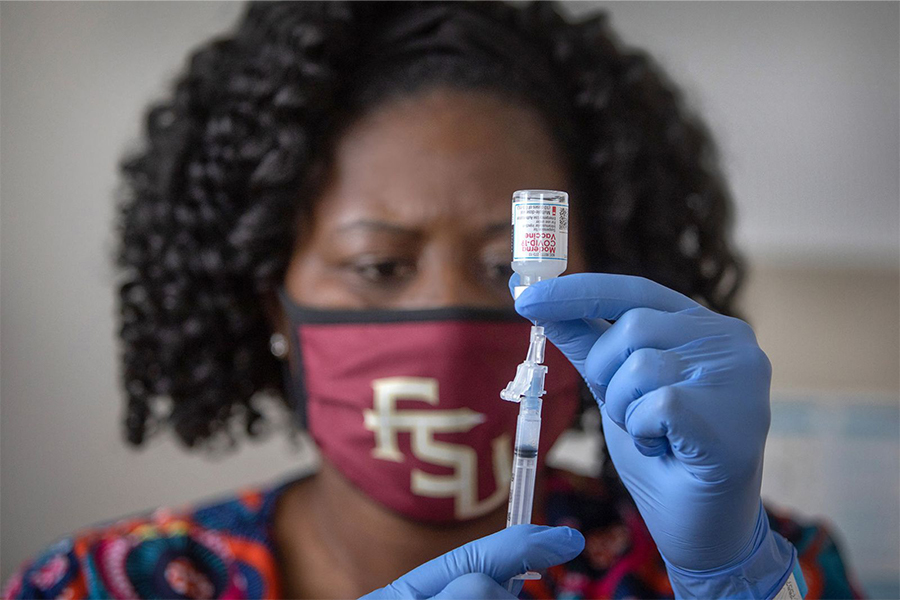 In addition to FSU's early role supporting testing through a partnership with Tallahassee Memorial Hospital, the university's researchers have dug in to learn more about the virus and generate data that could help refine future vaccines and ultimately lead to a cure.
"We still don't have a miracle drug to cure COVID-19, but monoclonal antibodies are effective in controlling infection and reducing disease severity," said Qian Yin, assistant professor in the Department of Biological Science.
Yin, who leads a research group focusing on understanding how the immune system recognizes and reacts to viruses and bacteria, attributes the rapid development of the COVID-19 vaccines to years of hard work and collaboration in academe and industry to study viruses and test new vaccination strategies.
"With several vaccines already in use across the world, there is finally a hope to return to normal," Yin said.
#StayHealthyFSU
On Feb. 25, with vaccinations well underway, university officials announced plans to host in-person commencement in April for Spring 2021 graduates. Alumni from the Class of 2020 were also invited back to campus for an in-person ceremony in May after last year's commencements were held in an entirely virtual format.
FSU Provost and Executive Vice President for Academic Affairs Sally McRorie and Vice President for Student Affairs Amy Hecht released a letter to students the same day detailing the university's plan to offer a mix of in-person, hybrid, flex, and online courses for the summer semester, and to resume a face-to-face format for courses designed for in-person delivery by fall.
"While we're hopeful we'll be able to return to pre-pandemic normalcy soon, it is critical that you continue to take seriously your responsibility to help mitigate the spread of COVID-19," the letter read. "We must continue to adhere to the health and safety protocols set by the CDC and state and local health officials."
With a new semester on the horizon, Colón is among the faculty members eager to return to the classroom and discuss with his students some of the profound lessons learned on his travels abroad at the dawn of the pandemic.
"I am very excited about this semester — to be able to share my experience, my journey," Colón said. "To be able to see my colleagues and students face-to-face and to interact with the FSU community is what I'm looking forward to more than anything."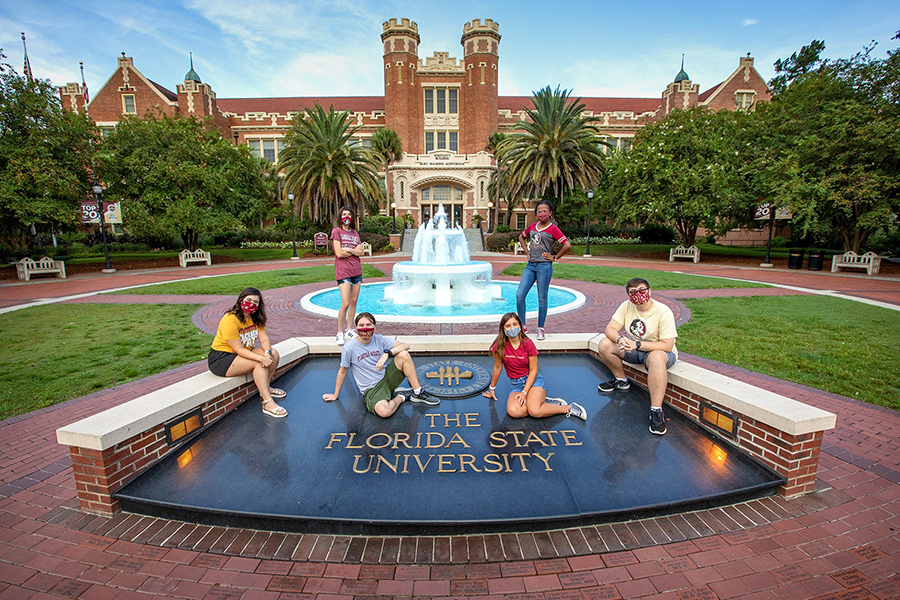 Visit news.fsu.edu/coronavirus for FSU COVID-19 updates. Kathleen Haughney and Amy Farnum-Patronis contributed to this story.