Summer 2019
| Thu, 07/18/19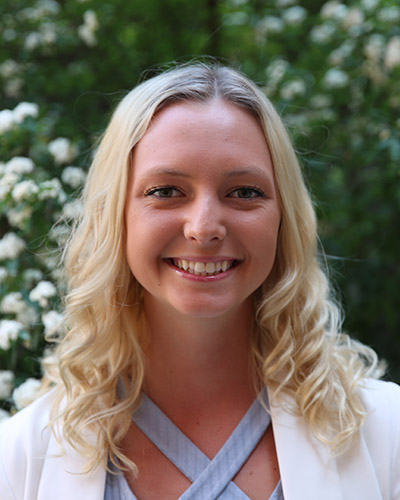 Underwater scholar
Ashley Dawdy takes a deep dive into marine-life studies
By Rodney Campbell
Ashley Dawdy's fascination with marine life began when she volunteered at the Georgia Aquarium's Ocean Voyager exhibit during her high school years in Atlanta. While the display has more than 50 species of fish, Dawdy focused on one: the massive whale shark.
Whale sharks stand out with their gray coloring and white speckles. Of course, size matters, too. They measure between 18.5 feet and 32 feet and weigh 20 tons, making them the world's largest fish.
"I thought it was so cool that they are the biggest fish alive, yet so much about their life history is still unknown," Dawdy said.
Her fascination with marine life continued when Dawdy enrolled at Florida State University, and the clincher came when she toured FSU's Coastal and Marine Laboratory, located on the Gulf of Mexico in Franklin County.
"I was finishing high school and knew I wanted to do something marine-related," said Dawdy, who earned her bachelor's degree in biological science, with honors, in spring 2019. "I wasn't sure if I wanted to go the research route or work to become a marine veterinarian. I looked at several schools for research and a couple for veterinary science. Dr. Dean Grubbs' research is what inspired me to come here. It's unique that our school has a marine lab even though FSU isn't on the coast."
Dawdy has worked with Grubbs, the marine lab's associate director for research, for three years and became an integral part of his team. She volunteered to conduct research with him beginning in 2016, regularly going out on the water for scientific shark surveys.
Grubbs praised Dawdy as a talented and hardworking volunteer. Her work assisting doctoral student, Cheston Peterson, with his dissertation research on predator-prey dynamics in St. George Sound and Apalachicola Bay was particularly helpful.
"Ashley is undoubtedly one of the brightest, most mature and motivated undergraduates I have encountered in my career," Grubbs said. "She clearly excelled as an undergraduate, and I have little doubt she will have continued success in graduate school and whatever else she chooses to pursue."
Already an American Academy of Underwater Sciences certified diver — an accomplishment she earned at 20 years old — Dawdy looks forward to earning her divemaster certification.
"Once I became a science diver, the lens through which I viewed the underwater world changed," she said. "Things are happening in every direction. Now I focus on the smaller details. It almost feels weird when I'm underwater and have nothing to do."
Dawdy was also part of a three-person research team that tracked the migratory habits of bonnethead and bull sharks in Apalachicola Bay starting last summer. The team spent 52 consecutive hours on the water netting sharks, implanting small transmitters into the walls of their abdomens and putting them back in the water.
"We found that bonnetheads use a much larger activity space at night," Dawdy said. "It could be because they forage at night. They don't have to see to hunt. Their rate of movement also increases at night. It's higher at dawn and dusk. That's when available light is changing the most. That's when the prey is at the biggest disadvantage."
Dawdy was named the recipient of the 2018 Helen Louise Lee Undergraduate Research Award and used the $4,000 she earned to fund her shark work. The honor is part of FSU's IDEA Grant program through the Center for Undergraduate Research and Academic Engagement, which annually recognizes high-achieving undergraduates from across campus.
Now that she has her bachelor's degree, Dawdy plans to take a gap year to gain work experience before entering graduate school. She will spend the summer working for Grubbs at the marine lab as a biological technician while continuing her research. There are plenty more long days on a boat on the Gulf of Mexico in her immediate future.
"I want to keep doing marine research, preferably centered around behavioral ecology," Dawdy said. "I want science diving to be involved."
---