Summer 2019
| Thu, 07/18/19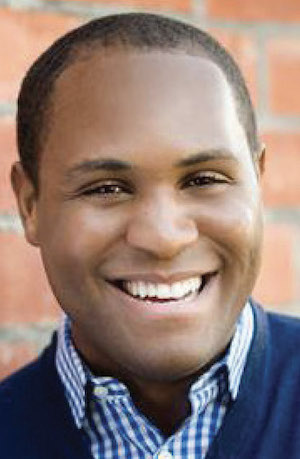 From athlete to innovator
Garrett Johnson makes his mark on the startup world
By Barbara Ash
As a student majoring in English and political science at Florida State University, Garrett Johnson was a standout, to say the least. Thirteen years after graduating magna cum laude, he still is.
The Tampa, Florida, native repeatedly distinguished himself, academically and athletically, during his years at FSU. He was named to the dean's list and the president's list and maintained a 4.0 GPA throughout his undergraduate career. As a member of the FSU track-and-field team, Johnson won the 2006 NCAA Indoor and Outdoor Shot Put Championship. He was named an Academic All-American in 2005 and 2006 and won the FSU Golden Torch Award, which is given annually to student-athletes from each sport who achieve the highest GPA. And Johnson did all this while working as a legislative assistant in the office of former Florida Gov. Jeb Bush.
"Florida State broadened my intellectual opportunities and set high expectations of what I could achieve, and that had a major impact on my future trajectory," said Johnson, who came to FSU via the Center for Academic Retention and Enhancement program. "Through CARE, I gained the confidence and skills to pursue my interests and achieve my vision, and that has made a world of difference in my life on many levels."
CARE identifies, recruits and motivates high-performing, economically disadvantaged high school students to pursue higher education at FSU and helps them develop academic habits necessary to succeed.
Named a 2006 Rhodes Scholar, Johnson went on to earn a master's degree in migration studies at Exeter College, Oxford University, England. His research examined global economic inequities and the effects of poverty on global migratory patterns, with particular focus on Haiti's socioeconomic conditions.
"Florida State broadened my intellectual opportunities and set high expectations of what I could achieve, and that had a major impact on my future trajectory."

— Garrett Johnson
Since leaving academia, Johnson has proved a career success. Upon his return to the U.S. from Oxford, he took a position in Washington, D.C., as a professional staff member for the U.S. Senate Committee on Foreign Relations, where he focused on immigration policy and assistance relating to Haiti and Afghanistan, and made regular trips to Capitol Hill and the White House for briefings.
While in Washington, Johnson formulated an idea for a telecommunications company to help teachers in low-income areas of Tampa communicate more effectively with students and parents using text messaging. The idea took root, and in 2011 he and an Oxford class- mate headed to California's Silicon Valley to launch SendHub.
The company secured backing from Y Combinator, which provides seed funding to early-stage startups, helps owners flesh out business plans and advises on pitching ideas to investors. SendHub eventually raised $10 million from multiple sources, broadened its national reach and attracted such customers as Lyft, Berkshire Hathaway, Yale University and Teach for America. In 2015, SendHub was acquired by Cameo Global.
Johnson was soon on to his next venture. During his Washington stint, he had observed a wide disconnect between government and the tech industry. That led to his co-founding Lincoln Network, a policy and education organization that works to bridge the gap between these two sectors.
Johnson serves as executive director of the organization, which brings together an impressive array of leading voices in technology and policy to discuss concepts such as fears over the impact of technology on society, social media as a threat to democracy, fake news, job loss from automation, and how to help Congress understand technology, among other things.
"I see myself as a problem-solver and, like my parents, I focus on the community and believe that when you roll up your sleeves and engage, you can influence your community and the world," Johnson said.